Sock Slider is a device that helps put on and remove socks or shoes. Does it work? Read our Sock Slider review.
Sponsored Links
About Sock Slider
Sock Slider is a compact invention that holds, expands, and opens socks (or shoes) so you can slide your foot into it without bending over. It can also be used for removal. The product website is sockslider.com, which was first registered in February 2017. The screen shot below shows how the product website looked in March 2017.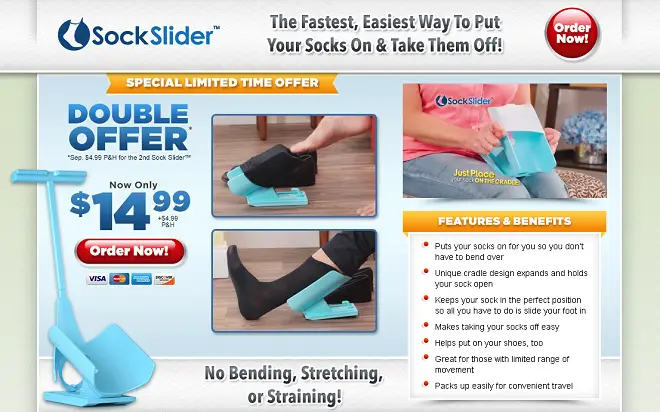 Claims & Features
Puts your socks on without you having to bend over
Cradle design expands and holds sock open at perfect position
All you have to do is slide your foot in
Also aids in sock removal
Can also be used to put shoes on
Packs up for portability
Cost
There is an unavoidable double offer when ordering Sock Slider that charges you an additional P&H fee of $4.99 for the second unit. The first unit costs $14.99 + $4.99 P&H + $4.99 P&H for a total of $24.97.
As of this writing, this offer is not available in stores.
Sock Slider Review
Do you find the everyday task of putting on socks to be problematic? The makers of Sock Slider may have just the item for you.
Sock Slider is a plastic device which allows you to don socks more easily. To use Sock Slider, you simply place your sock over the cradle, then place it on the floor (which can be facilitated by its extension handle), and place your foot through the sock. The handle can also be used to remove socks or double as a shoe horn.
This device is said to work with ankle socks, dress socks, athletic socks, and even compression socks. In my tests (that you can watch below), I found that short socks are a breeze, but longer socks were considerably more work, as were compression socks.
Sponsored Links
This type of product is ideal for those suffering from back, knee, hip, and leg limitations. The ability to easily put socks on can be a compelling reason to consider Sock Slider, or other devices of this type.
Sock Slider should work well for anyone who uses short socks, such as those that go to your ankle or slightly higher. Longer socks and compression socks seem to be a bit more problematic because you must wrap more of the sock around the opening, which can be difficult. I think the mixed reviews for sock slider can be explained by the fact that different sock lengths are easier or harder for some people. Thus, those who use longer socks or compression socks probably like Sock Slider less than those who wear short socks.
Another issue to consider is that of socks being stretched out, which I can see happening quite easily. This seems to be a deal-breaker for some users, but not a problem to others.
Sock Slider hasn't shipped to stores yet, but I've seen it on Amazon, where is holds a 3.5 star rating. You may want to peruse user comments there before making your purchase decision.
Alternatives
It may come as no surprise that there are numerous sock aid products on the market, ranging from $10-$80. Sock Slider closely resembles this $77 product called Easy On / Easy Off Sock Aid Kit, which has a mostly favorable rating at 4.0 stars among over 200 reviews. On the cheaper end of the scale, you may want to consider the $10 SockAid, which is quite highly rated among about 2,000 consumers.
Video Review
Below is my full video review of Sock Slider.
Your Sock Slider Reviews
What do you think of Sock Slider? Tell us what you think by leaving a comment below and a star rating above.