Space Max is an appliance that transforms a standard car cup holder into four cup holders. Does it work as advertised? Here is our Space Max review.
Sponsored Links
About Space Max
Space Max is a gadget that fits in a standard automobile cup holder and expands to provide an additional three holders. The official website is getspacemax.com, with a registration date of May 2017. The screen capture below was taken of the product website in August 2017.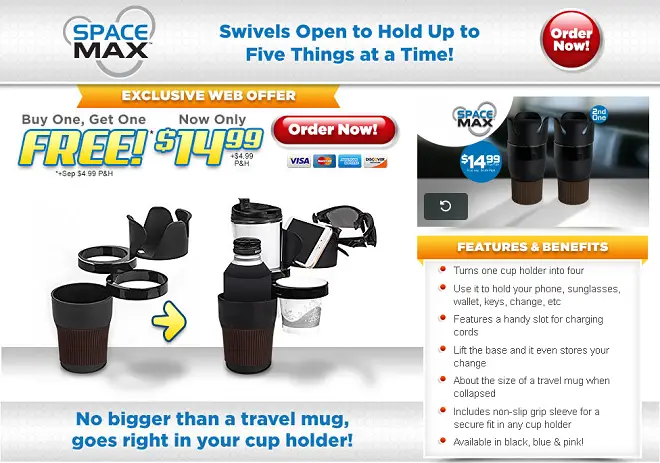 Claims & Features
Expands one standard cup holder into four cup holders
Capable of holding a variety of possessions (phone, sunglasses, wallet, keys, change, etc.)
Includes a phone holder with a slot for charging cords
Keep loose change in the base
Collapses down to the size of a travel mug
The rubber non-slip grip sleeve keeps your cup secure
Choose from black, blue, or pink
Cost
There is a mandatory double offer when buying Space Max. The cost is $14.99 + $4.99 P&H + $4.99 double offer fee for a total of $24.97. Available color options include black, blue, or pink. At the time of this writing, Space Max is not available in stores.
Space Max Review
The name Space Max may conjure thoughts of 1980s video games or sci-fi movies, but in 2017 it refers to an As Seen on TV product designed to expand your vehicle's console. This 5-in-1 cup holder fits into a single cup slot, and expands to allow you to hold multiple objects such as drinks, keys, phone, sunglasses, and more.
Sponsored Links
To use Space max, you simply place it in one of your vehicle's empty cup holder slots. You can then twist the top several times to reveal additional places to store your items. Two of the openings are just circular pieces of plastic with no bottom. This means that whatever you place in those slots will rest on the console below. The uppermost holder does have a bottom, and includes a slot through which you can feed a phone charger. Additionally, there is a double bottom in the first section where you can store things like loose change.
Space Max is a relatively simple device that serves a practical purpose. Keeping in mind that all car configurations and consumer needs are different, I think this will appeal to the majority of those who purchase it. It may take a few uses to learn which items should go in which slot. I wouldn't, for example, place a drink in the uppermost container, because that is probably the least sturdy area. That might be an ideal place for a phone, however, as it is already set up for a charging cable to feed into it. The two circular holders may work for drinks, but I wouldn't expect to put larger items in there, either. It could be better to put your wallet or a bottle of water in those, and save the main holding area for a larger drink.
One concern that some consumers may have is that Space Max could spill over onto the area where your gearshift resides. That, however, can be easily remedied by simply rotating the Space Max slightly until your items don't overlap that crucial area.
If you keep in mind that this is a plastic device that may forfeit a little width per item to create more space, you'll probably find it to be a worthy purchase.
This is a very new item, with a website that was only registered in May 2017. My guess is that this is being test marketed, which typically means slower shipping times (usually several weeks). Because it's not available in stores, you may have to bite the bullet and wait – or you could investigate similar options, discussed below.
I'm not a fan of mandatory double offers, which is the case here. Although a price of $14.99 is posted on the website, when you include the mandatory double offer and state tax (in my case), it balloons up to about $27 for two.
Alternatives
As you may have expected, there are already other products out there which sport a very similar design and function as Space Max. Consider this $15 model, with 10 five-star reviews, and compare that to this one with a single negative comment.
Your Space Max Reviews
What are your thoughts about Space Max? Drop a comment below and a star rating above to let us know what you think about it.