I've had numerous requests over the years to test out a spy pen camera, so today I decided to give one a try for myself. I picked out the model with the most reviews I could find on Amazon and put it to the test. Here are my results.
Sponsored Links
Where to Purchase
The model I tested is the Sir Gawain Spy Pen, described as the "Friendly Pen" on the packaging, which can be obtained via Amazon for around $35. Keep in mind that prices continually fluctuate on Amazon.
Claims & Features
Take photos or HD 1080p video
Works as a functioning pen
Discrete, portable design
Plug-and-play data transfer
Holds Micro SD cards up to 128 gig
90-degree angle recording
Up to 70 minutes of record time
Sir Gawain Spy Pen Review
How To Use
When I went on Amazon to find a popular spy pen, this P7 model by Sir Gawain had the most reviews, so it seemed like the obvious choice. Most spy pens I considered had mixed reviews, with some consumers focused on the lack of quality, while others praised them more for their discreet design. In my tests, I tried to look at both aspects.
I paid just under $35 for this pen. The contents of the box include the pen, a USB cable, a micro SD card reader, cleaning cloth, and instructions. Not only does it function as a pen, but several ink refills were included in the box.
The first thing you need to do is charge it with the supplied cable, then insert an SD card up to 128 gig (not included). Manufacturer videos on Amazon state that it can only take up to 32 gig cards, but those videos must be referring to earlier models. You can take video and photos, and possibly audio only, although there is no mention of an audio-only feature in the instructions.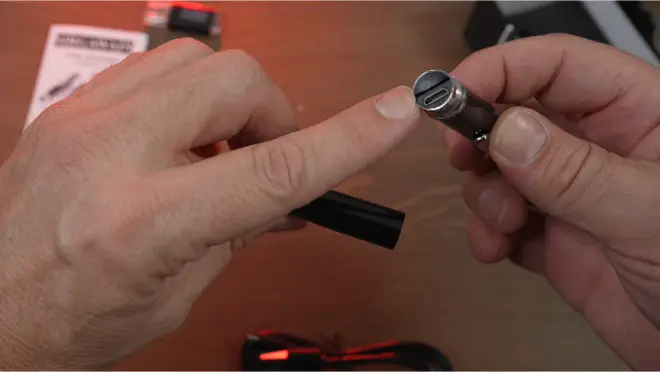 To turn on the pen, you simply press the end cap for two seconds and a green light will appear. If you want to record video, press the end cap for two more seconds and the green light will blink 3 times and then turn off. This process can be a bit tricky. If you continue to hold the button longer than two seconds, the pen will shut off. Thus, I've found that counting two seconds and then releasing the button usually does the trick. It takes a bit of getting used to in order time it just right. To stop recording, you simply press the button once more and the pen will go back to standby mode (green light on). After one minute in standby mode, the pen will shut off.
If you want to take a photo while the pen is in standby mode, simply press the button once.
Setting the time and date is a matter of editing a text file that will appear on the SD card after the first use. Copying photos from the pen can be achieved by one of two methods: removing the SD card and placing it in a card reader, or connecting the pen directly to your computer via the supplied USB cable. I found the latter method to be the most convenient for me.
Tests
For my first test, I placed it in my front shirt pocket and walked into a convenience store. The first thing I realized after watching the footage later is that the pen was pointing upward and slightly off to the side. In this scenario, where the pen points will be determined by where it is clipped and the anatomy of the user. I ended up performing most of my tests while holding the pen so I could aim it more accurately.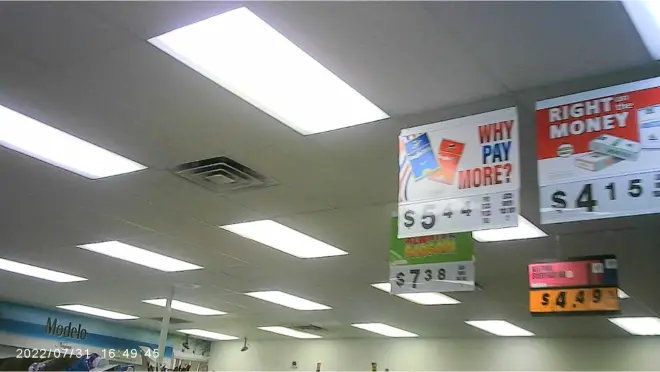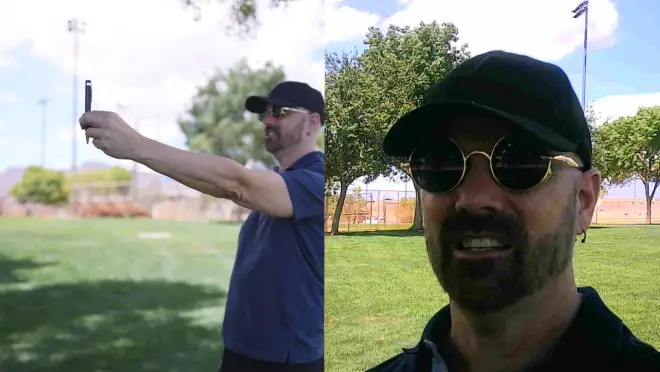 There was a jarringly loud rattle in the audio that I traced to the end cap. Eventually I placed a small strip of tape over that to keep it in place, and the rattling disappeared. Overall, I found the audio to be quiet, even when the pen was only a few feet away from my face. When I tried filming from across a room, my voice was barely audible.
I took it to the park to try a number of tests and found that the lack of stabilization to be another issue. If you plan to be in motion while using this pen camera, plan on the video being shaky. Video was blurry when I attempted to get within about a foot away from the subject, so it is not ideal for closeups, either.
Photo mode yielded an array of results, from good to poor. I took two photos, one facing the sun and one facing away from it, and you can see in the image below that one had a nice color balance while the other leaned heavily into the yellow spectrum. Many of my photos were slightly blurry due to slight movements and because there is no stabilization in the camera.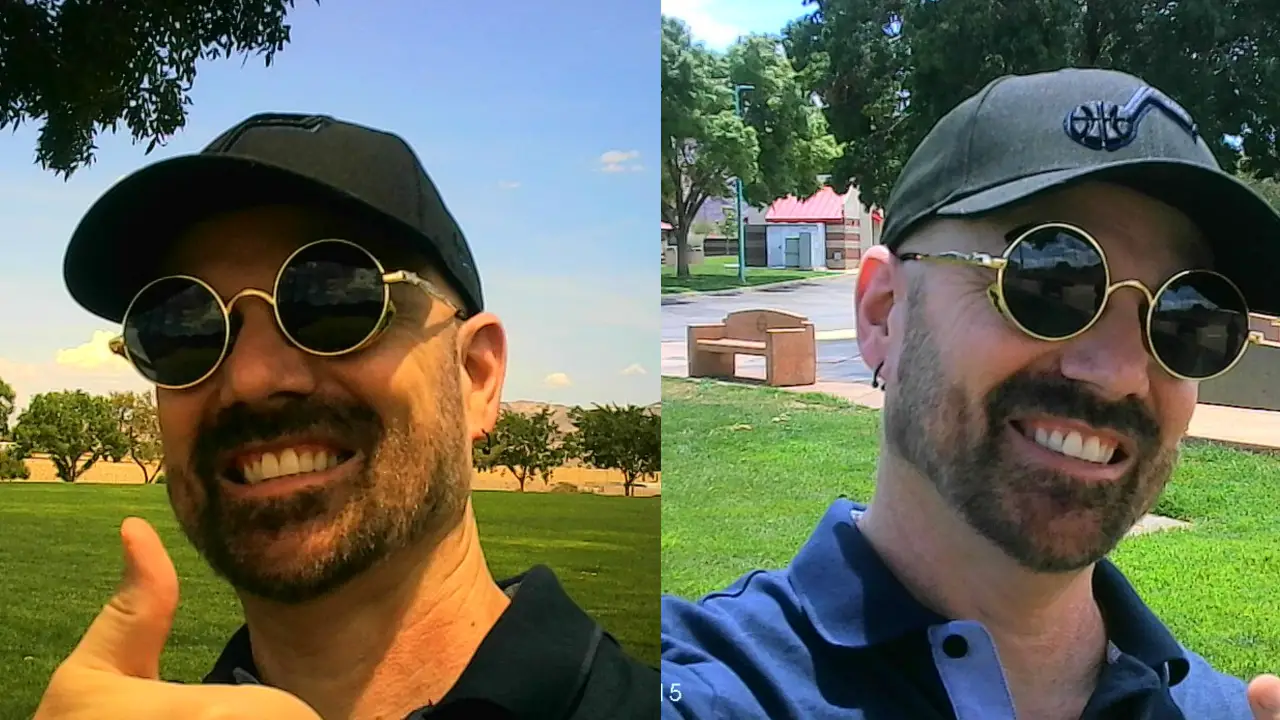 The spy pen's video performed better when it was used as a stationary cam, although the audio was still quiet. The issue with using the spy pen as a hidden stationary cam is the fact that you're dealing with a battery life of around 70 minutes. There are numerous hidden cams with external power that will not be limited by a relatively short battery. Other dedicated cams also have motion detection, which the spy pen does not.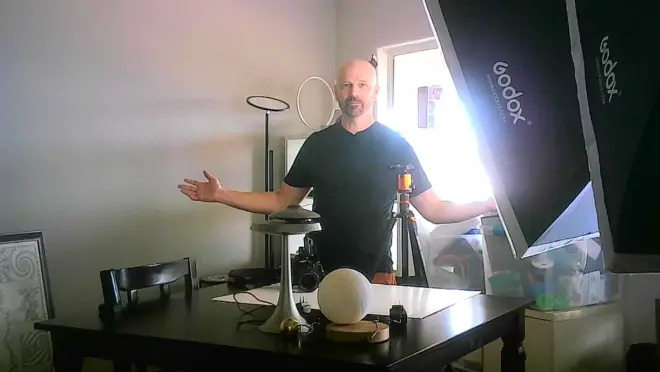 In the end, how you use a device like this – and your expectations – will dictate how satisfied you are with it. If you want to use it in a shirt pocket, I wouldn't expect much. If, however, you want to use it clipped onto a book or in a stationary setting, it might fit the bill. I also wouldn't count on usable audio if the subject is more than a few feet away. Is it worth $35? Consumer sentiment appears to be mixed. Personally, I'd look for other options.