Squeezy Pillow Review: Light Up Plush Pillow For Kids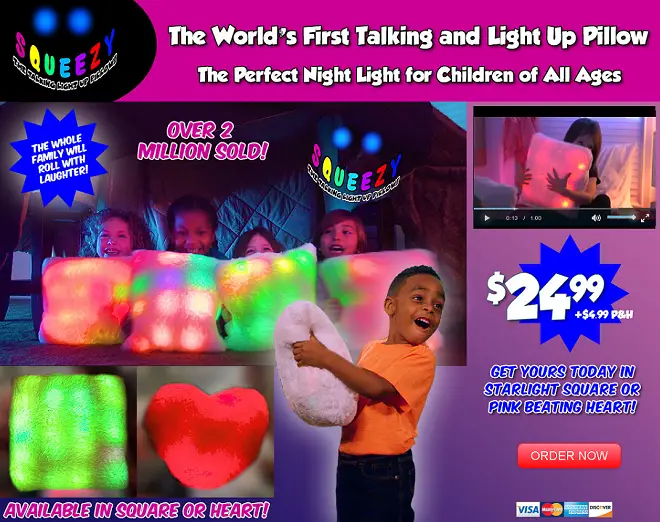 Squeezy Pillow is a comfortable pillow for kids that speaks and lights up. Does it work as advertised? Here is our Squeezy Pillow review.
Sponsored Links
About Squeezy Pillow
Squeezy Pillow is a children's pillow that has 24 pulsing LED lights on one side and LED lights in the shape of a smiling face on the other side. The pillow also records and repeats back 7 seconds of sound at a touch of a button. The official website is squeezypillow.com, with a registration date of January 2017. The screen capture below was taken of the product website in July 2017.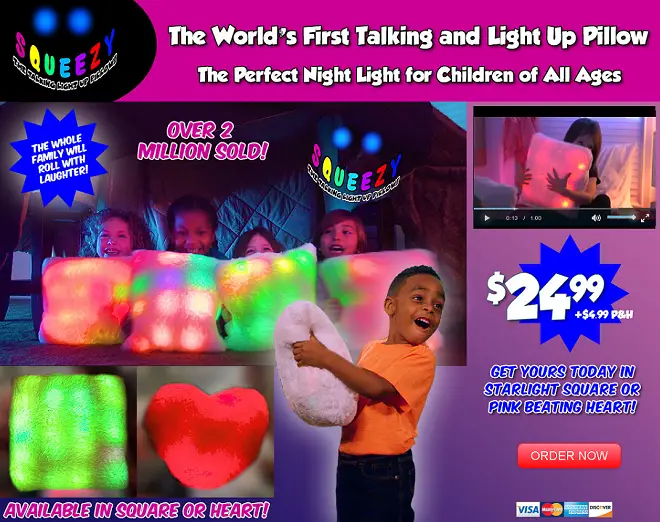 Claims & Features
Runs on 3 AA batteries (not included)
Automatic power down after 15 minutes
Touch a button to access recording mode
Records and repeats up to 7 seconds of sound
Comfortable outer cover
Safe and heat free
Cost
Squeezy Pillow costs $24.99 + $4.99 P&H for a total of $29.98. It comes in two variation options: Starlight Square or Pink Beating Heart. At the time of this writing, Squeezy Pillow is not available in stores.
Squeezy Pillow Review
Kids love light-up toys, and they also love plush pillows, so the makers of Squeezy Pillow have released what should be a no-brainer product that combines the two. Squeezy Pillow is a soft plush pillow that includes dozens of LED lights that create attractive patterns on one side, and a smiley face on the other. To use Squeezy Pillow, you simply squeeze it to engage the lights, which will stay on for 15 minutes before automatically shutting off. When the pillow is lit, the 24 LED lights will pulsate and change colors.
Sponsored Links
If you squeeze the corner, Squeezy Pillow will record and repeat back up to 7 seconds of audio, which adds another dimension of fun to the product. The outer cover can be removed and washed, but the pillow itself should probably be kept dry and wiped clean if necessary.
Overall, Squeezy Pillow is a pretty neat invention, and I think kids will like it. The cost of about $30 (when shipping is factored in) seems a bit high for what you get, as this feels more like a $15-$20 item at best.
As you can see in the screen shot above, there is a claim that over 2 million have been sold. I doubts that 2,000,000 Squeezy Pillows have been sold because the math just doesn't add up to me. Consider that the website for Squeezy Pillow was only created in July 2017, and the product's Facebook page has less than 100 likes as of this writing. I've never seen Squeezy Pillow in stores, and I had never heard of this product until the last few weeks. If I had to guess, I would suggest that the "2 million" number is attributed to Bright Light Pillow, which was heavily marketed a few years ago and did sell like hotcakes for a while. From what I can tell, these items are virtually identical, except for the voice recorder which has been added. Perhaps this is a "new version" of that product, which is where the "2 million" claim comes into play. You may want to peruse comments on Bright Light Pillow, as they seem to apply to Squeezy Pillow as well.
Alternatives
As you may have guessed, there are numerous light up pillows for kids already on the market, ranging in price from about $7 – $20 (which puts Squeezy Pillow at the high end of the scale).
Television Commercial
Your Squeezy Pillow Reviews
What are your thoughts about Squeezy Pillow? Drop a comment below and a star rating above to let us know what you think about it.