Stable 26 are a pair of athletic socks equipped with silicone pads that improve performance and decrease soreness. Does it work as advertised? Here is our Stable 26 review.
Sponsored Links
About Stable 26
Stable 26 is a brand of performance footwear that features stabilizing silicone pads that provide comfort, stability, protection, and pain relief. The official website is stable26.com, with a registration date of November 2007. The screen capture below was taken of the product website in June 2017.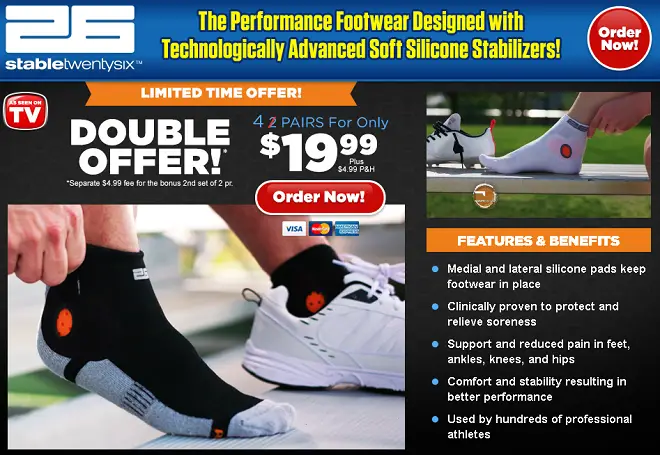 Claims & Features
Shoes kept in place by medial and lateral silicone pads
Scientifically confirmed to protect and alleviate pain
Provides support while decreasing foot, ankle, knee, and hip pain
Boosts performance through comfort and stability
Used by hundreds of professional athletes
Cost
Stable 26 costs $19.99 + $4.99 P&H for a total of $24.98. There is an optional double offer for a separate fee of $4.99 which bring the total to $29.97. There are a number of options when ordering including S/M or L (there is a sizing chart on the order form), black or white coloring, and low cut or high cut. At the time of this writing, Stable 26 is not available in stores.
Sponsored Links
Stable 26 Review
Although you have probably seen dozens of commercials for a wide variety of athletic accessories, from insoles to compression wear to shoes, you probably haven't seen anything quite like Stable 26. This is an athletic sock with "L" support pads on both sides of your foot. The idea behind Stable 26 is that these support pads will essentially fill in the gap below your ankle, which can lead to a better fit for your shoe. This in turn will help lessen pain, boost performance, and provide extra stability.
Stable 26 isn't a new item, and you can find consumer reviews online for the product. You may want to peruse some of the comments for Stable 26 on Amazon (both here and here) to see the range of opinions. What's interesting is that it seems to have been primarily marketed as a hockey-related accessory and is even labeled "Hockey Performance Sport Sock" on Amazon. With its latest marketing campaign, however, the makers appear to be widening the market to general athletic wear.
Consumer reviews for Stable 26 are somewhat mixed, and this could be affected by different cuts of socks, along with consumer expectations. The socks themselves won't offer any significant support, other than the "L" inserts contained within. Those inserts will fill the gap quite well, but there is nothing unusually supportive about the rest of the sock.
Putting the sock on and taking it off takes a bit more work due to the fact that there are semi-rigid inserts on both sides. The thickness of the sock itself is somewhere in the middle of the pack, not too thin and not too thick.
If you have tried other foot inserts without much luck, Stable 26 may be a product worth trying as it offers a very different solution than other footwear you've probably seen. It would be nice if this were available in stores, because I feel that some – but not all – consumers will benefit from this product. That's because not all foot problems have the same cause. While the "ankle gap" could be a problem for one person, it may not be a problem for everyone. Thus, it might be nice to try it before buying, but that is not an option at this time.
Alternatives
Many consumers have looked for ankle inserts for shoes in order to address the same problems addressed by Stable 26. You may even want to look into ankle pads like this one.
Television Commercial
Your Stable 26 Reviews
What are your thoughts about Stable 26? Drop a comment below and a star rating above to let us know what you think about it.