StarTastic is in an indoor/outdoor laser show for the home. Read our StarTastic review.
Sponsored Links
About StarTastic
StarTastic is a home light show which can be used indoors or outdoors for a brilliant laser show. The official product website is trystartastic.com, which was registered in December 2015. Below is a screen capture showing the official website as it appeared in August 2016.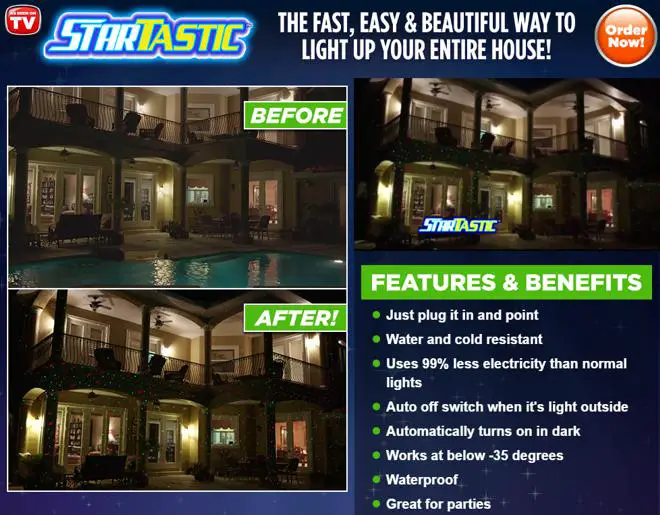 Claims & Features
Plug and point
Uses 99% less electricity than standard lights
Auto turns on and off during day/night
Water and cold resistant
Indoor or outdoor use
Projects up to 600 square feet
2 modes: Green only, or red & green together
Cost
You can get StarTastic from the official website for $29.99 + $7.95 P&H for a total cost of $37.94. Startastic can also be found on Amazon for  about $13. There is a 90-day money-back guarantee.
StarTastic Review
StarTastic is a device which projects red and green lights onto your home in order to achieve a brilliant light show with minimal effort.
To use StarTastic, you simply plug the device in, place it in the ground (using the attached stake) and point at your desired location. The angle at which the light projects can be easily adjusted. The final result is a display that is beautiful and simple. Illuminating your home with lights can take minutes rather than hours the old fashioned way.
Sponsored Links
A built-in sensor detects if it is day or night, and shut the lights on or off accordingly. This is a nice feature that some competing products don't have.
There are two modes, featuring a green-only display, or red and green lights together. It would be nice to have a red-only display, and even nicer were there more colors such as blue or white. Red and green relegates this to a mostly Winter holiday light show.
The cord is very short so you'll certainly need an extension cord to use outside. This, however, allows for less bulky storage.
StarTastic is of average durability, made primarily of plastic. Leaving this outdoors for long periods of time, especially in the summer, may significantly lessen the life of the product.
A note about the product's Amazon page… A very large percentage of users who have reviewed StarTastic there received the product for free or at a discount in exchange for their opinion. We feel this sometimes skews a person's objectivity, so you may want to read those reviews with a grain of salt.
There have been a few concerns expressed about the safety of this type of product. In late 2015, the FAA noted that laser light displays were potentially dangerous to pilots. Consumers have been urged to point lasers are at their homes and not up into the sky. Additionally, using StarTastic indoors should be done with cautions not to look directly into the lights themselves.
Despite a few concerns, StarTastic gets the job done as advertised, and is priced competitively. Can it stand out among a field of similar competitors? Only time will tell.
Alternatives
StarTastic is one of several laser light products to hit the market after a rather successful marketing campaign by Star Shower Laser Light in 2015. That spawned spin-off products such as Star Shower Patriot and Star Shower Motion.
A popular choice is Star Shower Motion, which runs about $40 and has a 4.7 star rating. You can see a video review of that product below.
Television Commercial
Your StarTastic Reviews
What do you think of StarTastic ? Give us your opinion in the comments below and leave a star rating above.