Sweat Belt is a waist trimmer belt that gives you a slimmer look and heats your core. Does it work? Read our Sweat Belt review.
Sponsored Links
About Sweat Belt
Sweat Belt is an adjustable belt that gives you a slim and lean look that also supports your back. The official product website is buysweatbelt.com, which was registered in March 2015. You can see a screenshot below of the official website taken in September 2016.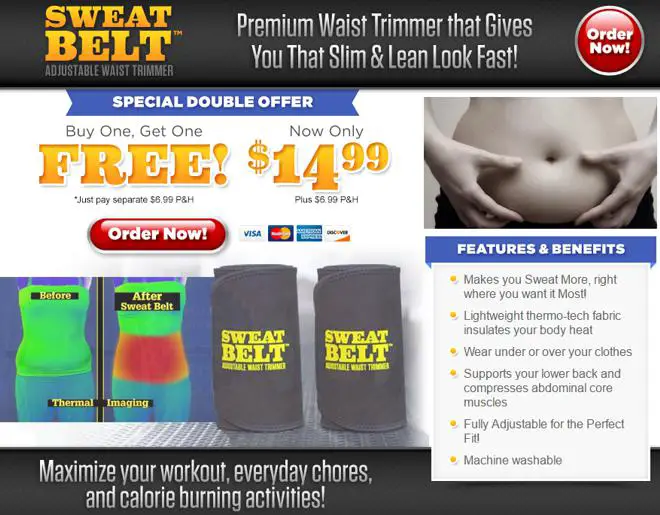 Claims & Features
Fully adjustable
Machine washable
Supports lower back
Lightweight fabric
Insulates body heat
Can be worn over or under clothes
Cost
You can purchase Sweat Belt from the official site for $14.99 plus $6.99 processing and handling. There is a "buy one get one free offer" that you can choose to opt out of, which adds an additional Sweat Belt to your order for another $6.99 processing and handling. An unexplained $1 "web service fee" is added to all orders.
Sweat Belt Review
Sweat Belt is one of many adjustable waist trimmers to advertise in recent years. It has two primary uses: As a compression garment which immediately slims the midsection, and to help you sweat more at your core "right where you want it most."
As a waist trimmer, you can certainly expect Sweat Belt to provide immediate results due to its adjustable compression design. Thus, the claim that you'll instantly look slimmer when you don this product is accurate.
Sponsored Links
Another advertised feature is that of back support, which is also an accurate assertion. This item will stretch from your tailbone to the middle of your back, and provides comfortable compression along with and a better sense of back support.
Can Sweat Belt provide other benefits due to increased heat and perspiration at the core? That is where we arrive at a gray area. The makers are careful in how they word the advertising. There is no specific claim that increased sweating or heat around the midsection will help you lose fat there, although the wording could be interpreted by some readers that way. "Makes you sweat more, right where you want it most," we hear several times during the commercial.
The thermal imaging map used to demonstrate the belt's ability to keep the tummy area warmer was also featured in ads from a similar product called Tummy Tuck Belt (review), which was marketed for several years, and explicitly claimed it could "slim fat away from your belly." Customers who used Tummy Tuck Belt generally disputed this claim.
It has been well-established that you can't target weight loss for a particular area of your body, even if it is subjected to increased body temperature or sweating. The makers of Sweat Belt appear keenly aware of this, as they never explicitly say that the heat and sweat will lead to belly fat loss. Some readers will almost certainly interpret the advertising (such as the heat map or phrases like "sweating where you want it") that way. To their credit, there is a disclaimer at the bottom of the Sweat Belt website that notes, "Sweat Belt is not a weight loss product."
Despite this gray area in the marketing verbiage, Sweat Belt is a fine waist trimmer that provides back support and core compression. When worn, it will immediately give the appearance of a slimmer waist. What benefits additional sweat and heat to the core may bring is a matter of debate.
Can Sweat Belt find a place among the sea of competing waist trimmers? That remains to be seen. It is competitively priced and presented with a professional – and rather convincing – commercial.
Alternatives
The waist trimming category has become increasingly crowded over the past two years, with a multitude of similar products jumping on the bandwagon. An Amazon search of "sweat belt" yields dozens of products which are generally well-received (around 3.5 to 4 stars) in this category.
A poplar choice online is Sweet Sweat, which boasts #1 Best Seller status and a 4.4 star rating among about 6,000 reviews.
Your Sweat Belt Reviews
Have you used Sweat Belt? Let us know what you think by leaving a comment below and a star rating above.