Swirlio is an As Seen on TV frozen dessert maker from Big Boss. It promises to "turn ordinary frozen fruit into yummy, soft serve desserts in just seconds." Here is our Swirlio review plus key product information.
Sponsored Links
If Swirlio looks familiar, that's because there are already several similar items available, such as Yonanas which was advertised on television a few years ago. Using Swirlio is simple: place frozen fruit into the machine, and an ice-cream-like dessert comes out the other side. For that purpose, Swirlio does a pretty good job. It can be somewhat messy to clean, and pushing frozen fruit through the chamber isn't always as effortless as the commercials imply, but otherwise it's a fine competitor in this category.
In our tests of the product, we found the desserts created with Swirlio were tasty and light, and relatively easy to make. Our overall impression of Swirlio is that it is a worthy addition to the at-home frozen dessert maker category. By late 2014, Swirlio has become available for purchase locally.
Consider, however, that Yonanas is also available locally at stores such as Bed, Bath, & Beyond – and runs about $50, so it may be worthwhile to compare the two products before making your final purchase. See this Swirlio review for more info.
Tips for use
Use frozen fruit, but allow it to slightly thaw so that it is easier to push through the machine. Spotted ripe bananas are best and will be sweeter than other bananas. Adding a dash of cinnamon or vanilla extract adds some guilt-free sweetness to the dessert.
Swirlio's "About" paragraph:
This product is a dessert maker designed to make healthier, soft serve desserts with no preservatives, processed sugars, or dairy fats.
Sponsored Links
Official Website
buyswirlio.com
Registered October 30, 2013
Contact Info
Phone: 855-721-3332
Hours: 8:00AM – 8:00PM EST
Web: customerstatus.com.
Claims/Features
Quick and easy way to make healthy desserts
No added sugar or fat
Saves you time and money
Endless fruit combinations for custom desserts
Saves you time and money
Comes in 5 colors: white, red, black, purple, and green
Not available in stores
Comes with a 50-page recipe book and Bonus Topping Dispenser
Cost
2 "easy payments" of $19.95 plus $9.95 P&H = $59.80
Now available in stores, with a price of about $45 to $50
Puerto Rico, Alaska, and Hawaii orders add $20
Screenshot
Here is a screenshot of the Swirlio website, from February 2014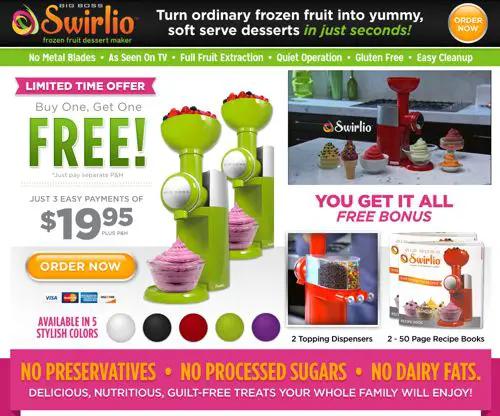 Swirlio Television Commercial
Below is a half hour infomercial for Swirlio.

Swirlio Reviews
Have you tried Swirlio? Please give us your review in the comments below and give it a star rating above.