Switch N Clean is a double-sided mop with reusable pads that are washable. Does it work as advertised? Here is our Switch N Clean review.
Sponsored Links:
About Switch N Clean
Switch N Clean is a versatile mop that features a double-sided cleaning head with microfiber pads that are reusable up to 1000 times. The official website is switchnclean.com, with a registration date of May 2017. The screen capture below was taken of the product website in June 2017.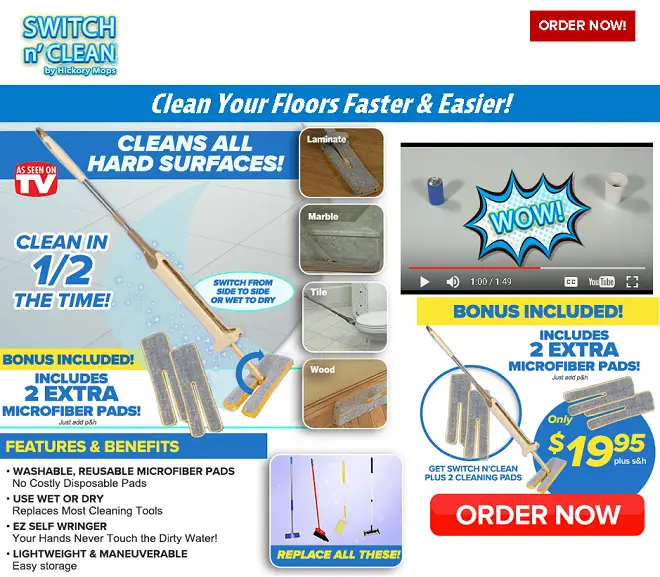 Claims & Features
Pads are reusable and machine washable (can be used up to 1000 times)
Flip the pad head for either wet/dry or clean/dirty
Wipe pads with the self-wringer without touching dirty water
Lightweight & easy to maneuver
Stands vertically for easy storage
30 day money back guarantee
Cost
The Switch N Clean Mop costs $19.95 + $6.95 P&H for a total of $26.90. It comes with two cleaning pads. There is an optional offer for two additional microfiber cleaning pads for a separate fee of $5.95 which raises the total to $32.85. At the time of this writing, Switch N Clean is not available in stores.
Switch N Clean Review
Switch N Clean is a double-sided mop that allows you to go from dry to wet cleaning with a simple rotation of the handle. The secret is in its notched design and rotating handle, which provides the ability to lower the handle, turn the mop over, and flip to use the other side of the pad. It's a rather simple design but one that has proven to be a hit with consumers. Can Switch N Clean wipe out the competition?
Sponsored Links:
You can use Switch N Clean for wet or dry cleanup jobs. If you plan to use it for both wet and dry, you will want to avoid dunking the pad in water, or there will be no dry side to use. If you want, for example, to clean up a spill, you could spray some cleaner on the area (or even the Switch N Clean pad), wipe it up with the wet side, and then flip it over to finish up with the dry side. It's a pretty straightforward and effective way to clean small areas. You can, of course, use it as two dry heads or two wet heads as well.
First up is the good news. These types of mops are quite effective for pet hair and dust on tile and wood floors. That is my biggest issue with having four pets, and one that the new breed of As Seen on TV spin brooms has failed to address. Double-sided mops offer the ability to pick up hair and dirt with the wet side, then further clean the surface with the dry side.
The single biggest caveat with this or any other mop is longevity of the pad itself. There are two extra pads included, which should help extend the life of this product. Even though the pads are touted as washable and reusable, that should be taken with a grain of salt. I have yet to see a mop pad of this type that lasts over several washings before its performance is affected. I would be surprised to see it last "1000x" as the website claims.
Although the flipping ability is the highlighted use, I think its "self wringer" is the most unique design feature. This is a much better way to wring out the head than squeezing or dunking in a bucket full of dirty water. In fact, the wringer may actually help make the pads last longer than other cleaning methods.
My biggest issue with As Seen on TV cleaning products that use handles is that they are notoriously flimsy. It's hard to say at this early stage if the handle will be strong enough to satisfy most consumers. That will be something I'll keep an eye on over time.
Switch N Clean isn't available in stores, and it's also a relatively new item. That means you should expect to wait weeks for it to arrive.
Alternatives
Switch N Clean reminds me of the Norwex Double-Sided Wet and Drop Mop, which is a solid product, but significantly more expensive. On the other end of the spectrum you can find relatively cheap "flip mops" like this one for as low as about $18.
Television Commercial
Your Switch N Clean Reviews
What are your thoughts about Switch N Clean? Drop a comment below and a star rating above to let us know what you think about it.