Tac Bat is a tactical flashlight that is 22X brighter than a traditional flashlight. Does it work? Read our Tac Bat review.
Sponsored Links
About Tac Bat
Tac Bat is a durable tactical-grade flashlight that contains a Bell Howell lens and shines 22X brighter than a regular flashlight. The product website is trytacbat.com, which was first registered in March 2017. The screen shot below shows how the product website looked in March 2017.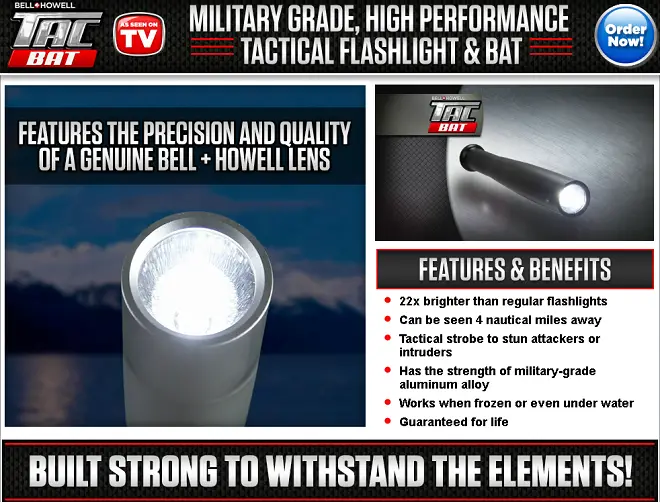 Claims & Features
22X brighter than a traditional flashlight
Can be seen up to 4 nautical miles away
Stun attackers or intruders with a tactical strobe
Toughness of military-grade aluminum alloy
Works under water & when frozen
Lifetime guarantee
Cost
Tac Bat costs $19.99 with free shipping. It comes in two colors: black or silver. As of this writing, this offer is not available in stores.
Tac Bat Review
You've probably seen other "tac" As Seen on TV commercials over the past year, such as TacLight and TacLight Lantern. Now we have Tac Bat, a tactical flashlight housed in a large aluminum case. Although it is not technically a weapon, the name's inclusion of the word "bat" and the images in the advertising clearly depict is being used in close combat.
Sponsored Links
I've had a chance to evaluate several products in this "Tac" brand, and so far I have been happy with the products, with one caveat. For some reason, the makers of this product line insist on claiming that they work underwater, which I have not found to be the case beyond a few seconds. I've put the TacLight and TacLight Lantern underwater, and the results were not impressive. In fact, both quickly took on water, and the lantern stopped working altogether soon after that test.
That said, if you don't put these items under water, they work pretty well. There are, of course, numerous tactical lights out there that work as well or better, and they range in price both above and below that of the TacLight family, but I think the makers of Tac Bat and TacLight have done a respectable job at bringing the "tactical" concept to the As Seen on TV community.
With Tac Bat we have a flashlight that can be used as a relatively short baton. The advertising is a bit cheesy in its attempt to show it being used to take down an attacker, and I certainly don't think I'd rely on that to get me out of a hostile situation. As a flashlight, you should find it far brighter than the ordinary flashlight. It may not offer the zoom feature of other tactical lights, but it does provide a heavy casing and ergonomic handle.
Keep in mind that if you are carrying a flashlight for use as a baton, it could be considered illegal where you live. You'll want to be sure that your primary purpose for carrying Tac Bat is to use it as a flashlight and not as a baton. In some states, carrying an item deemed a club is a felony. That is, of course, another discussion completely. Consider, however, that a baseball bat can be seen as a weapon or a sporting good, depending on how it is used. Some law enforcement officials may see a "Tac Bat" as a weapon, and call the item into question. It may pay to research your local laws.
Overall, I think Tac Bat will work well as a tactical flashlight, but I would be careful to heed local laws regarding an item that can be categorized as a weapon.
Alternatives
As bizarre as the idea of a tactical bat may sound to the uninitiated, there are numerous tactical bats readily available, ranging in price from about $15 to $40.
Your Tac Bat Reviews
What do you think of Tac Bat? Tell us what you think by leaving a comment below and a star rating above.