Tac Glasses Night Vision are eyeglasses that allow you see better when driving at night. Do they really work? Here is my Tac Glasses Night Vision review.
Sponsored Links:
About Tac Glasses Night Vision
Tac Glasses Night Vision are tinted sunglasses that sharpen visual clarity and augment color while night driving. The official product website is tacnight.com, which was registered in September 2017. The screenshot below shows how the product website looked in November 2017.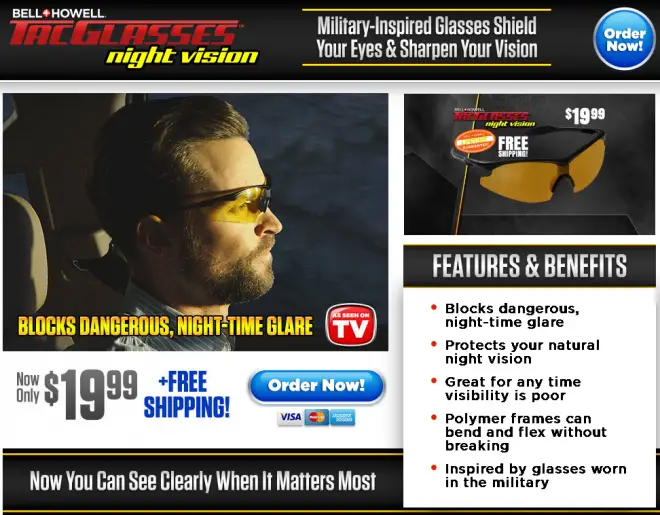 Claims & Features
Anti-reflective coating prevents night-time glare
Tint protects natural night vision
Ideal for any time that visual clarity is insufficient
Sturdy polymer frames (flexible without breaking)
Military-inspired tactical eye-wear
Cost
The Night Vision Tac Glasses cost $19.99. Shipping is free. There is an optional offer to add insurance to your order for $3.99 which would raise the total to $23.98. At the time of this writing, the Night Vision Tac Glasses are not available in stores.
Tac Glasses Night Vision Review
If the idea of As Seen on TV nighttime glasses seems familiar, you aren't mistaken. And if the name "Tac Glasses" also seems familiar, you still aren't mistaken. Tac Glasses Night Vision is the nighttime followup to the popular Tac Glasses which began advertising in mid-2017 and continues to do so. This night version of their product is similar to several other night driving glasses to advertise in years past.
Sponsored Links:
The good news is that amber tinted glasses like this are a proven commodity, and consumers generally agree that they do reduce glare and enhance clarity while driving at night. The bad news is that there are so many viable options that Tac Glasses Night Vision may get lost in the crowd. You may recall older glasses like this such as Night View NV, HD Night Vision Wraparounds, or the more recent Night Sight, all of which sport the same amber tint as Tac Glasses Night Vision. There are numerous night driving glasses to be found in stores and online. ClearVision Night Optics is another version that looks remarkably similar – and only costs $7.
It appears that the frames for Tac Glasses Night Vision are the same as the regular Tac Glasses, which I found to be modest plastic frames, not unlike an ordinary pair of sunglasses I'd find at Walmart.
Another potential problem is that Tac Glasses Night Vision is a brand new product, as evidenced by its September 2017 website registration date. That tells me this is likely a test marketed item, which means it could be slower to ship than you might expect. See my video below for more info on test marketing.
In the end, I found the original Tac Glasses to be akin to an ordinary pair of inexpensive sunglasses, and I would expect consumers to feel the same about the night version. That's not to say that Tac Glasses are bad, only that they don't stand out in a way that the advertising implies. I'm not sure if the night version will stand out either, especially when you can order a number of similar products online, or find them on almost any As Seen on TV store shelf.
I'll update this space as I get more information about this product.
Related Videos
Below you can find my videos for the original Tac Glasses, as well as my demonstration of how As Seen on TV test marketing usually works.
Your Tac Glasses Night Vision Reviews
Have you used Tac Glasses Night Vision or something like it? Leave a comment below and a star rating above to let us know your thoughts.