Tac Glasses are tactical sunglasses that supposedly boost visual clarity, enhance colors, and block glare. Do they work as advertised? Here is our Tac Glasses review.
Sponsored Links:
About Tac Glasses
Tac Glasses are specialized sunglasses that are inspired by tactical/military gear. They supposedly increase optical clarity, augment color perception, and prevent glare. The official website is trytacglasses.com, with a registration date of May 2017. The screen capture below was taken of the product website in May 2017.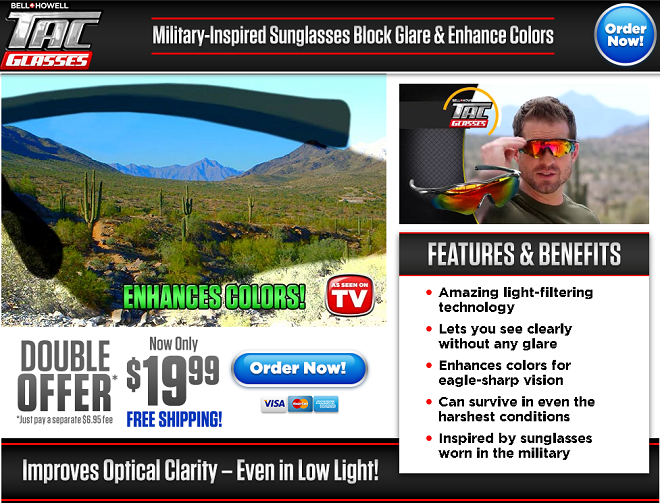 Claims & Features
Includes light-filtering technology
Blocks blinding glare
Augments colors
Sturdy design withstands the elements
Influenced by military sunglasses
Cost
Tac Glasses cost $19.99 with free shipping. There is an optional double offer for a second pair which charges a separate fee of $6.95, bringing your total to $26.94. At the time of this writing, Tac Glasses are not available in stores.
Sponsored Links:
Tac Glasses Review
When I saw that the "Tac" brand was back with another commercial featuring Nick Bolton, I wasn't sure if I should cringe or laugh – based on some of the previous TacLight brand commercials I've seen (in particular Tac Bat, but that's another story). Fortunately, the commercial for Tac Glasses isn't quite as cheesy as some of the brand's previous offerings.
With Tac Glasses, we have a pair of polarized sports/military/tactical sunglasses that allow you to see better by reducing glare. The commercial does a reasonable job of demonstrating how such glasses work, without actually using the word "polarized" or really giving a great deal of detail about the product itself. Does it provide UV protection? Are those polycarbonate lenses? We just don't know.
Tac Glasses appear to be a respectable pair of polarized sports/military sunglasses, offering a familiar design. I think that if you like the way they look in the advertising, you'll be generally pleased with them. The cost is on par with the competition, and there is no shipping if you only buy one pair.
Speaking of shipping, Tac Glasses have only appeared on my radar very recently, and seems to be a brand new product. If it is being test marketed, you should probably expect slower shipping times than you'll find on Amazon. Test marketed products are often produced in very limited numbers until they determine whether or not there is enough interest to go into full production. If it's a hot seller, the initial stock is quickly exhausted and another production run must be initiated before all orders can be filled.
I don't know if I would believe the commercial's claim that "There's just nothing like them on the market today." As I note below, these types of sunglasses are actually quite common.
Alternatives
There are a number of "tactical" or "military" sunglasses to be found in stores and online. This pair of COSVER polarized sunglasses is quite close in design and function to Tac Glasses, and can be purchased for about $20, with Amazon Prime shipping. This model by Torege has even higher ratings with a price of about $22, and offers five interchangeable lenses for various situations.
Your Tac Glasses Reviews
What are your thoughts about Tac Glasses? Drop a comment below and a star rating above to let us know what you think about it.