Tac Lamp is a tactical headlamp that is 35 times brighter than a normal flashlight. Does it really work? Here is my Tac Lamp review.
Sponsored Links
About Tac Lamp
Tac Lamp is a military-inspired headlamp which allows you to work without the need to hold a flashlight in your hands. The official product website is buytaclamp.com, which was registered in October 2016. The screenshot below shows how the product website looked in April 2018.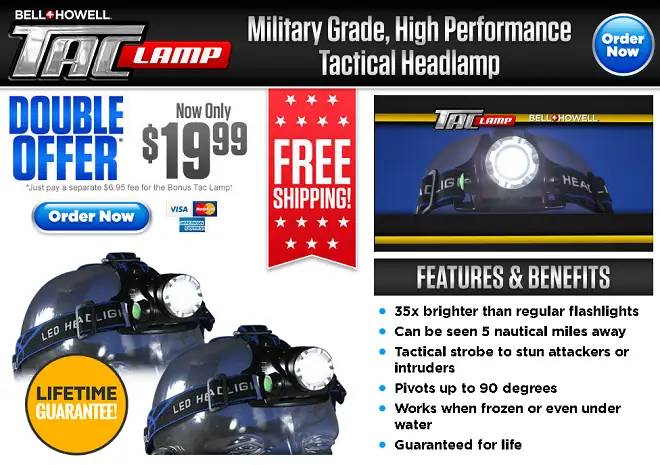 Claims & Features
Light is 35x more powerful than the average flashlight
Visibility up to 5 nautical miles
Confuse assailants and trespassers with the tactical strobe
90 degree rotation
Still works when frozen or submerged under water
Lifetime guarantee
Cost
Tac Lamp costs $19.99. There is an optional double offer for a separate fee of $6.95 which would raise the total to $26.94. I've seen Tac Lamp in stores, typically in the "As Seen on TV" section, for about $20.
Tac Lamp Review
There have been a slew of "tactical" lights advertising on television over the past two years, including the original Tac Light, Tac Light Lantern, and Tac Light Pro. They are advertised as brighter and more durable than standard flashlights. Because of the popularity of these products, it's no wonder that the makers of Tac Light keep going back to the well to release additional products under this brand. With Tac Lamp, we have a tactical headlamp which allows you to enjoy the benefits of a tactical light with both hands free. In 2016, a virtually identical product was advertised under the name "Hands-Free Tac Light."
Sponsored Links
With this incarnation of Tac Light, you'll find a bright light affixed to an adjustable headband which fits snugly over the head. The light itself is extremely bright in comparison to regular flashlights, and pivots up to 90 degrees. There is a button on the side of the light which allows you to toggle the light on and off, or to engage the strobe feature.
As with the original Tac Light, this hands-free version is said to be more durable than a regular flashlight and can withstand extreme temperatures and physical punishment. It doesn't sport some of the other modes found in the original Tac Light, and there doesn't appear to be a rechargeable version. That said, it seems to be made of acceptable construction and materials. How effective a strobe light is for self-defense is debatable at best.
I am actually a fan of this design, as it points the light wherever you are looking. Thus, for example, if you are working with two hands, you can keep a light firmly in place as you work, without have to worry about re-adjusting or shining light from a desirable angle.
The Bell & Howell brand has been seen with increasing frequency in As Seen on TV products in recent months. Keep in mind that the Bell & Howell trademark is commonly licensed to third-party consumer electronics in order to heighten brand recognition. Thus, the Bell & Howell name alone probably shouldn't be a determining factor in your purchase.
If you've watched my YouTube channel, you may know that I've featured a product called the Atomic Beam Headlight numerous times, and ranked it among my favorite As Seen on TV products of 2017. As you may know, the "Atomic" and "Tac" brands are competing brands that often release nearly-identical products marketed similarly. In the case of Atomic Beam Headlight vs Tac Lamp, it would appear that these two are also very similar and could probably be used interchangeably without much notice. That bodes well for Tac Lamp, as I believe the design of this product is highly useful.
Alternatives
The number of tactical headlamps for sale online may be surprising to the uninitiated. They range in price from $17-$100+ and tend to be well-received in general. A popular choice in this category is the InnoGear 5000 Lumen headlamp, which runs about $30 and boasts a 4.3 star rating among 800+ reviews.
Below is my full video review of the very similar Atomic Beam Headlight.
Television Commercial
Your Tac Lamp Reviews
Have you used Tac Lamp or something like it? Leave a comment below and a star rating above to let us know your thoughts.