Tac Light is a military-grade high-performance flashlight. Read our Tac Light review plus additional information.
Sponsored Links
About Tac Light
Tac Light is a small-but-powerful flashlight by Bell & Howell that has been advertised on television in 2016. The official product website is trytaclight.com, which was registered in April 2016. The screenshot below was taken of the official website in May 2016.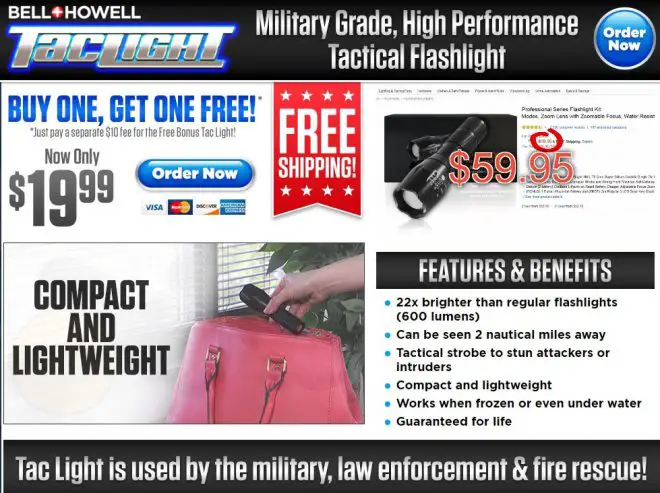 Claims and Features
22 times brighter than regular flashlights (600 lumens)
Can be seen up to 2 nautical miles away
Strobe feature to "stun" intruders
Small, light
Works in water or while frozen
Lifetime guarantee
By Bell+Howell
Regular model uses three AAA batteries. Upgraded model uses rechargeable battery.
Cost
Tac Light costs $19.99 with free shipping. A second light can be added for another $10. You can also upgrade to a model which uses a rechargeable battery for $29.99. Tac Light can be found in stores, typically in the As Seen on TV section, for about $20.
Tac Light Review
Tactical flashlights (or "Tac Lights") are high-performance flashlights made from high-grade materials. They are used by police and military due to their durability and power. They are used for a variety of purposes, including being mounted on weapons.
In addition to its regular bright setting, there are a number of other modes which Tac Light offers, such as zoom mode, self-defense mode (strobe), low light mode, and SOS mode.
Low light mode conserves batteries and works at a much lower brightness level, useful when 600 lumens is overkill. Self-Defense Mode sends a debilitating strobe in the direction of an intruder or attacker. Zoom mode focuses the light on a smaller area, useful if you need to hone the light in a specific location. SOS mode emits a blinking SOS signal.
Sponsored Links
Tac Light is well-constructed and offers a bright light, comparable to what you see in the television advertising. The unit is small, lightweight, and sports a comfortable grip. It can easily brighten a dark room, and the number of modes makes it highly versatile. You should be aware that Bell+Howell is a trademarked name that is licensed to third-party manufacturers and should not influence your purchasing decision.
With a large number of similar products showing up online, tactical lights are a hot product in 2016. The number of options is dizzying, and it can be difficult to decide which one is right for you. You can find competing products anywhere from $12-$130, with lumens ranging from 320-1600. It can be difficult to choose among such a wide range of competition.
Should you decide to choose the Bell & Howell Tac Light, we don't think you'll be disappointed, as it performs about as advertised. Because it is now available in stores, we recommend purchasing locally to avoid shipping costs and delays. This will also facilitate the return process, if necessary.
The price-to-lumens ratio is actually quite good. Overall, it's not a bad entry-level tactical light for those seeking to test out this category of flashlights. You may want to compare Tac Light to the highly-rated Streamlight ProTac HL, which sports similar features, and costs about $60.
One more thing to consider is that I compared the Tac Light to a 650-lumen Luxpro LP1200, which you would think would be comparable in brightness, but the Luxpro was by far brighter. The discrepancy in brightness does not seem to match that of a 600 vs 650-lumen comparison. See that comparison in the third video below.
Update
After about three weeks, the button for the Tac Light stopped working. While this is usually a relatively easy remedy for other LED flashlights, the tail cap on Tac Light does not sport a standard design and there appears to be no (easy) way to access the parts within. Thus, a broken button will render the product useless. A later Tac Light that I purchased had a different tail cap design that was easier to open, so it appears that the design has changed since 2016.
In 2018, I bought a new Tac Light to compare with Tac Lighte Elite (aka Tac Light Pro), and upon dropping them on the concrete, the Tac Light stopped working, while the Tac Light Elite still worked.
Video Reviews
Below are three hands-on video reviews of Tac Light: My original 2016 review, a follow-up which discusses the broken button, and a 2018 comparison of the Tac Light with the new Tac Light Elite (aka Tac Light Pro).
Your Tac Light Reviews
Have you used Tac Light? Let me know what you think by leaving a comment below and a star rating above.
Updated March 2018.