Thermassage is a back pain therapy belt with compression, heat controls, and a massage function. Does it work as advertised? Here is our Thermassage review.
Sponsored Links
About Thermassage
Thermassage is a 3-in-1 massage belt that features compression straps, deep heat treatment, and vibrating massage. The official website is getthermassage.com, with a registration date of April 2017. The screen capture below was taken of the product website in June 2017.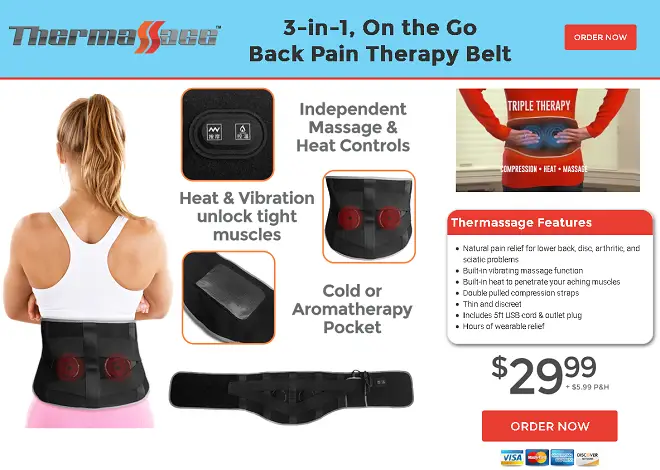 Claims & Features
Natural pain relief for the back, arthritis, & sciatica
Vibrating massage built-in
Deep heat treatment for tight, aching muscles
Compression straps
Slender and discreet
Comes with 5 foot USB cable & outlet plug
Wear for hours of relief
Cost
Thermassage costs $29.99 + $5.99 P&H for a total of $35.98. At the time of this writing, Thermassage is not available in stores.
Thermassage Review
Thermassage is a heated massage belt that is designed to alleviate symptoms of lower back pain. This thin device can be used almost anywhere, thanks to a rechargeable battery. There are three primary features of Thermassage: massage, compression, and heat. These three combine to provide support and relief to aching muscles.
Sponsored Links
The makers have done a good job of tossing in as many useful features as they can. I have not found a vibration unit that has ever felt comfortable to me when it comes to my back, as most of them tend to make my skin feel itchy. Thus, in my case I would probably pass on the vibration feature and opt for heat and compression only. Everyone is different, so you may have a completely different opinion and experience from me. The fact that there are multiple options is what makes Thermassage a solid product.
I do like the design and features of Thermassage. It is worn like a compression belt, and provides heat and vibration with a wireless design due to its rechargeable battery. That means you can wear it under (or over) clothing and allow it to work on your back throughout the day. The compression feature offers support that may help some consumers sit or stand in a way that could help their pain long-term.
Overall, I think Thermassage touches on all of the bases, and offers a solid device at a reasonable price.
Keep in mind that Thermassage may offer relief, but it won't necessarily address the cause of your back pain. Thus, while it offers a nice set of tools to fend off back pain, you should probably seek the cause of your back pain and attempt to correct it at the source. There are, of course, some situations where back pain can't be avoided, particularly when it is a job or desk-related situation in which the back will be exposed to constant stress. In those cases, a tool like Thermassage will be a welcome addition to your daily regimen.
Not all back pain has the same cause, nor does it have the same solution. I suggest seeking medical advice if you haven't had your chronic back pain diagnosed before purchasing any items to address the problem. I battle regular back pain, and the cause of mine is sitting at a desk all day. With the advice of a chiropractor, I was able to make adjustment to my chair, computer monitor, and scheduled breaks in order to greatly reduce the amount of back pain I endure. A product like Thermassage may be an excellent part of your fight against back pain, but you should be sure you haven't missed any other changes you can make that can further reduce pain in the area.
While it would be nice to see Thermassage sold in stores, I'm glad to see a moderate shipping fee and no mandatory "double offer" that tries to extract even more money out of consumers.
Alternatives
There are, of course, other belts of various shapes and sizes that could be categorized alongside Thermassage. This hot and cold therapy belt offers some of the same features, and runs about $40. Then you have massage-only belts, like this model by Spa Buddy.
Your Thermassage Reviews
What are your thoughts about Thermassage? Drop a comment below and a star rating above to let us know what you think about it.