Tiger Wrench is a tool that combines 16 wrenches on a swiveling head. Does it work? Read my Tiger Wrench review.
Sponsored Links
About Tiger Wrench
Tiger Wrench is an adjustable tool that features 16 wrench sizes which can be easily accessed with a simple rotation. The product website is tigerwrench.com, which was first registered in November 2016. The screen shot below shows how the product website looked in March 2017.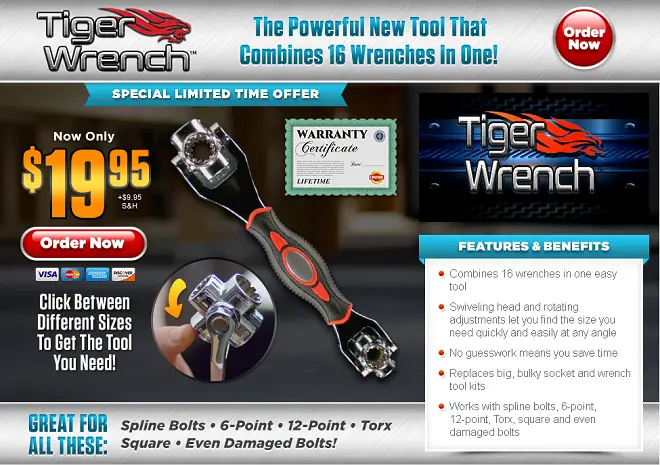 Claims & Features
Combination of 16 wrenches
Quickly find the right size with rotating adjustments & swiveling head
Save time by eliminating guesswork
Replaces kits & cumbersome sockets
Works with a variety of bolts (damaged, spline, 6-point, 12-point, Torx, and square)
Cost
Tiger Wrench costs $19.95 + $9.95 shipping for a total of $29.90. I found Tiger Wrench at a local As Seen on TV store in Las Vegas for about $21.
Tiger Wrench Review
Tiger Wrench is promoted as a revolutionary tool that can replace 16 wrenches at once. This is achieved by a swiveling and rotating head that can be adjusted to different sizes on the fly. Can you actually replace an entire socket and wrench set with this one tool?
The first thing that crossed my mind when I saw the ad for Tiger Wrench was that I have seen this type of tool before, as I will discuss below.
Although the marketing would have you believe that the multi-head design of this wrench sets it apart from other tools, I believe that it's the ergonomic rubber grip handle that gives it a slight edge over some of the others. Most of these "dog bone" wrenches don't offer a rubber handle, so I think that is the primary feature that sets it apart from similar tools. That may not be a compelling reason to choose this one over the others, but it could be to some people.
To change sizes, you simply spin the rotating head to pick which size you want. As long as you don't move the wrench in a direction that could spin the head, it will stay in place as you adjust bolts.
Sponsored Links
When I found Tiger Wrench at a local As Seen on TV store in Las Vegas in January 2018, I decided to take it down to Santa Ana, California to have my cousin help me give it a proper evaluation at his classic auto body shop.
The first thing we both noticed was that the shallow sockets popped off easily when attempting to loosen a tight bolt at a 45-degree angle – as the advertising claims. In fact, because the sockets are so shallow, the tool is almost flush with the surface, and this creates interferences from the other sockets on the tool.
We liked the feel of the rubberized handle, and we agreed that this is a pretty handy tool to have in some circumstances. After several hours of testing, I came away feeling like it should have been better. In my opinion, the shallowness of the sockets seemed to be a design flaw. And that's where things became interesting.
Upon returning to Nevada, I fired up the Tiger Wrench commercial again and noticed that the sockets appeared much deeper in the commercial than they did on my tool. My theory is that a prototype was advertised, but the design was altered for production reasons (costs?), which led to a more shallow set of sockets. I believe that if they had kept the depth of the sockets true to the unit they advertised on television, the problems I had with the product would be lessened.
This isn't the first wrench to be hyped in As Seen on TV advertising, but not all such tools are an instant hit. I remember last year seeing a similar item called Crocodile Wrench that looked equally impressive, yet it quickly disappeared. Can Tiger Wrench impress enough consumers to become a contender? Only time will tell.
In the end, Tiger Wrench is a disappointment. Minor changes to the design made a major impact on how well this tool functions.
Be sure to check out my full video review of Tiger Wrench below.
Alternatives
If Tiger Wrench looks compelling to you, but you don't want to wait for extended shipping times, you may be interested in one of many dog bone wrenches on the market, which range from $8 – $30. The Craftsman Dogbone Metric Wrench, which functions and looks about the same as Tiger Wrench, costs about $10. There is also the Sears brand Dog Bone wrench that runs about $25.
In years past, I've seen a product called the Black & Decker ReadyWrench, although that one isn't as easy to find these days. That looks virtually identical to Tiger Wrench – the deeper socket version.
Your Tiger Wrench Reviews
What do you think of Tiger Wrench? Tell us what you think by leaving a comment below and a star rating above.
Updated January 2018.