Tiger Wrench is a tool that combines 16 wrenches on a swiveling head. Does it work? Read our Tiger Wrench review.
Sponsored Links:
About Tiger Wrench
Tiger Wrench is an adjustable tool that features 16 wrench sizes which can be easily accessed with a simple rotation. The product website is tigerwrench.com, which was first registered in November 2016. The screen shot below shows how the product website looked in March 2017.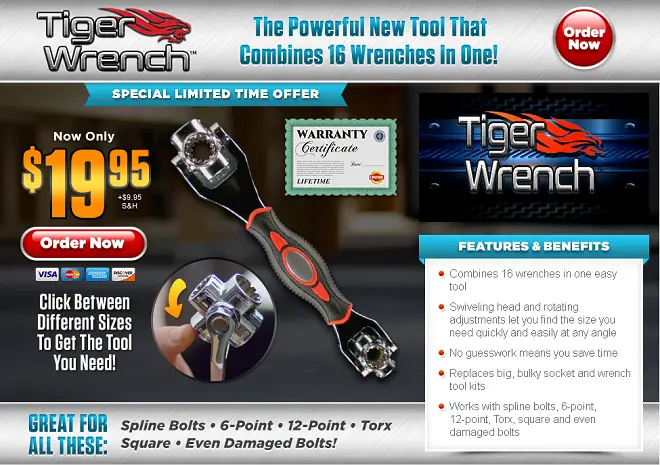 Claims & Features
Combination of 16 wrenches
Quickly find the right size with rotating adjustments & swiveling head
Save time by eliminating guesswork
Replaces kits & cumbersome sockets
Works with a variety of bolts (damaged, spline, 6-point, 12-point, Torx, and square)
Cost
Tiger Wrench costs $19.95 + $9.95 shipping for a total of $29.90. As of this writing, this offer is not available in stores.
Sponsored Links:
Tiger Wrench Review
Tiger Wrench is promoted as a revolutionary tool that can replace 16 wrenches at once. This is achieved by a swiveling and rotating head that can be adjusted to different sizes on the fly. Can you actually replace an entire socket and wrench set with this one tool?
The first thing that crossed my mind when I saw the ad for Tiger Wrench was that I have seen this type of tool before, as I will discuss below.
Although the marketing would have you believe that the multi-head design of this wrench sets it apart from other tools, I believe that it's the ergonomic rubber grip handle that gives it a slight edge over some of the others. Most of these "dog bone" wrenches don't offer a rubber handle, so I think that is the primary feature that sets it apart from similar tools. That may not be a compelling reason to choose this one over the others, but it could be to some people.
On its own merits, I think that Tiger Wrench will generally live up to the advertising claims. It can be used on a wide variety of bolts, and the selection between the sizes is quick, as shown in the commercial. To change sizes, you simply spin the rotating head to pick which size you want. As long as you don't move the wrench in a direction that could spin the head, it will stay in place as you adjust bolts.
If you are impressed by the advertising, you'll probably be impressed with the product, as it should perform about as expected.
This isn't the first wrench to be hyped in As Seen on TV advertising, but not all such tools are an instant hit. I remember last year seeing a similar item called Crocodile Wrench that looked equally impressive, yet it quickly disappeared. Can Tiger Wrench impress enough consumers to become a contender? Only time will tell.
Alternatives
If Tiger Wrench looks compelling to you, but you don't want to wait for extended shipping times, you may be interested in one of many dog bone wrenches on the market, which range from $8 – $30. The Craftsman Dogbone Metric Wrench, which functions and looks about the same as Tiger Wrench, costs about $10. There is also the Sears brand Dog Bone wrench that runs about $25.
Your Tiger Wrench Reviews
What do you think of Tiger Wrench? Tell us what you think by leaving a comment below and a star rating above.