TouchNote Review: Custom Postcards and Greeting Cards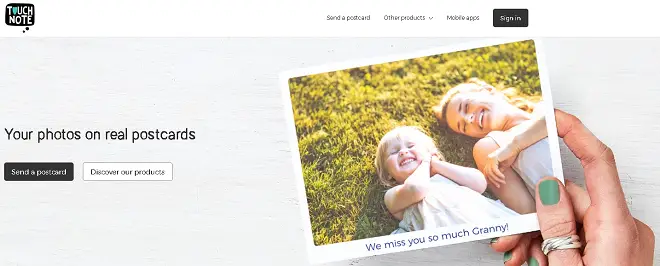 TouchNote is a mobile app and website for sending postcards and greeting cards. Does it work as advertised? Here is our TouchNote review.
Sponsored Links
About TouchNote
TouchNote is a website and mobile app that allows the user to send greeting cards, postcards, and photos to any address worldwide from an Android, iPhone, or iPad. The official website is touchnote.com, with a registration date of January 2005. The screen capture below was taken of the product website in June 2017.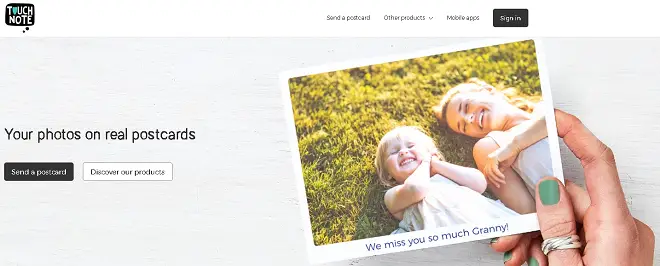 Claims & Features
Mobile app and website
Design postcards, greeting cards, and framed photos
Send real postcards, greeting cards, and photos anywhere in the world
Compatible with Android, iPhone, or iPad devices
Cost
There are a variety of products available at different costs. I purchased the postcard and the greeting card for $2.99 and $4.50 respectively. There is also the option to "subscribe" to their Magic Writing feature for about $3 for 90 days. It appears that new users get a free 90-day credit of Magic Writing upon signing up.
TouchNote Review
I first noticed TouchNote when I saw an ad for it on television and decided to review it for my YouTube channel (that review is forthcoming). For my test, I ordered a greeting card and a post card. Although you can set up a new order without signing up or signing in, you'll want to create an account if you plan to actually order anything.
Much of the website seems to push postcards, but there are other items you can order. If you want to create a postcard, it is as simple as uploading a photo or photos, typing a message, and entering an address. You can include a single photo or as many as six photos on the front for a collage. There are also numerous pre-made greetings available. After you pick out your photo, you'll then move onto the other side where you can type a message and enter your recipient's name and address. There is also another feature in which you can use your own photo as a stamp, although that costs extra. You can choose among fonts such as traditional, scholar, crisp, and sketch. Only the traditional font is free, while the others require a "Magic Writing" subscription, although you will get 90 days of that for free when you first register.
I ordered my postcard on a Thursday and received it on a Saturday. It was mailed the next day from Phoenix, Arizona, which is probably why it arrived so quickly. The quality of the card itself is excellent, with a thick glossy finish on both sides. The photo was crisp and professional looking. I opted to use a photo border with rounded corners to give it a more traditional postcard look, but you can choose to use no border as well. The size of the postcard is 5.625″ wide by 4.25″ high.
After receiving my postcard, I decided to try out a greeting card. This time I sent it to my cousin's house in Indianapolis, where I would be visiting the following week. I submitted that order on a Sunday and it arrived in the mail on Friday (keeping in mind there was the July 4 holiday that week, too). It was also mailed from Phoenix the day after I placed my order. The greeting card is larger than the post card (7″ wide by 5.125″ wide, folded) and folds out to reveal your personalized message. It arrived in an envelope. As with the postcard, the greeting card is made of high quality stock and a smooth glossy finish on the outside, with a matte finish on the inside.
Sponsored Links
While I was quite pleased with the fast turnaround (both cards were sent out the next day) and the quality, I feel that the greeting card is the better deal between these two. When I purchase greeting cards in stores, they can cost as much as $6 – and still require postage. So TouchNote's cost of $4.50 with postage, a custom photo, and a custom message seems like a better deal than you'd find in stores for greeting cards. Postcards are kind of a lost tradition, but you can still find those for under $1 in most drug stores. With the current postage rate of $0.34, it seems like their $2.99 postcard isn't as good a deal as their greeting card.
I'm impressed by the speed and quality of TouchNote, as well as the ease at which you can create an attractive product. I'm sure that I'll be using this service the next time I need to send a birthday or anniversary card, and I'll probably save money doing so. I probably won't use it for postcards again, but it is a great way to create a custom postcard if that's something you like to do.
Below you can see the back and front of the postcard I ordered, along with the front and inside of the greeting card (personal info is covered).
Video Review
Below is my full video review of TouchNote.
Television Commercial
Your TouchNote Reviews
What are your thoughts about TouchNote? Drop a comment below and a star rating above to let us know what you think about it.