Tough Tape is a durable tape that can form an airtight and water-tight seal. Does it really work? Here is my Tough Tape review.
Sponsored Links
About Tough Tape
Tough Tape is a military-inspired tactical tape that is able to hold up to 200 lbs, yet can be removed easily. The official product website is buytoughtape.com, which was registered in August 2017. The screenshot below shows how the product website looked in September 2017.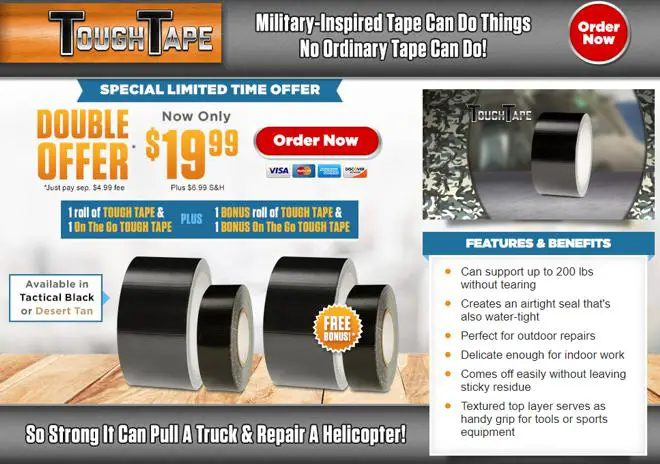 Claims & Features
Capable of supporting up to 200 lbs
Produces a water-tight and airtight seal
Can be used for outdoor or indoor repairs
Easy to remove (will not leave residue)
Top layer is textured for gripping
Cost
There is a mandatory double offer when ordering Tough Tape. The cost is $19.99 + $6.99 shipping + $4.99 double offer for a total of $31.97.  This offer includes two 30 foot regular rolls and two "on the go" rolls. Available color choices are Tactical Black or Desert Tan. At the time of this writing, Tough Tape is not available in stores.
Sponsored Links
Tough Tape Review
If the advertising for Tough Tape seems familiar, you aren't mistaken. The commercial for this product appears to hop on two bandwagons at the same time: the "tactical" craze, and the high-end tape craze. As Seen on TV marketers have been filling the airwaves with endless "tactical" products over the last year, from flashlights to bats (really!) to sunglasses. These products are all advertised with a military imagery. Moreover, you've also no doubt seen several high end tapes over the years, most notably Gorilla Tape, Flex Tape, and FiberFix. These products are all promoted for their ability to perform far above regular duct tape.
Now with Tough Tape, we have an item that combines tactical images with demonstrations of high-end tape. You'll see elements found in tactical flashlight ads alongside those found in commercials for high ends tape.
In short, Tough Tape is a 30-foot roll of high-grade tape, not unlike you'll find with Gorilla Tape or FiberFix. I do like the textured top layer which in some instances could help grip and avoid slippage.
Although we aren't given exact specs as to what type of tape this is, the advertising does provide a clue: "They even used this kind of tape to fix helicopter rotor blades during the Vietnam War because it could hold repairs at speeds up to 100 miles per hour!" With that in mind, it is clear that Tough Tape is military-grade duct tape, also known as 100mph tape, which is stronger than regular duct tape. The good news is that this type of tape is extremely strong, can form a watertight seal, and holds up in harsher temperatures than regular tape.
The bad news, at least for Tough Tape, is that you can buy military grade duct tape quite cheaply on Amazon, with faster shipping. There are also multiple options available on Amazon, from 1 inch wide to 6 inches. A cursory search of 100mph Tape will yield several results, so it may pay to shop around.
In the end, Tough Tape appears to be a solid entrant in the high-end tape category, although it is decades-old technology that can be found elsewhere. If you don't want to pay the mandatory double offer, you may be better served picking up some 100mph tape online for less.
Related Review
You may be interested in my video review of Flex Tape, which is advertised similarly to Tough Tape.
Your Tough Tape Reviews
Have you used Tough Tape or something like it? Leave a comment below and a star rating above to let us know your thoughts.