Toughblade Pro by Micro Touch is a shaving razor with many features that comes with a year's supply of replacement blades. Does it really work? Here is my Toughblade Pro review.
Sponsored Links
About Toughblade Pro
Toughblade Pro is a men's shaving razor that features a precision laser guide, built-in spot light, vibrating handle, and a year's worth of replaceable stainless steel blades. The official product website is toughbladepro.com, which was registered in December 2016. The screenshot below shows how the product website looked in January 2018.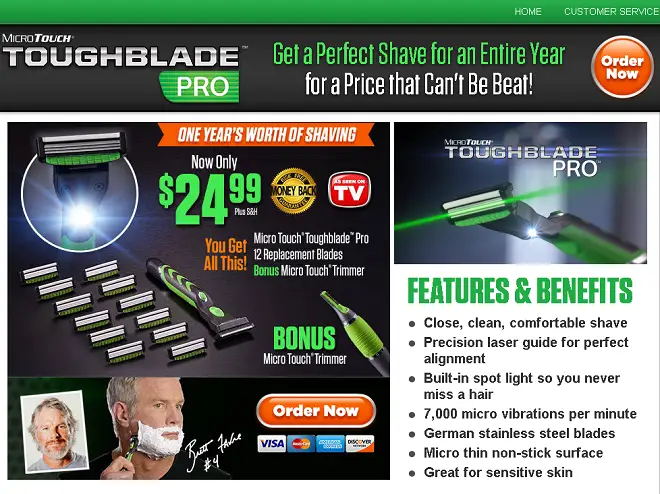 Claims & Features
Provides a close, smooth, and satisfying shave
Laser guide for precise shaving alignment
Includes spot light
Handle vibrates 7,000 times per minute
German engineered stainless steel blades
Each blade has a nonstick coating (lasts longer than ordinary blades)
Ideal for skin that is sensitive
Uses one AAA battery, which is included
Cost
The Micro Touch Toughblade Pro costs $24.99 + $6.99 P&H for a total of $31.98. It comes with 12 stainless steel replacement blades and a Micro Touch Trimmer. At the time of this writing, Toughblade Pro is not available in stores, but you can find it on Amazon for less than the current TV offer.
Toughblade Pro Review
If the name "Toughblade" sounds familiar, you aren't mistaken. Ads for the original Toughblade ran several years ago, featuring none other than NFL legend Brett Favre (who has also been seen on Copper Fit and other As Seen on TV commercials in recent years). The original Toughblade was supposed to provide a year of shaving for a little over $20. With Toughblade Pro, we get the same promise, but with a few upgraded features.
Sponsored Links
Toughblade Pro adds a lighted feature which they say allows you to see more clearly and also as a sort of level to ensure straight and even trimming. The addition of a light is consistent with that feature found in other MicroTouch shaving products such as MicroTouch Solo and MicroTouch Max. Note that the commercial tends to show men using the razor in dark lighting conditions, where such a light would be handy. Most men, however, shave in the bathroom with ample light, nullifying the usefulness of such a feature. Note that the "laser" light doesn't cut hair, which some consumers mistakenly concluded after watching the commercials for this product.
Another addition found in Toughblade Pro is a vibration feature, commonly found in some higher-end cartridge razors like the Fusion 5 Prosheild Power (see below). There is some debate as to whether adding vibration to razors does anything at all, or if it does help reduce drag and irritation. I'm a fan of the vibrating cartridge razor, although its effectiveness is hard to prove.
You'll get a total of 12 cartridges, which the advertising tells us will last you an entire year. That claim was also made about the original Toughblade. I wouldn't expect a full year out of these 12 blades, but some men have been able to stretch these blades close to a year. That will obviously depend on your beard type, shaving technique, and frequency of use. The blades for Toughblade Pro are said to be improved with a nonstick coating and spaced apart, but I don't see much of a difference.
If you had good luck with the original Toughblade, this new "Pro" version is a no-brainer. Conversely, if you had bad luck with the original, I wouldn't expect enough of a difference to make this worth trying. For those who never used the original, I think $25 is probably worth a shot in the expensive shaving category. Refills for my Fusion 5 Proshield Power cost about $5 each, so $25 for a lighted handle and 12 cartridges could be a steal if this works for you.
Alternatives
You may want to check out the reviews for Toughblade Pro on Amazon to see what other consumers are saying. It currently has a modest 3.3-star rating among a couple dozen users.  You can also find the original Toughblade online and in stores.
Related Videos
Below are a couple of related videos I've posted to YouTube. First is a video where you can see a comparison of two popular Gillette cartridge razors: the Mach 3 Turbo and the Fusion 5 ProShield Power.

This video compares two hybrid electric razors: The Philips Norelco OneBlade and the As Seen on TV counterpart, the MicroTouch Solo. Note that MicroTouch is the same brand as the Toughblade Pro.

Your Toughblade Pro Reviews
Have you used Toughblade Pro or something like it? Leave a comment below and a star rating above to let us know your thoughts.