Tree Dazzler is a set of lights which allow you to instantly light up a Christmas tree. Read our Tree Dazzler review.
Sponsored Links
About Tree Dazzler
Tree Dazzler is a set of lights which is draped over a Christmas tree to instantly add lights to it. The official product website is treedazzler.com, which was registered in March 2016. The screen capture below shows how the official website appeared in September 2016.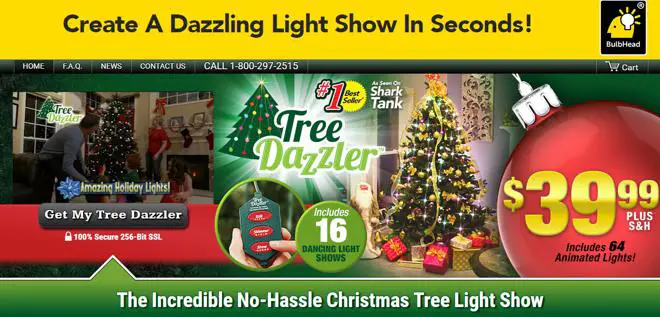 Claims & Features
No hassle
Installs in seconds
Vertical design, never tangles
Alternating colors and display patterns
Over 15 light patterns
64 animated LED bulbs
Fits trees 6′ to 7.5′ tall
Cost
There are six options to purchase Tree Dazzler from the official website.
Single set, 16 pattern: $39.99 + $9.99 shipping
Single set, 32 pattern: $49.99 + free shipping
2-Pack, 16 pattern: $79.98 + free shipping
2-Pack, 32 pattern: $99.98 + free shipping
3-Pack, 16 pattern: $99.99 + free shipping
3-Pack, 32 pattern: $129.00 + free shipping
You can find Tree Dazzler in stores such as Bed Bath and Beyond for about $30. Note: As Christmas 2016 approached, we saw it being marked down to about $20 locally.
Tree Dazzler Review
Tree Dazzler is advertised as a way to quickly decorate a Christmas tree with an impressive LED light show. Rather than manually placing a long strand of lights on your tree, this set of 8 light strands is installed in seconds as a single unit. There is a ring which is placed over the top of the tree, and eight light strands hang from this ring. Once you place the ring over the tree, you simply position the vertical strands, and enjoy the show.
Sponsored Links
You can control the light show with a 3-button control, which allows you to choose from steady, sparkle, or show. The lights on this set are significantly larger than standard tree lights (supposedly 5x larger).
Overall, Tree Dazzler should perform as advertised, and offers an inexpensive way to quickly adorn your tree with lights. Keep in mind that this is an As Seen on TV product marketed by Telebrands, a company which currently holds a C rating from the BBB. Telebrands is one of the largest As Seen on TV marketing firms, and has produced some of the more popular offerings in this genre. Their products tend to range from average to below average durability.
With that in mind, if you're looking for the light set featured on Shark Tank, this is not it. Tree Dazzler is the As Seen on TV knockoff of that product, discussed below.
Although Tree Dazzler may work as advertised, it's difficult to recommend this over the original product in this category, known as GeekMyTree. Other than price and local availability, Tree Dazzler holds no advantage over GeekMyTree, which offers a more robust light show, superior durability, and responsive customer service.
Alternatives
Tree Dazzler is the As Seen on TV knockoff of Glowflakes by GeekMyTree, a $120 light set that was featured on Shark Tank. There are superficial similarities between the two, although GeekMyTree offers a more robust light show and larger lights. The makers of GeekMyTree have produced a short video showing a side-by-side comparison of GeekMyTree vs Tree Dazzler.
This isn't the first time Telebrands has created a knockoff of a product still in its infancy. The company has been reportedly sued over 50 times, including a high-profile 2015 lawsuit in which the creator of Bunch O Balloons claimed that the Telebrands product Balloon Bonanza infringed on their patent.
Television Commercial
Your Tree Dazzler Reviews
Have you used Tree Dazzler, or are you considering buying it? Tell us what you think in the comments below and leave a star rating above.