Tri-Lite Spinners are fidget spinners with arms that contain brightly colored LED lights. Do they work as advertised? Here is our Tri-Lite Spinners review.
Sponsored Links
About Tri-Lite Spinners
Tri-Lite Spinners are luminous fidget spinners that have colorful lights on each arm that can be turned on or off to create different patterns as they spin. The official website is trilitespinner.com, with a registration date of June 2017. The screen capture below was taken of the product website in June 2017.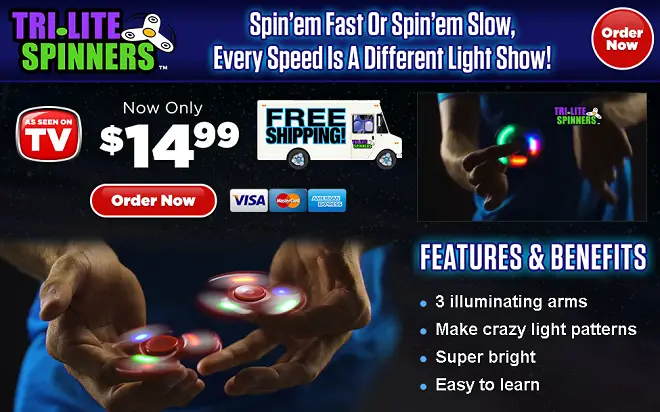 Claims & Features
3 arms that light up
Create a variety of fantastic light patterns
Lights are brightly colored
Simple to use
Cost
A set of 3 Tri-Lite Spinners costs $14.99. Shipping is free. At the time of this writing, Tri-Lite Spinners are not available in stores.
Sponsored Links
Tri-Lite Spinners Review
Unless you have lived under a rock for the last few months, you have no doubt heard of fidget spinners, those three-armed spinning toys that have captivated kids and adults alike. The typical fidget spinner has three arms attached to a center segment that can be held while it spins. To give it a spin, you simply give it a flick. More creative players will find ways to toss them from hand to hand, or spin them on their head, nose, or elbow.
With Tri-Lite Spinners, we have what appears to be a standard fidget spinner, with the addition of a less common feature: lights. Each arm is illuminated by bright LED lights, and you can turn on each lighted arm individually. Thus, you can spin it with one, two, or three illuminated arms. Apart from the lighted arms, there is nothing particularly new about Tri-Lite Spinners. The introduction of light, however, does make for a completely different experience than with non-lighted versions. When spinning these in a dark area, there are endless patterns you can achieve by combining different speeds with the number of arms you choose to illuminate.
I'm not usually keen on bandwagon jumpers, but I think Tri-Lite Spinners offers enough value to make this a solid buy. I'm impressed that there is no sneaky "double offer" and the fact that shipping is free. If you haven't jumped on the fidget spinner bandwagon yet. Tri-Lite Spinners may be a good choice. Keep in mind that they aren't sold in stores, so you may want to be patient during the shipping process.
Alternatives
As the fidget spinner craze continues to mushroom, there are a number of vendors who have jumped on the bandwagon. You can find numerous lighted fidget spinners online, ranging anywhere from a few dollars up to about $15. This $10 spinner is listed as an Amazon Best Seller in the category.
Your Tri-Lite Spinners Reviews
What are your thoughts about Tri-Lite Spinners? Drop a comment below and a star rating above to let us know what you think about it.