Turbo Roaster Reviews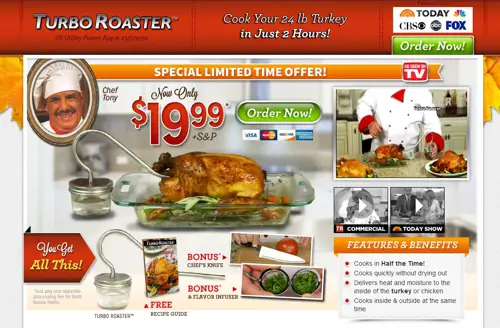 Turbo Roaster is a product which is said to allow you to cook a 24 pound turkey in only two hours. Today we'll give our Turbo Roaster review plus key product information.
Sponsored Links
Turbo Roaster
The advertising for Turbo Roaster makes the bold claim that it can cook a turkey in less than half the standard time. Those expecting a fancy contraption may be surprised that Turbo Roaster is simply a jar and metal pipe. But does it work?
In our test, the Turbo Roaster did not speed up the cooking of the entire chicken, but of the area in which the Turbo Roaster was inserted. There are, of course, those readers who have said that product worked as expected. It currently holds a 3.7 star rating on Amazon, although there are almost as many 1 star reviews as 5 star ratings. Comments there range from "Works great" to "Bird came out no differently than when roasting normally/"
This one seems to be hit and miss. Did you have different results? Let us hear from you!
Below is additional Turbo Roaster information.
The official website's "About" paragraph reads:
This product infuses your turkey or chicken with great flavors. Moist, tender and juicy in half the time!
Official Website
buyturboroaster.com
Registered November 18, 2013
Contact
Phone: 866-322-4043
Hours: Monday through Friday between the hours of 8:30am and 10pm Eastern Time
Sponsored Links
Claims/Features
Cooks a turkey in half the time!
Cooks quickly without drying out
Delivers heat and moisture to the inside of the turkey or chicken
Cooks inside & outside at the same time
Includes recipe guide
Available in stores such as Walmart
Cost
$10 plus $7.95 S&P
Add another $7.95 S&P for the second unit
Total $25.90
Note that when we first evaluated this product in 2013, the cost was $19.99.
Screenshots
Below are a screenshots of the official website, captured in December 2013 and in January 2016:
TurboRoaster Reviews
Have you tried Turbo Roaster? Please give us your review in the comments below and give it a star rating above.
Tags: