Turbo Heat 360 Review: Does it Work?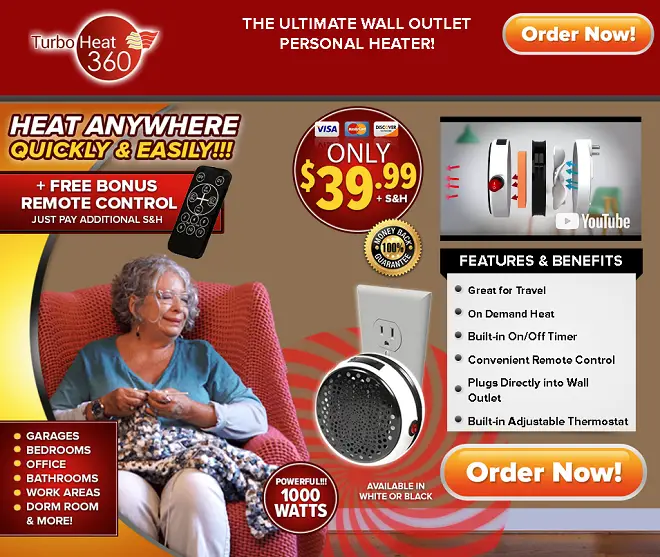 Turbo Heat 360 is a compact and portable personal heater that plugs into a standard wall outlet. Does it really work? Here is my Turbo Heat 360 review.
Sponsored Links
About Turbo Heat 360
Turbo Heat 360 is a 1000 watt personal heater that plugs into a standard wall outlet and can heat a room up to 175 square feet. The official product website is turboheat360.com, which was registered in September 2017. The screenshot below shows how the product website looked in January 2018.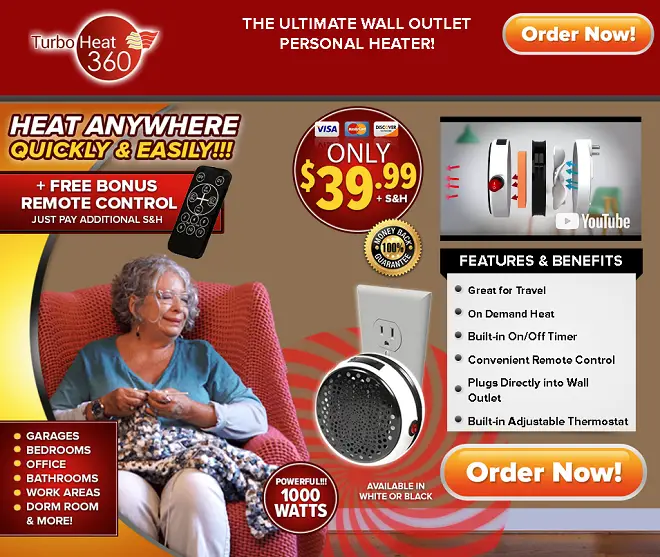 Claims & Features
Ideal for heat while traveling
12 hour automatic on/off timer
Comes with remote control
Compatible with any standard electric outlet
Digital thermostat (60-90 degree range)
Safe for kids and pets (no flame)
Cost
Turbo Heat 360 costs $39.99 + $8.99 P&H for a total of $48.98. Available colors include black or white.  Turbo Heat 360 comes with a multi-function remote control.
Turbo Heat 360 Review
If you lament the winter months and also don't like expensive energy bills to keep your house warm, the makers of Turbo Heat 360 may have just the item for you. This small space heater can supposedly warm a room up to 170 square feet for only pennies a day.
Turbo Heat 360 is simple to operate, as you merely plug it into a standard outlet and set the desired temperature. There are also a few additional features such as a remote control for convenient operation, a 12-hour timer, and auto shut-off. A rotating plug also helps you direct the heat, although I would have preferred adjustable vents like those found in automobiles.
This is not the first As Seen on TV space heater to be advertised. You may have seen Handy Heater in stores or advertising online, and that item is quite similar to Turbo Heat 360. It was, in fact, my very first YouTube video, which now has several hundred thousand views (see below).
Sponsored Links
Because Handy Heater is so well known, it may be easier to compare and contrast these two items to give you a feel for what Turbo Heat 360 has to offer. My chief complaint with Handy Heater is that it only offers a paltry 350 watts, compared to Turbo Heat 360 which offers 1000 watts. Handy Heater has no remote control, nor does it have a built-in timer, both of which are found in Turbo Heat 360.
Thus, it appears that the makers of Turbo Heat 360 were likely aware of some of the limitations of Handy Heater and sought to improve upon the design. Therefore, if I had to choose between Handy Heater – which I have owned for a year and a half – and the Turbo Heat 360, I would pick the Turbo Heat 360 for its superior wattage and versatility.
That said, both of these have a "hairdryer" feel to them, with Handy Heater simply feeling like the weaker hairdryer of the two. I don't know if either can really heat an entire room as the advertising claims, but they're both probably OK for a little point-blank heat. The best use I've found for Handy Heater is with an extension cord blowing warm air across my cold hands as I type. Turbo Heat 360 will probably give you a little more heat, a little more range, and a little more versatility with the remote.
The advantage of Handy Heater is that it is cheaper and readily available in stores and online, while Turbo Heat 360 seems to be only available online from the manufacturer.
Alternatives
If you're just looking for a small, efficient space heater, you should probably look at this $32 Lasko model which is heavily vetted by the Amazon community and commands a respectable 3.9-star rating. Compare that to Handy Heater with its paltry 2.6-star mark.
Below is my first YouTube video ever, in which I reviewed Handy Heater. After that is my 2-month update.
Television Commercial
Your Turbo Heat 360 Reviews
Have you used Turbo Heat 360 or something like it? Leave a comment below and a star rating above to let us know your thoughts.