Ucomfy Pro is a cordless massager that helps ease body pain. Does it really work? Here is my Ucomfy Pro review.
Sponsored Links
About Ucomfy Pro
Ucomfy Pro is a vibrating massager that soothes pain in various parts of the body with an emphasis on the neck, back, and shoulders. The official product website is ucomfypro.com, which was registered in May 2017. The screenshot below shows how the product website looked in September 2017.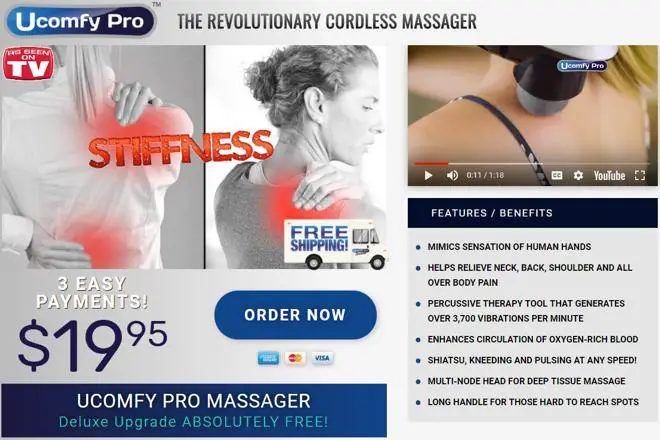 Claims & Features
Simulates the feeling of human hands
Encourages neck, back, and shoulder pain relief
Produces 3,700 vibrations each minute
Improves circulation
Massages and vibrates at various speeds
Get a deep tissue massage with the multi-noded head
Extended handle
Cost
Ucomfy Pro costs $59.85 and payment is split into three installments of $19.95. Shipping is free. Each unit comes with a charging station, a lithium-ion battery, and 6 different interchangeable attachment heads. At the time of this writing, Ucomfy Pro is not available in stores.
Sponsored Links
Ucomfy Pro Review
If the name "uComfy" seems familiar, you aren't mistaken, as it is a line of massaging devices produced by Emson, one of the major players in the As Seen on TV industry. It took me a bit of digging to make sure this Ucomfy was in fact related to the other uComfy products out there, because all of the other products I've seen are spelled with a small "u" and capital "C" while this one is stylized in the opposite manner on the website "Ucomfy" vs "uComfy." I've seen some rather blatant ripoffs in this industry, so I had to be sure. And yes, this "Ucomfy Pro" is related to the rest of the product line.
I've seen a uComfy foot massager, eye massager, and gel cushion under this brand name, thus a hand-held massager seems to fit right alongside the rest of the brand's offerings. To use uComfy Pro, you simply place the desired attachment on the head and select a setting. You can then use the handle to place the massaging device wherever your need it. The long handle makes it easy to reach normally hard to reach places, like the back, neck, and shoulders. Most people should be able to find a pulse setting and head to suit their needs.
When you combine the selection of heads along with the speed and pulse settings, you can achieve a pretty varied experience in each session. A multi-node "deep tissue" head is perhaps the most "hand-like" of the bunch, while an interesting cradle head is designed for relief of arms.
Ucomfy Pro is a competent device, and a logical addition to the uComfy line of products. Can it stand out above other hand-held devices that can be purchased for nearly half the cost? Only time will tell. I haven't seen this in stores yet, so it could still be in the test marketing phase. If that is the case, you may want to be patient while waiting for it to ship.
Alternatives
If price is a concern, you may be interested in this similar Wahl unit for only $31. On the other end of the price spectrum is this $125 Pure-Wave model that sports very high consumer ratings. For foot relief, you'll probably want to look at the original uComfy, which has a solid rating among hundreds of consumers, although it sports a hefty $130 price tag.
Television Commercial
Your Ucomfy Pro Reviews
Have you used Ucomfy Pro or something like it? Leave a comment below and a star rating above to let us know your thoughts.