uCool is a personal cooling that keeps you cool outside without electricity or refrigeration. Read our uCool review.
Sponsored Links
About uCool
uCool is a personal cooling device which relies on evaporation to keep you comfortable when it's hot outside. The official product website is buyucool.com, which was registered in July 2016. Below is a screen capture showing the official website as it appeared in August 2016.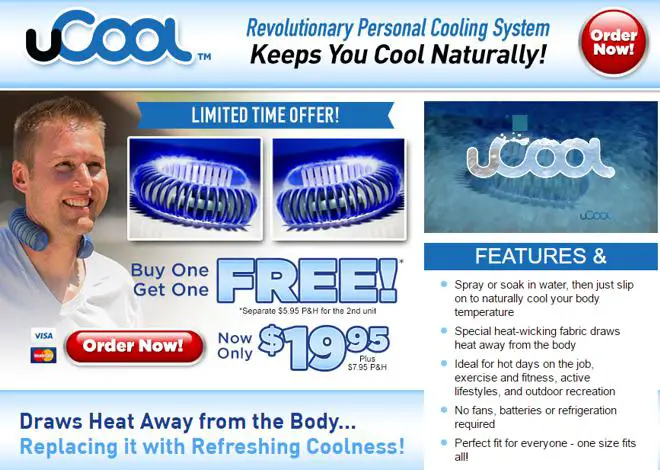 Claims & Features
Spray or soak with water, then wear to cool
Heat-wicking fabric
Ideal for work, exercise, or outdoor recreation
Doesn't require electricity or refrigeration
One size fits all
Cost
You can purchase uCool from the product website for $19.95 + $7.95 P&H. A second unit is included for another $5.95, and you cannot opt out of this double offer. This brings your total to $33.85 for two uCool units.
Sponsored Links
As of this writing, this product is not yet available in stores.
uCool Review
This personal cooling system is said to be a way to draw heat away from your body and replace it with "refreshing coolness." It is made from a heat-wicking fabric and 31 "super conductive fins" which help draw the heat away from your body. Worn around the neck, uCool helps you beat the heat without ice packs or electric fans.
You simply spray or soak uCool with water and place it around your neck. You should then feel a cool sensation, which helps your body feel more comfortable on hot days.
The million dollar question (or should we say the $33.85 question) is whether or not uCool works as advertised. The answer largely depends on the climate where you plan to use the device.
uCool, and other devices which don't rely on ice or electricity, uses evaporation in order to keep you cool. This means that dry and humid climates will yield significantly different results. Here in Las Vegas, these types of evaporation cooling devices are common among construction workers, as the air here is extremely dry and there is a high rate of evaporation.
Should you try uCool in a very humid environment, such as New Orleans, you may find that it provides little relief other than the initial moisture when it is first placed around your neck.
We do like the "fins" which allow heat to be drawn away from the body, unlike other evaporation-based towels which are less efficient.
Overall, we think uCool sports a unique and efficient design for evaporation-based cooling. Consumers who live in dry climates will appreciate this more than those who reside in humid areas.
Alternatives
There is no shortage of personal cooling systems on the market, some which are electric and others which rely on evaporation. You may recall a line of cooling products under the Enduracool name from a few years ago which advertised on television.
Your uCool Reviews
What do you think of uCool? Give us your opinion in the comments below and leave a star rating above.