Under Armour Fat Tire is a line of shoes designed for rugged use.
Sponsored Links
About Under Armour Fat Tire
Under Armour Fat Tire is promoted to those who require heavy-duty yet light-weight shoes for outdoor use.
The product website is underarmour.com, which was registered in June 1997. The screen capture below shows the official website in August 2015.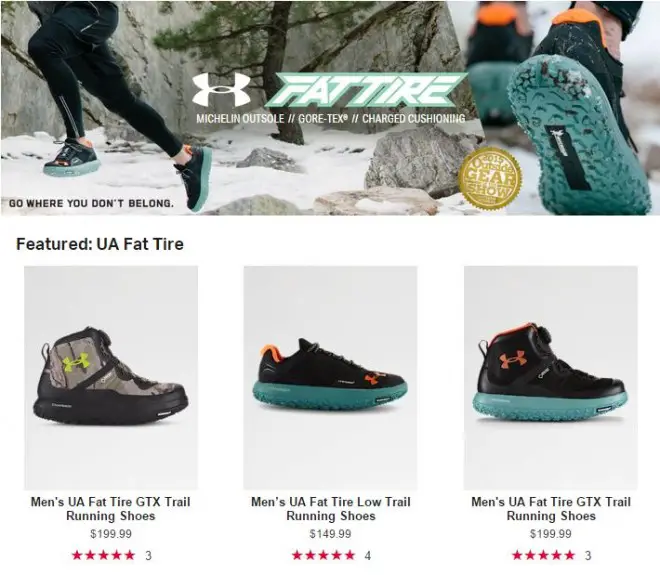 Sponsored Links
What They Claim
Michelin outsoles
Gore-Tex
Running shoes and hiking boots
Under Armour Fat Tire Cost
The current line of three Fat Tire offerings range from $149 – $199 and can be purchased from the official website.
Reviews
Perhaps inspired by the fat tire trend in cycling, this line of shoes by Under Armour has garnered significant attention since its recent unveiling in July 2015.
Featuring giant soles using Michelin technology, Fat Tire shoes have a unique feel to them. They are fun to wear and really improve some aspects of outdoor activities such as climbing or hiking. They're not really ideal running shoes due to their weight, but they make excellent hiking shoes. They may also have a place for general walking and sight-seeing, due to the inordinate amount of cushioning. Offering extreme protection to the foot, they are an appealing choice to those looking to protect their leg and feet joints.
Television Commercial
Your Under Armour Fat Tire Reviews
Let us know what you think of Under Armour Fat Tire by leaving a comment below and a star rating above.