Under Bra is a bra liner designed to keep you dry and comfortable. Does it work? Read our Under Bra review.
Sponsored Links
About Under Bra
Under Bra is advertised as a liner which keeps you dry all day long. The official website is buyunderbra.com, which was registered in November 2016. The screen shot below was taken of the product website in December 2016.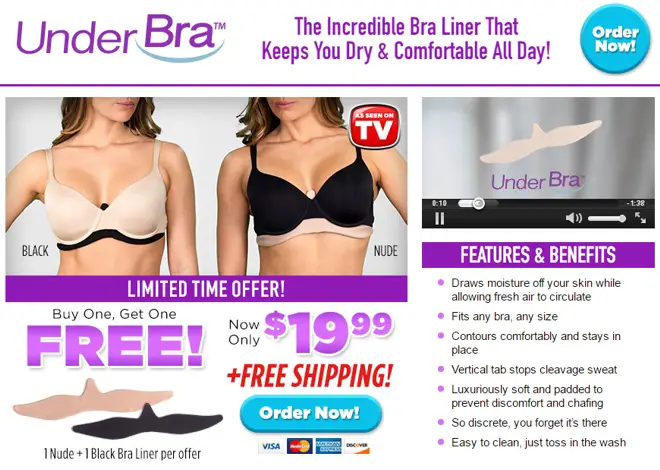 Claims & Features
Pulls moisture from skin, while allowing air to circulate
Works with any bra size or type
Contours and stays in place
Vertical tab stops sweat
Soft and padded for comfort
Discreet
Cost
Under Bra costs $19.99 with free shipping. This includes a nude and black bra. As of this writing, Under Bra is not available in stores.
Sponsored Links
Under Bra Review
If you've never suffered from bra discomfort and moisture, you might not have realized that bra liners even existed. For those who continually fight with the problem, however, these types of products can be a godsend.
Under Bra is made of a bamboo fabric which helps keep moisture away from your skin while also allowing improved air circulation. The advertising probably goes a little overboard in the "before" examples of women drenched in sweat, but this is probably how some women feel when they are affected by excessive moisture in that area.
Fortunately, products such as Under Bra do a pretty good job of performing as advertised. It may look a little strange at first, but wearing it will instantly provide relief, by reducing moisture and also providing improved airflow.
If you wear low-cut blouses, there is a chance that the center piece may be seen through your shirt. That is something you may have to work around. Some users have suggested that a clip-on version may work better, but alas that is simply not how this product is designed.
Overall, we think that Under Bra will find mostly positive reviews by those who try it. Despite its somewhat odd appearance, it should work as expected for most women.
Keep in mind that it is a relatively new As Seen on TV item, and shipping may take a bit longer than more established products.
Alternatives
There are no shortage of bra liners available, ranging anywhere from $10 – $25. Belly Bandit is a line of bra liners which cost about the same as Under Bra and boasts a mostly positive rating among online consumers.
Your Under Bra Reviews
If you've used Under Bra, give us your thoughts by leaving a comment below and a star rating above.