Veggie Bullet is an electric food processor that can shred, slice, and spiralize food. Does it work as advertised? Here is our Veggie Bullet review.
Sponsored Links
About Veggie Bullet
Veggie Bullet is a food preparation system that includes an automated shredder, slicer, and spiralizer. The official website is veggiebullet.com, with a registration date of May 2015. The screen capture below was taken of the product website in April 2017.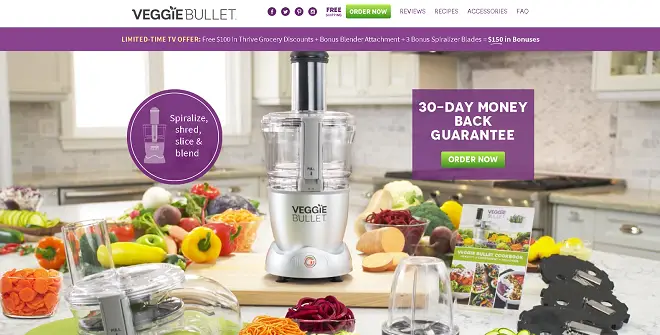 Claims & Features
Patented cyclonic spiralizer
Includes stainless steel blades (shredder, slicer, & spiralizer)
Comes with cookbook containing over 70 recipes
Assembles easily
Safe to wash in dishwasher (top rack)
1 year warranty
Cost
Veggie Bullet costs $149.95. There is also an option to pay 5 monthly payments of $29.99. Shipping is free. You may also be able to find it on Amazon, where it is currently listed for $149, but it doesn't appear to have the extras included in the infomercial. It is also available at Bed Bath & Beyond, but that version also doesn't appear to include the extras found on the official website.
Veggie Bullet Review
NutriBullet is a popular brand of nutrient extractors that make soups, juices, and smoothies. Now the brand is back with its latest innovation: Veggie Bullet. At first I thought this may have been some new-fangled way to make carrot juice, but that's not at all accurate. Veggie Bullet is a device that allows you to slice, shred, and spiralize food.
If you order from the website, there are six blades you get when you order, which can be used in one of the two included assemblies. The spiralizer/spaghetti blade and slicer/shredder are standard, while the angel hair blade, ribbon blade, curly fry blade, and Veggie Bullet Blender are all said to be limited time free bonuses. I ordered from the website, and also purchased an additional blade and a custom fit bowl. My total order, with the extras, was $174.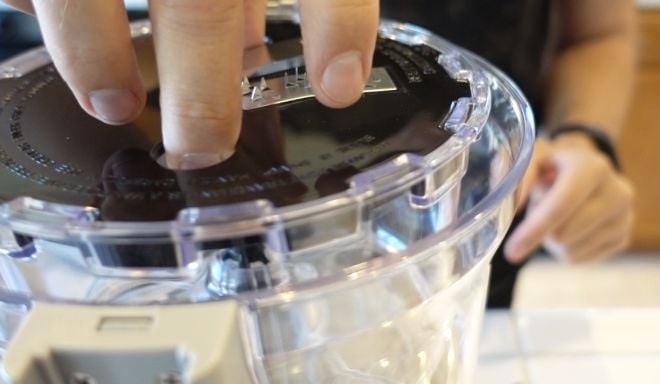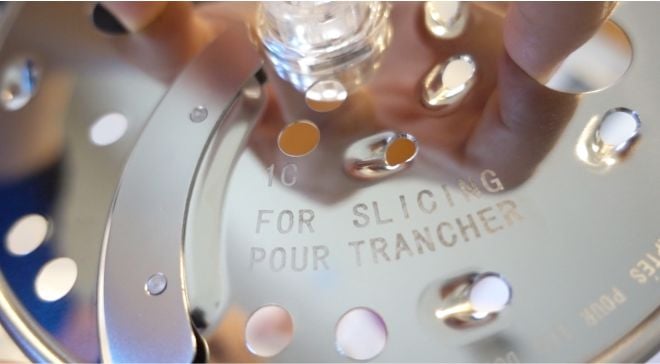 There are two different assemblies, which at first makes the number parts seem almost overwhelming. Once you assemble everything, however, it doesn't seem too bad. Each assembly consists of four parts. The spiralizer assembly is an outer and inner basket, blade, and lid. The slicer assembly is a shooter, base plate, blade, and lid.
The thought of installing different blades may sound arduous, but it's as simple as screwing the blade into the base for the slicer, or placing the cog-like blade into the inner basket for the spiralizer. You'll know everything is installed properly when the button on the front of the unit lights red, giving you the OK to proceed. While in operation, the light on the front turns green. If you don't have everything securely in place, the light won't turn on and the unit will not engage.
Perhaps Veggie Bullet's most coveted feature is its use as a spiralizer. To make spiralized food, you use the spiralizer blade in the spiralizer assembly. The lid includes a chute through which you will push food with the "pusher." The blades will quickly cut and catch all of the food, creating beautiful spiralized food in seconds. It is a great way to make "zoodles" (zucchini noodles) for healthier meals. The pusher has a hole which you can use to feed smaller items like carrots. I found in some cases a pusher wasn't even necessary.
When you use the spiralizer, food is caught in the inner basket, while when using the slicer/shredder it is dispensed into an external bowl. Processing food with Veggie Bullet is shockingly fast and efficient. My dad used to use a hand-cranked device to make scalloped potatoes when I was a kid, and I'm sure he would marvel at the speed at which Veggie Bullet can deliver a bowl full of perfectly sliced potatoes.
As with other NutriBullet products, Veggie Bullet features a powerful motor and highly efficient blades that can make quick work of even the hardest of veggies. A recipe guide is included that spans over 100 pages, and should be sufficient to getting most consumers up and running quickly. There is an option on the website to add a larger hard cover book of recipes, but I decided not to purchase that.
Cleaning the unit (besides the base) is straightforward. You can use warm soapy water, or place everything in the top rack of the dishwasher (which is my preference). There is a special brush included to help you scrub some of the smaller areas of Veggie Bullet, which I haven't had to use yet.
Sponsored Links
A blender kit is included with the online version, or it can be purchased separately for about $20. While the blender cup isn't large enough to make smoothies, it is an excellent way to make sauces, salsa, and hummus. A separate recipe booklet is included for the blender kit.
Although I think this is a solid unit, there are a few potential "cons" worth mentioning – but none that would dissuade me from recommending it.
One potential con is that the chute is sometimes too small for some items. That means you will need to trim some items down so they can fit through the chute. The makers tell you that when you trim down an item, you'll want to make it as uniform as possible in order to achieve the best results. It's not like my juice extractor, where you can just haphazardly cut food in half and shove it through the chute. Rather, you'll need to try to trim food down to a somewhat symmetrical shape so that your spirals and slices still turn out right. If appearances don't bother you too much, I wouldn't worry about that, however. I put two half potatoes into the unit and the results were fine.
The unit is quite large and has a lot of parts. Those concerned with space may not like how much real estate this appliance usurps. Another unexpected possible "con" is that Veggie Bullet will only operate for one minute at a time, and then it will shut off to avoid overheating the motor. If that happens, you should wait 30 seconds to turn it back on.
Perhaps the biggest obstacle for many consumers is the price. $150 may be too expensive for some consumers who may otherwise purchase this product.
I only point out these potential cons because some consumers may find any one of those to be deal breakers. In my case, none of them really bothered me.
Those few small concerns aside, Veggie Bullet is yet another winner in a long line of highly-acclaimed "Bullet" branded products. Unlike so many products advertised on television that fail to live up to the hype of the commercials, if you find the infomercial for Veggie Bullet to be compelling, I don't think you'll be disappointed in this product.
Below are some photos of my review.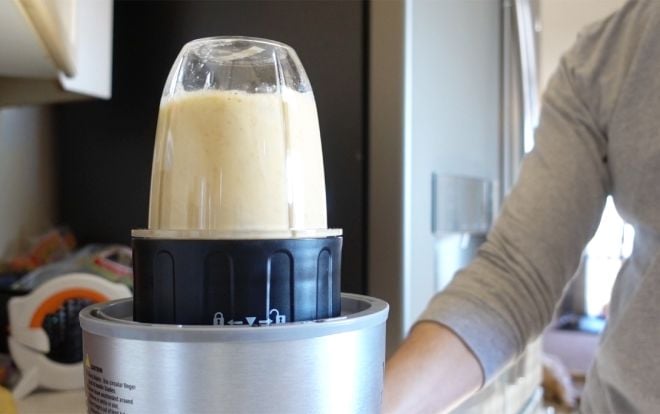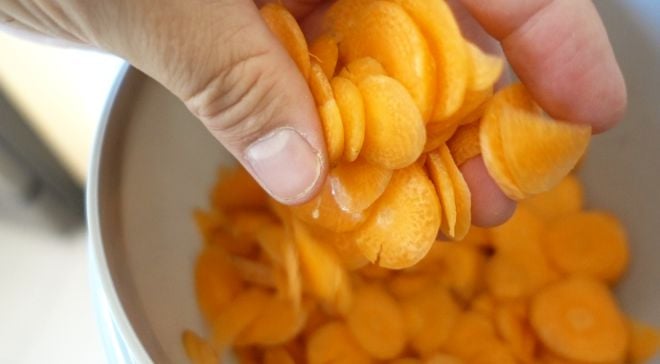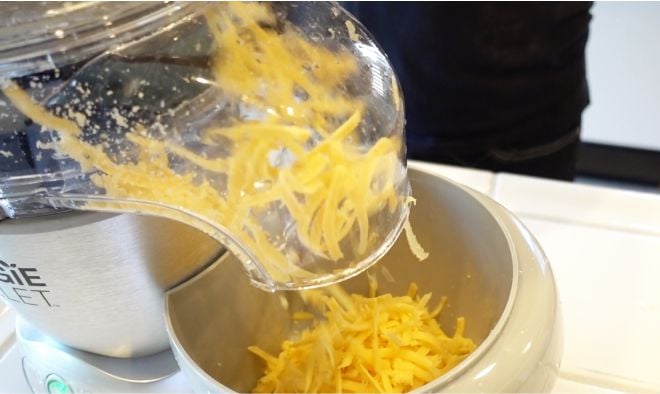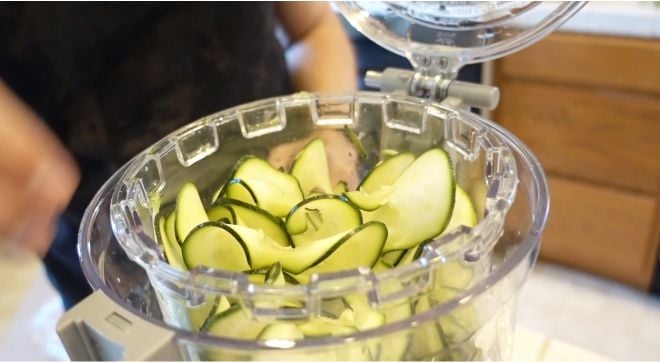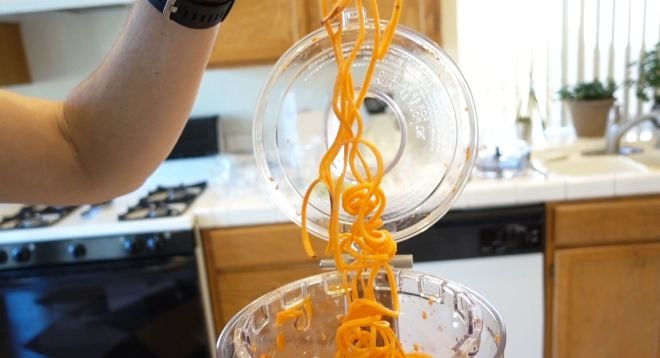 Alternatives
If the $150 price tag is out of your range, you may find a competing product that can still deliver some of Veggie Bullet's features. This $74 model by Cuisinart is a highly-rated food processor that includes shredding, slicing, and chopping disks. If money is still a concern, you could also go with the manual As Seen on TV spiralizer Veggetti Pro, which does create pretty good spiralized food, with a bit of elbow grease. That costs under $20.
Video Reviews
Below are both of my extensive reviews of Veggie Bullet.
Television Commercial
Your Veggie Bullet Reviews
What are your thoughts about Veggie Bullet? Drop a comment below and a star rating above to let us know what you think about it.
Updated May 2017.