Vidalia Chop Wizard is an As Seen on TV food chopper which is claimed to be the fastest, safest, and easiest way to chop or dice fruits and vegetables. Here is our Chop Wizard review plus key product information.
Sponsored Links
In our evaluation of the Vidalia Chop Wizard, we found that there are two techniques which will make the product work as advertised: cut your items in half first, and chop with a fast motion. Attempting to chop a whole apple – or attempting to cut slowly – will require far more force than advertised. In some cases, you may want to even slice the food into even smaller pieces.
Once the proper techniques are mastered, the Vidalia Chop Wizard will do a fine job of chopping and dicing. And although we found it to be effective, the construction feels cheap, which has led to some consumers complaining of breakages.
We recommend buying locally to avoid shipping hassles, and also as a way to return the product – without losing shipping costs – should it break. You may also want to check out some other food choppers for sale to compare durability.
Below is some additional information about the Vidalia Chop Wizard.
Tagline: "The Vidalia Chop Wizard is the fastest, safest, and easiest way to chop or dice fruits and vegetables."
Chop Wizard "About" paragraph:
"The secret is the ultra sharp, stainless steel precision cutting blades guaranteed to give you uniform results every time." "Simply place the item on top of the stainless steel blade grate and with one swift motion, swing the top lid down."
Official Website
chopwizard.com
Registered March 16, 2006
Sponsored Links
Contact
Claims/Features
5 stars from "good housekeeping"
Featured on Reader's Digest
Quicker and easier way to chop food.
You can find this product in stores such as Bed, Bath, and Beyond for about $20.
Cost
$19.95 plus 7.95 s/h = $27.94
Get an additional "chop wizard" for another $7.95, making your total 35.89
Screenshot
Below is a screen shot of the official website taken in February 2014: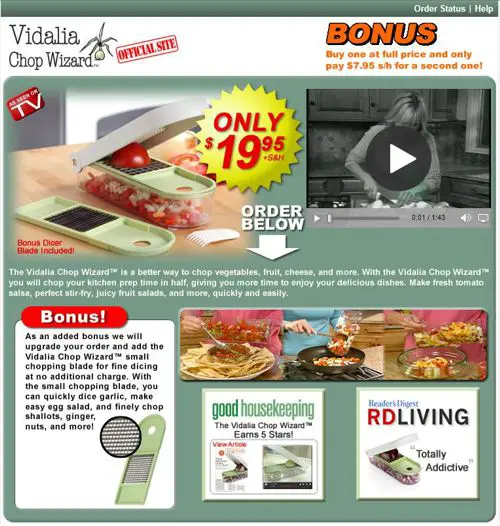 Television Commercial
Here is a recent television commercial for Vidalia Chop Wizard.
Vidalia Chop Wizard Reviews
Have you tried Vidalia Chop Wizard? Please give us your review in the comments below and give it a star rating above.