Vidalia Extreme is a 5-in-1 kitchen tool which features four different blades on 4 different sides. Read our Vidalia Extreme review.
Sponsored Links
About Vidalia Extreme
Note that as of July 2016, the product website is offline. It would appear that this item never made it out of the test marketing phase. The review below is accurate as of May 2016.
Vidalia Extreme is a boxed-design grater-slicer which allows you to grate or slice right into a catch container.
The product website is vidaliaextreme.com, which was registered in April 2016. The screenshot below shows the official website in May 2016.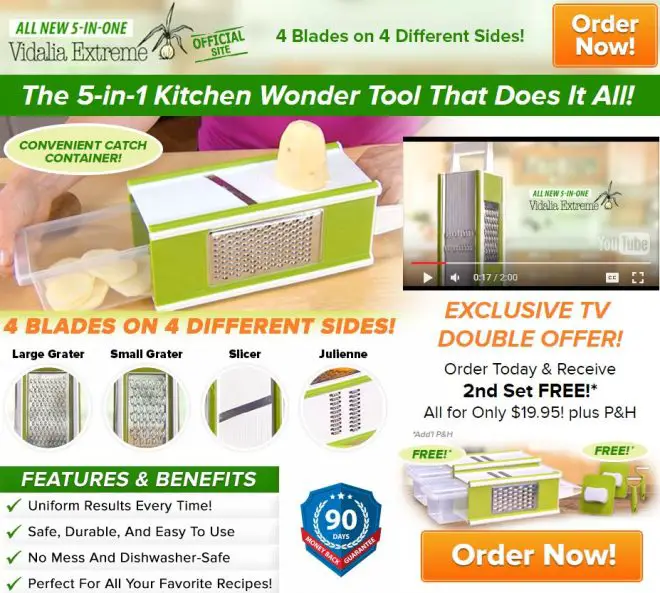 Claims and Features
Uniform results
Safe, durable, easy
Dishwasher safe
4 blades on 4 sides
Large grater, small grater, slicer, and Julienne
Cost
You can buy Vidalia Extreme from the product website for $19.95 + $6.95 shipping for a total cost of $26.90. There is an option to add a second unit for another $6.95 shipping, which would bring your order to $33.85. Keep in mind that shipping is not refundable.
Sponsored Links
There is a 90-day money back guarantee, which is 3 times longer than most As Seen on TV products.
Vidalia Extreme Review
If the name "Vidalia" sounds familiar, you may recall the popular Vidalia Chop Wizard, which is one of the more popular As Seen on TV kitchen products in recent years. It has proven so popular that a number of copy-cat items sport a nearly identical design. That product allows you to chop food right into a container.
Now the brand has rolled out its newest gadget called Vidalia Extreme, which allows you to slice and grate into a container. It is essentially a sideways grater with a container that fits inside.
Vidalia Extreme uses a boxed design so that you can rotate it to pick which blade you want, then insert the catch container. As you grate or slice, the final product will fall into the container, which can be sealed and put away.
Functionally, the design isn't much different than the standard grater which usually has a different blade on each side. The difference is that Vidalia Extreme is on its side and designed in a way to allow a container to be inserted inside to catch food. It could be seen as a minor difference, although we think that it is a superior design to old fashioned graters.
As you may have expected, Vidalia Extreme isn't the only product to sport this boxed "sideways" design. An $18 competitor by Regent looks nearly identical and even uses the "5-in-1" description.
Overall, we feel that Vidalia Extreme is a fine addition to the brand, and an improvement on standard "vertical" graters. When it becomes available in stores, it will be a more compelling purchase (that is, without shipping waits or costs).
Our product researchers think this will eventually get a 4 to 4.5 star rating once consumers reviews begin to show up online.
Note: If you're wondering how a 4-blade product can be called a 5-in-1 tool, you have to remember to count the catch container as #5!
Television Commercial
Your Vidalia Extreme Reviews
Have you used Vidalia Extreme? Let us know what you think by leaving a comment below and a star rating above.