Vino Pop is a handy wine opening set that makes opening a bottle quick and easy. Does it work as advertised? Here is our Vino Pop review.
Sponsored Links
About Vino Pop
Vino Pop is a user friendly wine opener that will open a bottle easily and quickly without damaging the cork. The official website is vinopop.com, with a registration date of November 2013. The screen capture below was taken of the product website in June 2017.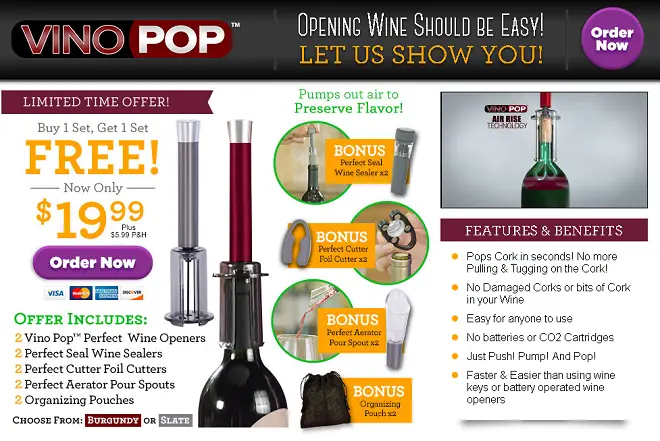 Claims & Features
Pop corks quickly without pulling or tugging
Will not damage cork or get bits of cork in wine
Simple to use
Does not require batteries or CO2 cartridges
Insert the pin, pump the handle, & pop the cork
Quicker & more user friendly than wine keys or battery operated wine openers
Cost
When ordering Vino Pop, there is a mandatory double offer that costs $19.99 + $5.99 P&H for a total of $25.98. The kit comes with 2 Perfect Wine Openers, 2 Perfect Seal Wine Sealers, 2 Perfect Cutter Foil Cutters, 2 Perfect Aerator Pour Spouts, and 2 organizing pouches. There are two available color themes: Burgundy or Slate. I found Vino Pop at a local Walmart for $20.
Vino Pop Review
Vino Pop is a wine bottle opener that uses air pressure to help easily remove the cork thanks to its rather simple design. On the bottom of the unit is a needle which can be inserted through the center of a wine cork in the bottle you wish to open. The needle is pushed down so that it protrudes below the level of the cork. Next, you simply pump the handle up and down a few times, which pushes air down into the bottle and forces the cork upward. After a few pumps, the cork will slide up and out and your bottle is ready to pour. I found the number of pumps varied, but six good pumps seemed about average.
Sponsored Links
Fortunately for those considering such a purchase, this is a relatively proven design, and similar devices tend to have rather high consumer ratings. It is simple to use and you will probably be surprised to find that it works about as advertised. I tend to prefer this type of design over a corkscrew when it works, as corkscrews can damage the cork or even send cork bits into the wine below. With Vino Pop, a slight amount of force may still be required to pull the cork off, but I think it will require less effort than other manual options.
To be fair, I have seen instances where these devices don't really work, or the cork only raises about half an inch. I'm not sure why there are occasional duds, but it could be related to the length of the cork or the pressure inside the bottle. In my video below, you'll see that I tested it on four wine bottles. The first attempt was a dud, in part because I had my hand in the wrong position – although the instructions show a hand in the same position, which is why I held it that way. For my second attempt, it worked flawlessly. I decided to have my mom try it (off camera, she's camera shy) and she pumped numerous times without the cork popping out. Once I turned the camera on, the cork came out with a single pump on my part. On the fourth attempt, the cork slid out after 6 pumps.
I believe that my mom's hand strength may not have been great enough, which is why it didn't work as well for her.  I actually quite like the foil cutter, which is placed on top of the bottle, turned slightly, and the foil easily pops off. The stopper and aerator are also nice add-ons.
I'm not usually a fan of double offers, especially because this isn't the kind of thing that people would buy in pairs. The current offer, however, does require you to buy two sets of everything, although you don't have to pay double shipping, which is a good thing. Most TV bonuses are not very useful, but this bonus set does offer a nice collection of wine-related accessories. If you'd rather not deal with shipping times, you can now find Vino Pop locally. I picked it up at a local Walmart for $20 in October 2017.
Price-wise, Vino Pop is probably on the high end of the spectrum compared to other air pump wine openers, which I briefly discuss below. Most of the openers like this cost closer to $10. It may pay to shop around.
Alternatives
You may be happy to know that there are several air pump wine openers already on the market, ranging in price from about $8-$12. This $9 model has over 200 reviews and a 4.3 star rating.
Be sure to watch my full video review of Vino Pop below.
Your Vino Pop Reviews
What are your thoughts about Vino Pop? Drop a comment below and a star rating above to let us know what you think about it.
Updated October 2017.