VitaFusion Women's is a gummy vitamin for women.
Sponsored Links
About VitaFusion Women's
VitaFusion Women's is a multivitamin for women in the form of a gummy.
What They Claim
Supports energy metabolism
Good for bone health
Excellent source of vitamins A, C, and D
Natural fruit flavors
Alternative to hard-to-swallow pills
VitaFusion Women's Cost
You can find VitaFusion Women's at retailers such as Walgreens for $6-$9.
Sponsored Links
Reviews
Who doesn't love a gummy treat? With VitaFusion Women's, ladies can enjoy a gummy and get their daily allowance of vitamins. These vitamins have been praised for their taste and variety of included vitamins. While it may not be as comprehensive as some vitamins, the convenience and taste more than makes up for anything lost along the way.
VitaFusion typically garners around 4-star ratings on the internet, for its taste and convenience.
The product website is gummyvites.com, which was registered in April 2005. The screen capture below shows the official website in August 2015.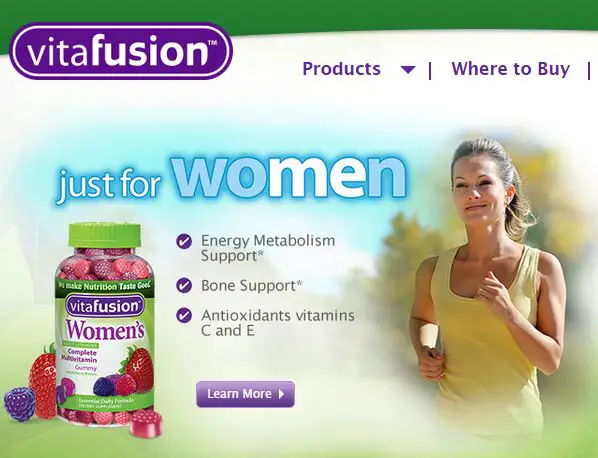 If you're not a big pill swallower, or if the thought of popping a gummy or two a day sounds preferable to swalling a vitamin, VitaFusion Women's may be worth a look.
Television Commercial
Your VitaFusion Women's Reviews
Let us know what you think of VitaFusion Women's by leaving a comment below and a star rating above.