VoluLUXE is a 5-in-1 styling tool that dries, straightens, curls, waves, and volumizes hair. Does it work as advertised? Here is our VoluLUXE review.
Sponsored Links
About VoluLUXE
VoluLUXE is a one-step dryer and hair styler that uses high density ionic fusion (HDIF) technology. The official website is tryvoluluxe.com, with a registration date of June 2017. The screen capture below was taken of the product website in July 2017.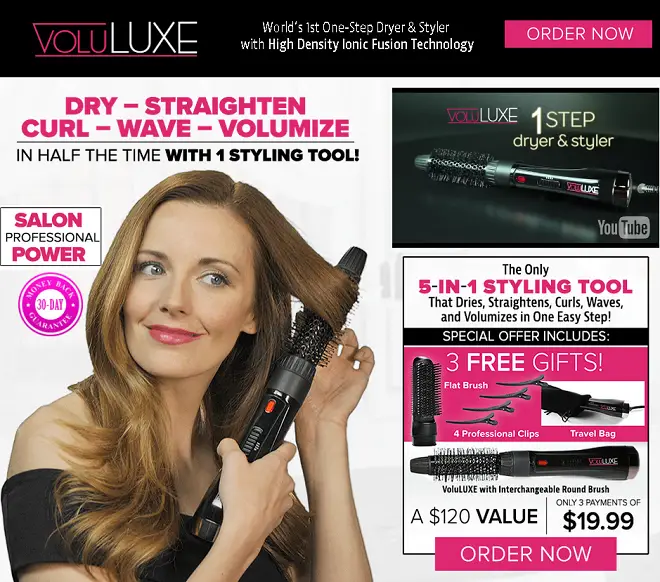 Claims & Features
Quickly dries, straightens, curls, waves, and volumizes hair in one step
Uses high density ionic fusion to dry while eliminating frizz and maintaining moisture
Will not damage hair
Does not pull or tangle hair
3 speed settings (high, low, and cool shot)
Cost
VoluLUXE costs $59.97 + $9.99 P&H for a total of $69.96. There is the option to pay the total in one payment or split it into three payments of $19.99 + $9.99 P&H. It comes with an interchangeable round bristle brush, a flat brush, a black travel bag, and three professional over-sized styling clips. At the time of this writing, VoluLUXE is not available in stores.
VoluLUXE Review
There have been so many hybrid hair tools in recent years that I can barely remember them all. I've seen products like Arc Styler, Solo Styler, Blow Brush, Esplee Straight Styler, InStyler, Insta Press, Quicky Dry Brush, and Clamp It. Although they all offer different designs, these are examples of hair styling tools that attempted to bridge the gap between various hair tools like brushes, flat irons, hair dryers, and brushes. With VoluLUXE, we have a hair styling device that is said to dry, straighten, curl, wave, and volumize all with the same tool.
Sponsored Links
Some of the highlighted features of VoluLUXE include three speed settings: high (for damp hair), low (for dry hair), and cool shot for setting the style. There is a negative ion generator that helps dry hair and combat frizz. On the other end, you'll find a 1.25″ round brush and cool tip. Most consumers will appreciate the ample 9 foot cord.
The design and construction of VoluLUXE are better than you'll find with other hybrid hair stylers. The makers have integrated enough features to make this a compelling option, but does it really work as advertised? In short, I think that its reviews will eventually settle in the 4 star range, with most consumers saying that it is handy and works in a variety of situations.
There are a few things you'll want to know before using a product like this, however. Although the heat and ionic technology can help dry and reduce frizz, you can't really use it to dry very wet hair, but rather slightly damp hair. You may also be best served to use your regular hair brush to get out all of the knots first while your hair is still wet. Then, when your hair is brushed and slightly damp, you'll use this tool to finish styling. The motion you'll use with VoluLUXE is more akin to using a flat iron than a brush, as you slowly move the tool along small sections of hair just as you would with a regular straightener.
I wouldn't expect very curly hair to achieve a completely straight look, but at minimum you should be able to achieve nice curls without the frizz.
Most people will find that there is a learning curve involved with VoluLUXE, as this is a bit different than using a brush, hair dryer, or flat iron. Results may not be as dramatic as found with traditional tools, but you'll probably spend less time styling your hair. Hair length and type will also play a role in determining how much you like VoluLUXE.
Alternatives
You may be interested in the $31 Olaxer 3-in-1 ionic brush, straightener, and curler, which has mostly positive consumer ratings.
Television Commercial
Your VoluLUXE Reviews
What are your thoughts about VoluLUXE? Drop a comment below and a star rating above to let us know what you think about it.