Vydox Plus is a male enhancement supplement.
Sponsored Links
About Vydox Plus
Vydox Plus combines dosages of L-Arginine and zinc to provide high-level performance.
The product website is vydoxplus.com, which was registered in April 2014. The screen capture below shows the official website in December 2015.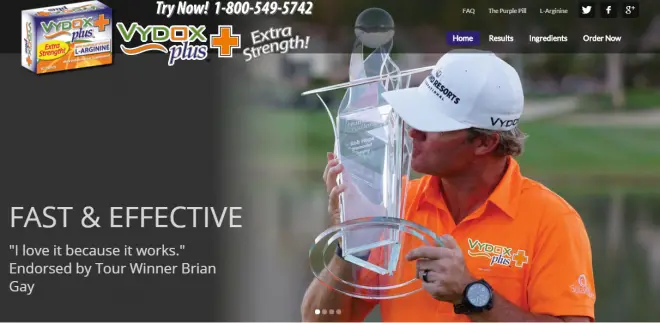 What They Claim
Fast and effective
Increases nitric oxide levels
Increased blood flow
Enhances sexual performance
Improves overall sexual health
Increase in size, endurance, and strength
Vydox Plus Cost
1 Year Supply –  $533.99; 6 Month Supply –  $418.99; 5 Month Supply –  $359.99; 4 Month Supply –  $291.99 (All with Free Shipping)
3 Month Supply – $223.99; 2 Month Supply – $156.99; 1 Month Supply – $84.99.
Sponsored Links
You can also find a single one-month supply on Amazon for about $50.
Reviews
The original Vydox was advertised as a male enhancement supplement, containing  L-Arginine. While it holds about a 3-star rating among consumers, there was a rather high number of vocal 1-star reviews about the product and the company itself.
With Vydox Plus, a reformulated product emerged, this time with zinc and a stronger dose of L-Arginine.
L-Arginine's effectiveness in battling ED has been labeled "possibly effective" by WebMD, with a dosage of 5 mg by mouth daily found to be optimal.
Taking 5 grams of L-arginine by mouth daily seems to improve sexual function in men with ED. Taking lower doses might not be effective. However, there is some early evidence that adding 40 mg of Pycnogenol three times daily might improve the effectiveness of low-dose L-arginine for ED.
In addition to L-Arginine, Vydox Plus also contains several mainstay ingredients found in many male supplements, such as Asian Red Ginseng, Saw Palmetto, Ginkgo Biloba, Muira Puama Extract, and Horny Goat Weed.
As with virtually any herbal male enhancement supplement, results will be subjective. Reviews for Vydox Plus are certainly better than for the original formula, although there is no compelling reason to choose this over the multitude of similar products which contain similar ingredients. If you are strictly looking for L-Arginine, you can find bottles that as for as low as $10.
Competition and price aside, it does appear that Vydox Plus delivers a positive experience to the majority of consumers who purchase it. You may want to buy through Amazon, where it is often priced less than the official product website.
Your Vydox Plus Reviews
Let us know what you think of Vydox Plus by leaving a comment below and a star rating above.