WaverTone 180 is a fitness system which targets your core. Read our WaverTone 180 review.
Sponsored Links
About WaverTone 180
WaverTone 180 is a curved fitness device that supports and guides your body during exercise. The product website is wavertone.com, which was registered in March 2016. The screen shot below shows the official website as it appeared in August 2016.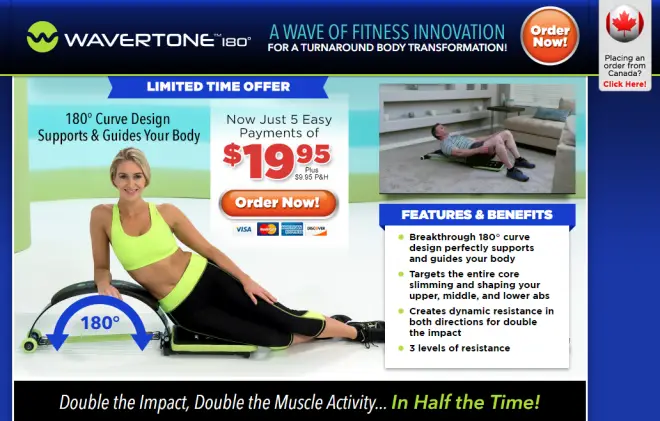 Claims & Features
180° curved design
Supports and guides your body
Targets and works entire core
Dynamic resistance in both directions
3 levels of resistance
Cost
You can purchase the WaverTone 180 Standard System for 5 payments of $19.99 + $9.95 P&H, or the WaverTone 180 Smart Pilates System for 5 payments of $29.95 + $9.95 P&H.
The Standard System includes the WaverTone 180, a free nutrition guide, and a free training plan DVD, while the Smart Pilates System includes the same items, along with a max roller and wave bands.
Sponsored Links
WaverTone 180 Review
WaverTone 180 is a curved exercise device which is said to help you target your core, doubling the muscle activity in that region. Although the advertising primarily shows it being used for crunches, you can also perform push-ups and other exercises using the device. A "Smart Pilates" version includes a Max Roller and Wave Bands which allow you to increase the number of exercises available to you.
The key to WaverTone 180 is that it provides resistance in both directions due to its curved design. The back support is held by three resistance bands, which provide resistance as you push downward on the unit. You can use one, two, or three bands to customize your level of resistance.
When you lean backward to do a sit-up, for example, WaverTone 180 will resist your motion, requiring you to push downward, rather than letting gravity do the work for you. Conversely, you can resist the bands as you move upwards, although it is also possible that you may let this resistance do some of the work for you.
Keep in mind that WaverTone 180 isn't a comprehensive piece of equipment. It is an aid to common exercises such as push-ups and sit-ups – which you can perform without using such a device. We like that it provides resistance while offering back support at the same time.
As with any exercise device, you'll only get out of WaverTone 180 what you put into it. WaverTone 180 is ideal for those at a beginner or novice level. Those at a high level of fitness will probably not find much to offer from a device such as this, unless back support is of a concern.
Experts point out that you can't expect to achieve six-pack abs by spot training one part of your body. Abdominal muscles will only be visible when your body fat percentage is low enough for the muscles to show through the skin. If you have a high level of body fat, a core trainer will not be enough to reveal your abs. If, however, you are looking to strengthen your core, WaverTone 180 could be a worthy choice.
Overall, we think those who purchase WaverTone 180 will be satisfied with the product, and will feel that it works generally as advertised.
Alternatives
If the idea of dual resistance core training sounds familiar, you may have seen commercials for Wondercore, which we have reviewed here.
There is certainly no shortage of core trainers, of which dozens can be found ranging in cost from $15 to $250+.
Your WaverTone 180 Reviews
What do you think of WaverTone 180? Give us your opinion with a comment below and a star rating above.