Wiggle Tower is a cat toy that features a moving worm that crawls through holes on a plastic post. Does it work? Read our Wiggle Tower review.
Sponsored Links
About Wiggle Tower
Wiggle Tower is a toy for cats that consists of a plastic pole on a weighted base with a mobile worm that moves through a series of holes. The product website is wiggletower.com, which was first registered in May 2016. The screen shot below shows how the product website looked in March 2017.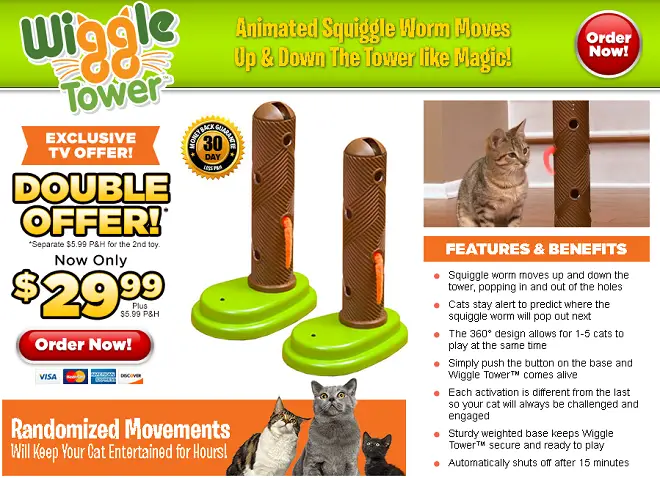 Claims & Features
Worm wiggles up and down the tower popping out of holes
Encourages feline alertness
Up to 5 cats can play at once due to 360

°

design
Simple On/Off button
Worm movements are randomized to keep cats interested
Stays upright with weighted base
Turns off automatically after 15 minutes
Cost
There is an unavoidable double offer when ordering Wiggle Tower where $5.99 P&H is charged for the second toy. It costs $29.99 + $5.99 P&H + $5.99  double offer for a total of $41.97.
As of this writing, this offer is not available in stores.
Sponsored Links
Wiggle Tower Review
Wiggle Tower is a cat toy that features a moving worm that traverses a "tower" with the goal of keeping cats entertained. The tower features holes through which the toy worm will emerge and move from one hole to the next. This random movement is said to keep cats interested for hours.
This cat toy is made of a brown "tower" and a green plastic base. The worm moves via a small wire that pulls it throughout the battery-operated device.
Until I see a unit first-hand, I can only offer observations from afar. My primary concern is that the commercial doesn't show what happens when an energetic cat actually catches the worm and provides resistance to the motor pulling it. The wire is also quite thin, and I'm not sure how it would hold up against sharp cat claws.
That said, I can also see some cats being enthralled by Wiggle Tower, provided it holds up to the rigors of cat play. The moving worm will likely hold the interest of many cats, especially at first. Some cats will probably tire of this, or any cat toy, over time.
Every cat is different, and no two cats will respond the same to a specific toy. If your cat is the type to show curiosity toward moving toys, this could be a good fit. If you aren't sure, however, it could be an expensive experiment given the fact that you are forced to pay additional P&H for two of these, and it also isn't available in stores.
Despite a May 2016 website registration date, Wiggle Tower appears to be a relatively new item, with very little information available. Because of this, it would appear that Wiggle Tower is engaged in a limited marketing campaign in order to gauge consumer interest. When I obtain a unit, I'll update this space.
Alternatives
There are untold numbers of motion cat toys, which all offer a slightly different experience. A popular automated cat toy is the WANTi Cat Toy, which includes a moving ball, wand, and feather.
Commercial
Your Wiggle Tower Reviews
What do you think of Wiggle Tower? Tell us what you think by leaving a comment below and a star rating above.