Window Wonder is a 3-in-1 window cleaner that combines a mop, sprayer, and squeegee. Does it work as advertised? Here is our Window Wonder review.
Sponsored Links
About Window Wonder
Window Wonder is a tool for cleaning glass that features an extended high-reach handle, a pivoting mop head, sprayer, and squeegee. The official website is trywindowwonder.com, with a registration date of May 2017. The screen capture below was taken of the product website in July 2017.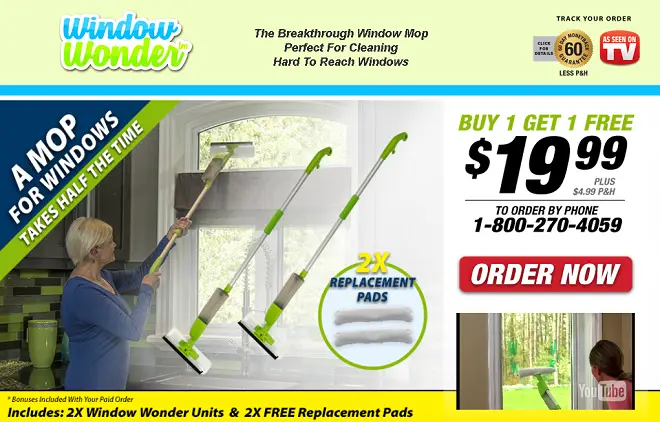 Claims & Features
Pivoting mop head that contains a built-in sprayer and squeegee
Cleaning pads are reversible, machine washable, and reusable
Reach high windows or behind bushes using the extended handle
Includes a reservoir for water or cleaning fluid that is activated by a trigger in the handle
60 day money back guarantee
Cost
When ordering Window Wonder, there is a mandatory double offer that costs $19.99 + $4.99 P&H for a total of $24.98. It comes with two replacement cleaning pads.
Sponsored Links
Window Wonder Review
Window Wonder – not to be confused with similarly named As Seen on TV products Windshield Wonder or Window Wonderland – is advertised as a mop for your windows, allowing you to spray, mop, and squeegee, all with the same device.
To use Window Wonder, you simply fill the reservoir with water or glass cleaner, then pull the trigger as the unit is held against the window. You can then use the mop side to scrub, and the squeegee side to remove any remaining liquid. The pads can be cleaned in the sink or in the washing machine, while the pole extends about three feet. It's basically an old-fashioned squeegee with the addition of a spray feature for cleaner. Is that single addition worthy of purchasing this product?
I'm not sure Window Wonder solves a problem that isn't already addressed by traditional squeegees, aside from its ability to spray cleaner directly on the window. If that feature is compelling to you, Window Wonder will probably be a great fit for your needs. If you already have pretty good luck cleaning your windows with a traditional squeegee, I don't know if Window Wonder will bring enough to the table to be worthy of switching.
Window Wonder is a relatively new item, as evidenced by its May 2017 website registration date. That tells me this is likely being test marketed, which is common for new As Seen on TV products. If that's the case, I would suggest exercising patience in the shipping process, as test marketed items are notoriously slow to ship. It's also relatively common to have orders canceled if the item fails to generate enough interest. I'll keep an eye on Window Wonder and update this space if anything changes.
Alternatives
Besides its ability to spray directly onto windows, Window Wonder is quite similar to standard window washers, such as this $18 model that has mostly positive ratings.
The advertising for Window Wonder reminds me of Clean Reach, which has also been advertised as a device that can be used to clean windows and other surfaces. You can see my review of that product below.
Your Window Wonder Reviews
What are your thoughts about Window Wonder? Drop a comment below and a star rating above to let us know what you think about it.