Window Wonderland is a projector that changes windows into a colorful holiday display. Does it work as advertised? Here is our Window Wonderland review.
Sponsored Links:
About Window Wonderland
Window Wonderland is a video and audio projection system that creates brightly colored holiday displays through the windows in your house. The official website is buywindowwonderland.com, with a registration date of February 2017. The screen capture below was taken of the product website in May 2017.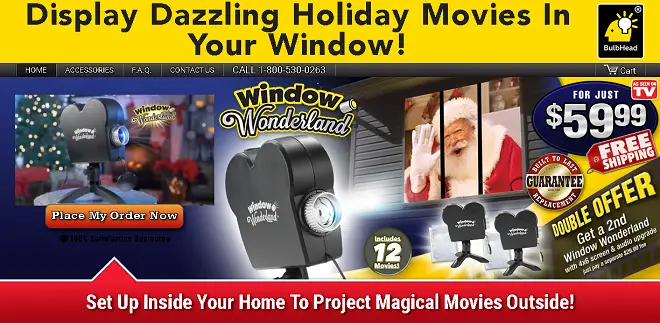 Claims & Features
Quick holiday decoration
State-of-the-art projection tech
Easy to setup & operate
Usable for various holidays
Projects sensational window displays
Cost
The main Window Wonderland offer costs $59.99 with free shipping. It comes with a 4×6 window screen and a lifetime guarantee. An optional double offers costs $89.98. There is also a deluxe version of Window Wonderland that costs $69.98 with free shipping. The deluxe version comes with a 4×6 window screen, a lifetime guarantee, and 6 bonus holiday movies. An optional double offer of the bonus version costs $109.96.
Sponsored Links:
Window Wonderland Review
Window Wonderland is an indoor projector that shines festive Christmas scenes – or spooky Halloween movies – onto a screen attached to an interior window. This in turn displays the movies to anyone who can see that window from outside the home.
It is a logical progression from popular items such as Star Shower Motion, which projected moving laser lights onto the home, to this item which actually displays full color video to passersby.
To use Window Wonderland, you'll first want to choose your most visible window where you want to shine your display. A 4 x 6 screen will then be attached to the interior side of the window, which is where your movie will be displayed. The Window Wonderland projector will need to be set up far enough away in order to fill the size of your window with your movie.
Three buttons on the unit allow you to choose between Halloween and Christmas movies, as well as the orientation of your window (vertical or horizontal).
If all of your friends jumped on the laser light projection bandwagon last year, this is a way to one-up them with full-color movies as part of your outdoor holiday display.
Window Wonderland appears to be a twin product to Fantasy Flicks, which was briefly test marketed in December 2016 into early January 2017. That item disappeared for several months, but has re-appeared in a dual-marketing campaign for both items, presumably for the makers to determine which version will strike a chord with consumers.
In a "Freakin' Reviews First" I am actually posting reviews for two neraly identical products at the same time. While this may seem like overkill, keep in mind that both of these products are being marketed separately, and do offer slightly different features. I feel that each deserves its own review, at least until they are consolidated into a single product, presumably later in 2017.
I find it a bit odd that these two items are being marketed in May 2017, when the nearest major holidays are Memorial Day and Fourth of July, and there are no Patriot type of movies offered yet in this unit.
It will be interesting to see which of these two makes the cut, although my money is on Window Wonderland, which seems to have more features, and even a Deluxe model.
Alternatives
As you may have expected, there are a couple of items out there that already do the same thing as Fantasy Flicks. Windowfx offers two holiday projector videos, one for $40 and the other for $80. Holiday Projectors is another brand that projects Halloween and Christmas movies onto an interior window.
Your Window Wonderland Reviews
What are your thoughts about Window Wonderland? Drop a comment below and a star rating above to let us know what you think about it.