Window Wonderland is a projector that changes windows into a colorful holiday display. Does it work as advertised? Here is our Window Wonderland review.
Sponsored Links
Where to Purchase
Amazon is probably the best place to purchase Window Wonderland as of 2020. You can still find it in stores such as Walmart or Target, typically in the holiday or As Seen on TV sections. The price is usually between $15-$25 now, as opposed to the original price of $60 when it was first marketed.
I bought Window Wonderland at a Walgreens in Las Vegas in July 2017.
Note that this review has been updated in July 2020 with additional information.
About Window Wonderland
Window Wonderland is a video and audio projection system that creates brightly colored holiday displays through the windows in your house. The website advertised back in 2017 now forwards to a malicious link! The screen capture below was taken of that website in May 2017.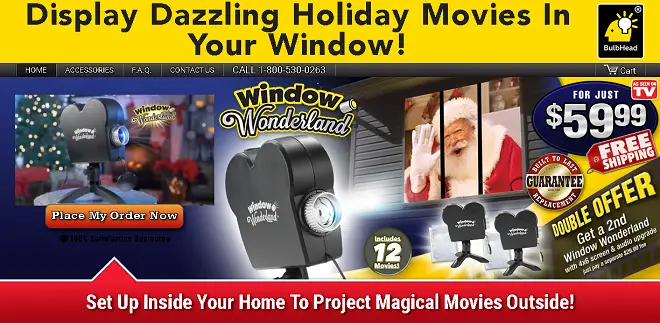 Claims & Features
Quick holiday decoration
State-of-the-art projection tech
Easy to setup & operate
Usable for various holidays
Projects sensational window displays
Window Wonderland Review
Window Wonderland is an indoor projector that shines festive Christmas scenes – or spooky Halloween movies – onto a screen attached to an interior window. This in turn displays the movies to anyone who can see that window from outside the home.
This model is a logical progression from popular predecessors such as Star Shower Motion, which projected moving pinpoint laser lights onto the home. Now we have a version which actually displays full color video to passersby.
To use Window Wonderland, you'll first want to choose your most visible window where you want to shine your display. You'll then cut the included 4 x 6 screen to size and attach it to the interior of the window where you want your movie to be displayed. The Window Wonderland projector will need to be set up far enough away in order to fill the size of your window with your movie. In my moderate-sized front-facing bedroom, that meant the projector had to be placed on a tripod in the doorway, about 12-14 feet away (in the doorway).
Three buttons on the unit allow you to choose between Halloween and Christmas movies, as well as the orientation of your window (vertical or horizontal). There is an audio out, in which you can play accompanying sound for each clip. To me, the challenge here was finding a 14+ food aux cable and where to put my speakers so they could be heard outside with the window cracked open.
Sponsored Links
Each video clip is only about 10 seconds long, and there is no way to cycle through them automatically. You can set one movie to play repeatedly, but you can't set it to play them all.
Potential "cons" in my opinion are related to the screen. After you cut it to the size of your desired window, you probably can't move it to another window of a different shape. Also, the four included pieces of double-sided tape don't really remove easily, and I started to tear holes in the screen as I attempted to remove them. Eventually I just used the original paper backing to cover the adhesive, which probably won't be a long-term solution.
The other "con" is that the video is just not very bright. As you can see in the image below, it is far less impressive than some of the promotional videos would have you believe. A number of ads floated around on social media in 2019 from third party vendors that bordered on false advertising. Those ads made this look like some incredible 3D-like projector, when in reality is projects dim 10-second clips.
Window Wonderland appears to be a twin product to Fantasy Flicks, which was briefly test marketed in December 2016 into early January 2017. That item eventually disappeared, while Window Wonderland has continued to be sold for several years.
I find it a bit odd that these two items were being marketed in May 2017, when the nearest major holidays were Memorial Day and Fourth of July, and there were no Patriot type of movies offered in this unit.
Alternatives
As you may have expected, there are a couple of items out there that already do the same thing as Window Wonderland. This interesting model is a double projector, while I prefer the Star Shower Slideshow, which is also still sold.
Video Review
Below is my full video review and demonstration of Window Wonderland.
Your Window Wonderland Reviews
What are your thoughts about Window Wonderland? Tell me what you think in the comments below.
Updated July 2020.