Wizard Mat is a car mat which can be used in a variety of ways. Read our Wizard Mat review plus additional information.
Sponsored Links
About Wizard Mat
Wizard Mat is a multi-purpose car mat that uses Velcro to stay in place and features raised edges to contain spills. The product website is getwizardmat.com, which was registered in June 2016. The screen shot below shows the official website as it appeared in July 2016.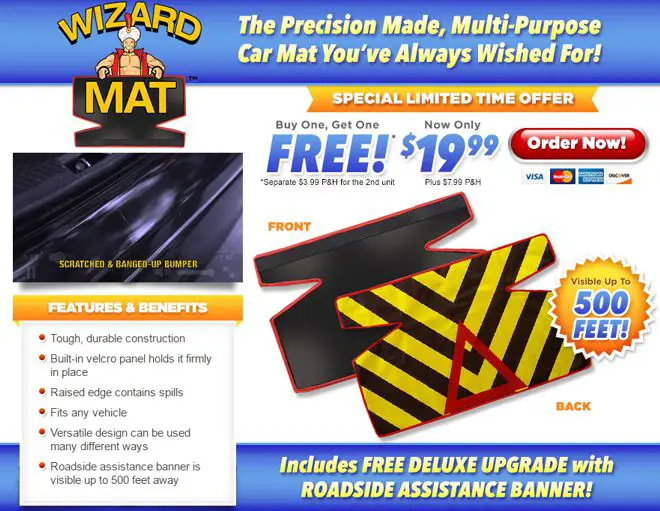 Claims & Features
Multi-purpose car mat
Durable construction
Velcro holds it in place
Raised edges to contain spills
Variety of uses
Doubles as roadside assistance banner, visible up to 500 feet away
Cost
You can purchase Wizard Mat for $19.99 + $7.99 P&H. A second unit is included for another $3.99 P&H for a total of $31.97.
Sponsored Links
Wizard Mat Review
Although Wizard Mat is self-described as a "car mat," it is probably more accurate to refer to it as a car liner, or at least a utility mat. Describing it as a "car mat" implies it is the type used on car floorboards.
Perhaps the most significant benefit of Wizard Mat lies in its versatility. Unlike standard car liners (see below), Wizard Mat can take on a variety of functions, from liner to seat protector to utility mat. In this regard, we like the wide variety of functions offered by Wizard Mat. The ability to use it as a roadside reflector is also a nice touch, as is the raised edges to keep spills contained.
The Velcro side does an adequate job of keeping the mat in place in carpeted sections. If you place Wizard mat on seats, however, you shouldn't expect the Velcro to have anything to grab onto. This probably won't work well to protect your seats from pets, as it will move around without Velcro holding it in place.
As a temporary liner or utility mat, Wizard Mat should be sufficient for most jobs, although it doesn't provide the type of padding you may expect from higher-end work mats.
Overall, we think Wizard Mat is a nice utility mat which offers enough uses to make it a worthy item to keep in your vehicle. It may not outperform competitors in any given category, but there are few other products available which are designed to tackle so many uses.
Alternatives
If you are simply looking for a car liner, there are a number of highly-rated car liners which outperform Wizard Mat. One Best Seller in this category is the Zone Tech Cargo Mat, which can also trap spilled liquids and can be trimmed to fit inside your car. Car liners such as these may not be as versatile, but they offer superior protection. If you find the variety of uses offered by Wizard Mat to be compelling, it may be a product to consider. If and when it becomes available in stores, it will be a better deal without shipping charges and delays.
Your Wizard Mat Reviews
Have you used Wizard Mat? Give us your thoughts by leaving a comment below and a star rating above.