Wonderbroom is a versatile rubber bristle broom with a built-in squeegee and telescoping handle. Does it really work? Here is my Wonderbroom review.
Sponsored Links
About Wonderbroom
Wonderbroom is a multipurpose broom with rubber bristles, a squeegee, and a 4 foot telescoping handle. There appear to be two official product websites: buywonderbroom.com and trywonderbroom.com, both of which were registered in January 2017. The screenshot below shows how the product website looked in November 2017.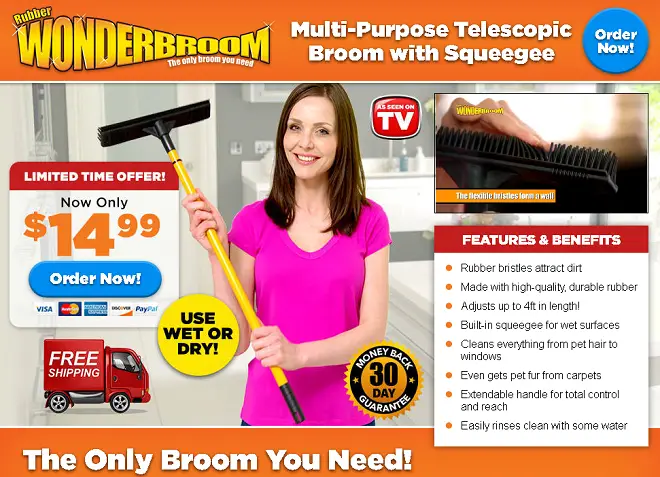 Claims & Features
Rubber bristles create a static charge that attracts dirt
Handle extends up to 4 feet
Flip over to use the built-in squeegee
Versatile uses (cleans windows, carpets, furniture, car, pet hair, etc.)
Simply wash with water
Cost
Wonderbroom costs $14.99. Shipping is free. At the time of this writing, Wonderbroom is not available in stores.
Wonderbroom Review
Wonderboom is a household broom with rubber bristles and a built-in squeegee. Although the idea sounds rather simple, it's not an idea that has caught on with consumers. If the makers of Wonderboom have their way, however, consumers will soon take notice.
Using Wonderbroom is more akin to raking than sweeping, due to its rubber bristles. You can use the bristle side to pick up larger objects or pet hair, or you can flip it over and use the squeegee side to sweep up smaller particles like glass or dirt. Another use for the bristles is scrubbing, which is something a regular broom can't do.
Sponsored Links
Unlike a regular broom, however, hair and other particles don't really stick to the rubber bristles. And even though the squeegee side can be used to sweep up dirt and small particles, I don't think it is a complete substitute for a moist sweeper with a pad that actually picks up and holds such small particles on a hard floor.
One nice feature of Wonderbroom is that it can be easily cleaned by simply running water over it. That is certainly better than cleaning a traditional broom, which most people don't even bother cleaning.
I believe brooms of this design were invented primarily to pick up dog hair. For that, they do a pretty good job, although as I pointed out it is more like raking the hair out of the carpet than sweeping. And, while you can use Wonderbroom for a wide variety of uses, its function as a pet hair remover is probably the most compelling reason to consider buying it. I'm not sure if some of the other suggested functions will be as useful to consumers as its ability to remove pet hair from carpet. It does seem to have potential to be good for washing cars, although there are already two-sided sponge/squeegees that perform this function and can be found readily in stores.
Based on the limited data I have, and the fact that two different domains are being used to market the product, I believe this could be a test marketed item. I suggest watching my short video below which explains some of the ways in which test marketing works in the As Seen on TV industry. Watching this video for 4 minutes could save you time down the road!
Alternatives
Wonderbroom is very similar in design to the FURemover Broom, which also sports rubber bristles and a built-in squeegee. That item runs about $19 and boasts a solid 4.1 star rating on Amazon. Because it's available via Amazon Prime, it will almost certainly ship faster than a test marketed item. That, of course, could change should Wonderbroom arrive in stores.
You may also want to take a look at some of the heavily marketed "spin brooms" that are still quite popular. I compare three popular models in the video below.
Television Commercial
Your Wonderbroom Reviews
Have you used Wonderbroom or something like it? Leave a comment below and a star rating above to let us know your thoughts.