Yoshi Copper Grill Mat is a copper-infused grill mat. Read our Yoshi Copper Grill Mat review plus additional product information.
Sponsored Links
About Yoshi Copper Grill Mat
Yoshi Copper Grill Mat is a grilling mat that evenly grills your food without food sticking to the grill while also reducing flare-ups. The official product website is coppergrillmat.com, which was registered in June 2016. The screen capture below shows the official website as it appeared at the time of this writing in June 2016.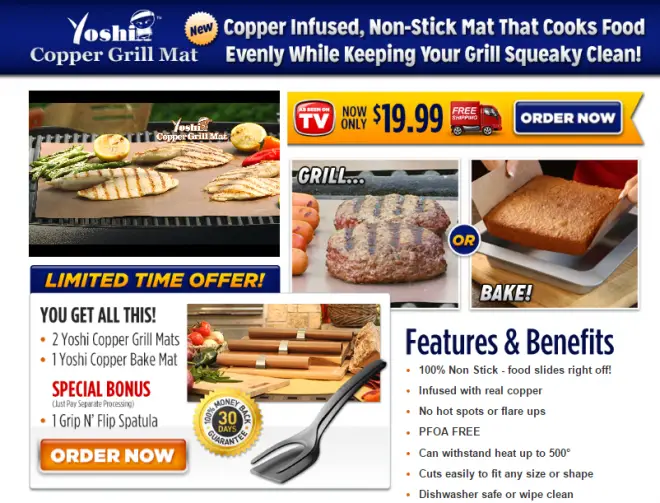 Claims and Features
Completely non-stick
Infused with real copper
No flare-ups or hot spots
PFOA Free
Can withstand up to 500° heat
Dishwasher safe
Completely reusable and reversible
Cost
This product costs $19.99 + free shipping. You can add a bonus Grip N' Flip Spatula for an additional $3.99 P&H.
You can find Yoshi Copper Grill Mat in stores for about $10. The earlier Yoshi Grill and Bake Mat is sometimes still found in stores, also for about $10.
Yoshi Copper Grill Mat Review
Copper has been the buzzword in As Seen on TV products for the past few years, and we're seeing new "copper" versions of many popular past items hitting the airwaves in recent months. The Yoshi Copper Grill Mat is no exception, as it is the copper version of the popular Yoshi Grill and Bake Mat which heavily advertised in mid-2014.
Sponsored Links
One notable "pro" with this products is that it works well with some types of food. Vegetables, fish, and pizza are examples of food where Yoshi Copper Grill Mat shines. The nonstick surface works as expected, and it does reduce the amount of cleanup on your grill surface. It seems to be durable enough for re-use and easy clean up.
There are also a few cons worth weighing into your purchasing decision. Using this mat will results in a lack of grill marks, which is an aesthetic some chefs cannot sacrifice. The fact that juices pool on the mat, rather than drip into the flame, could result in less flavor and increased cooking time. These juices can create more of a steaming or frying experience than that of grilling. At a size of about 16″ x 13″ it could feel too small for some users, although you do receive two mats with your order.
In my tests, I found that burgers and chicken cooked properly, but were rather hard on the mat itself, requiring extensive cleaning. That somewhat negates the benefit of keeping your grill clean, if you have to spend just as much time cleaning the mat. In fact, I don't know that this is an improvement over the older model, which I found to last longer with regular use.
Overall, I think this is a fine product if you are grilling veggies or items requiring lower heat. High heat and greasy meat seem to overwhelm Yoshi Copper Grill Mat. It would appear that the addition of copper is only of minimal benefit, if any. Now that this product is available in stores, it's not a bad price at $10 if you want to try it out.
If you're interested in alternatives, the Grillaholics Grill Mat is an Amazon best seller – ranking #1 in this category – and costs about $20 for two mats.
Video Review
Below is my hands-on review of Yoshi Copper Grill Mat.
Your Yoshi Copper Grill Mat Reviews
If you've used Yoshi Copper Grill Mat please give us your opinion by leaving a comment below and a star rating above.
Updated May 2017.