Zip Renew Review: Fix Any Zipper?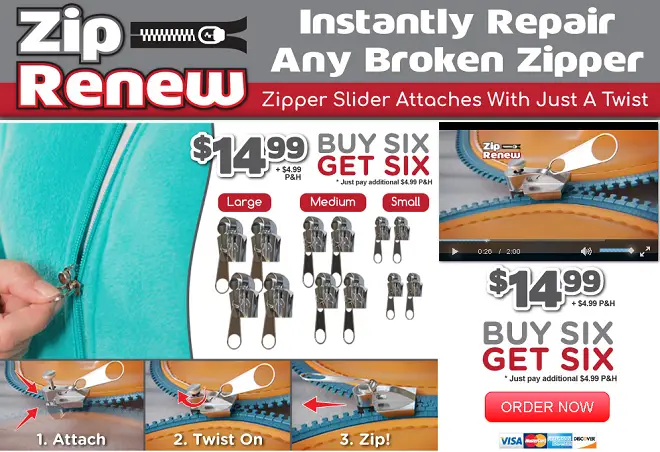 Zip Renew is a set of special zippers that can easily replace broken or missing zippers. Do they really work? Here is my Zip Renew review.
Sponsored Links
About Zip Renew
Zip Renew is a pack of 6 zipper replacements that can fix almost any broken zipper in minutes. The official product website is ziprenew.com, which was registered in August 2017. The screenshot below shows how the product website looked in September 2017.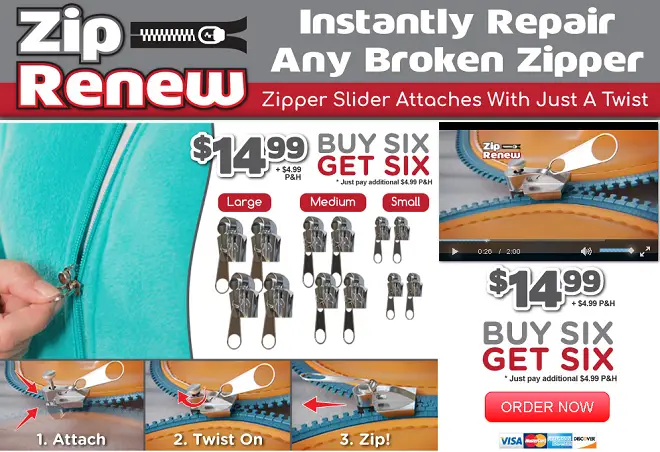 Claims & Features
Repair or replace almost any zipper (3 available sizes)
Simply slide zippers on and twist to tighten
Does not involve tools or sewing
Detachable and can be used over and over again
Cost
There is a mandatory double offer when ordering Zip Renew. The cost is $14.99 + $4.99 P&H + $4.99 double offer for a total of $24.97. This offer includes 4 small zippers, 4 medium zippers, and 4 large zippers (12 in total). At the time of this writing, Zip Renew is not available in stores.
Zip Renew Review
The ads for Zip Renew are compelling: a set of replacement zippers that can fix almost any size zipper in minutes. To use Zip Renew, you simply center the device over your broken zipper and twist the small knob. If all goes well, your new zipper will work flawlessly right out of the gate.
Sponsored Links
That, however, seems to be a big "if" with these types of devices.
The advertising points out that usually a broken zipper is the zipper itself, and not the teeth on the item to which it is attached. Thus, replacing just the zipper is far more efficient than replacing the zipper and the teeth. Other devices like this have been on the market for years (see below) and are generally poorly received. The idea behind Zip Renew and products like it seems sound, but the execution often fails. This is in part because not all zippers are exactly alike, and it's difficult for a single item to encompass all of the slight variations in manufacturing.
In my opinion, purchasing Zip Renew is something of a crap shoot. If you are able to get it to work on your desired item, you'll probably love it. I'm guessing that the success rate will probably be on par with other products like this, which is maybe 50% at best.
Based on the August 2017 registration date of the Zip Renew website, my guess is that this is currently being test marketed, which usually means those who order it could wait months to receive it – if it ever goes into full production. I recommend browsing some of the comments for the products discussed below to get a feel for how successful these zipper repair kits are.
Alternatives
As mentioned above, you may recall a nearly identical product called Fix A Zipper, which also comes in a six pack of three sizes. That item has been hammered by negative reviews online, so you might want to peruse those comments as they could also apply to Zip Renew. ZipperMend is one of the highest rated devices of this kind, and it still only holds a lukewarm 3.4 rating (although its modest $3.44 price is far more palpable).
Your Zip Renew Reviews
Have you used Zip Renew or something like it? Leave a comment below and a star rating above to let us know your thoughts.