Zuru Fidget Cube is a cube-shaped fidgeting trinket for people with restless fingers. Does it work as advertised? Here is our Zuru Fidget Cube review.
Sponsored Links
About Zuru Fidget Cube
Zuru Fidget Cube is a six-sided fidgeting gadget full of features that can be glided, flipped, rolled, and clicked. The official website is zurufidget.com, with a registration date of March 2017. The screen capture below was taken of the product website in July 2017.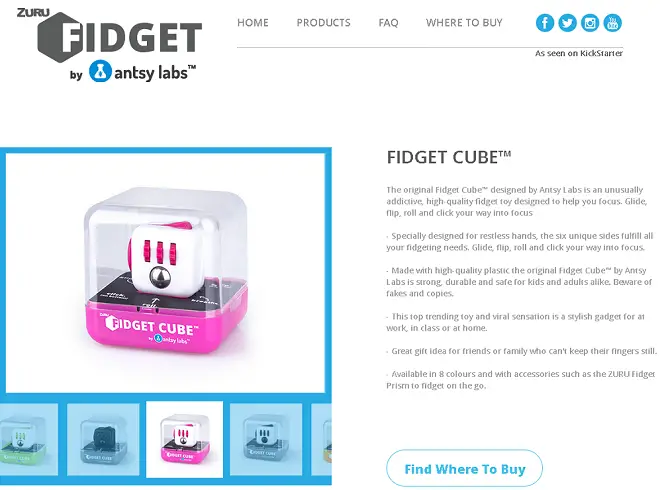 Claims & Features
Created to satisfy fidgeting needs (glide, flip, roll, and click)
Manufactured from safe and sturdy high-quality plastic
Fashionable device that can be used at home, work, or in class
Ideal for friends and family with restless hands
Comes in 8 different colors
Cost
The Zuru Fidget Cubes costs approximately $10-$15 depending on where it is purchased. They can be ordered online from websites like Amazon, or can be found in stores such as Toys R Us, Walmart, Target, CVS, Krogers,  or Walgreens.
Sponsored Links
Zuru Fidget Cube Review
Stress relieving fidget toys are all the rage, and Fidget Cube was one of the first (if not the first) product in this category after a successful Kickstarter campaign. If you haven't heard of fidget toys, they are small devices that don't actually have any function, but allow your hands to press, push, pull and move buttons or levers to keep your hands busy and relieve stress.
Fidget Cube includes six sides, each with a unique "fidget" feature, such as levers, knobs, and buttons. When you feel stress or anxiety, a device like this is said to give your hands something to do in order to consume nervous energy.
It would be a discussion far beyond this article to assess whether or not such devices actually work, as something like this will be completely subjective. Suffice it to say that there are numerous people out there who swear that these devices are great for giving nervous hands a task, which allows the mind to relax. This is said to help calm the individual, relieve stress, and increase focus. Fidget Cube is the original of its kind, and I've already seen a few knockoffs come and go.
After its successful Kickstarter campaign, which was highly reported in the media, Fidget Cube and Antsy Labs teamed up with toy marketer Zuru to bring it to a wider audience. Zuru also teamed up with another popular Kickstarter a few years ago when Bunch O Balloons received significant press.
In addition to being the first of its kind, Fidget Cube is also the highest quality. Beware of cheap knockoffs that are of dollar store quality and fall apart easily.
Alternatives
There are numerous fidget toys, such as this generic Amazon Best Seller which costs under $5, and also resembles the Fidget Cube (its description even admits that it is a "generic" Fidget Cube).
Television Commercial
Your Zuru Fidget Cube Reviews
What are your thoughts about Zuru Fidget Cube? Drop a comment below and a star rating above to let us know what you think about it.