I have had so many pillow requests over the past four years that I decided to buy the five most requested pillows and compare them all. I also had my kids help out in order to offer three unique opinions of each. Today is a quick recap of those results, and our ranking of them all.
Sponsored Links
Giveaway
The giveaway ended on November 28, 2020.
Where to Purchase
Before I begin my full review, here are the five contenders and where to purchase them:
This test was done over a six week period with myself and my two adult children (Brandon and Noah) each trying one pillow for a week. We did this for five weeks until we had tried all the pillows, and for Week 6 we went back to refresh our memories of any pillows we thought required a second look.
Below are the pillows in order from least to most expensive. At the bottom, you can find the ranking that all three of us gave, and the consensus rank at the end.
Copper Fit Angel Sleeper ($40)
This is the only As Seen on TV pillow of the bunch, and one for which I have received numerous requests. The features of the pillow are a unique 180-degree design that allows back sleepers to use it in one direction and side sleepers to use it in another. There are also side cutouts which supposedly allow you to rest your arms within.
The consensus among the three of us was that the Angel Sleeper was too firm. It's concave design works well for cradling your head if you tend to keep it in the center of the pillow all night. If, however, your head migrates around throughout the night, the pillow's nudging of your head toward the center can be bothersome.
If you like a firm, thin pillow, this could be a contender. None of us were particularly impressed, however. It took me a couple of days to wakeup without a headache while using this.
View this post on Instagram
Brandon's Rank: 3rd out of 5
Noah's Rank: 5th out of 5
James' Rank: 4th out of 5
Purchase Copper Fit Angel Sleeper here.
You may be interested in reading my full Angel Sleeper review here.
COOP Home Goods Adjustable Loft Pillow ($60)
This rather unassuming looking pillow has one primary feature: The ability to adjust firmness by easily removing or adding filler. Although it feels pretty firm when full, an additional half-pound of filler is included for the few people out there who would want it even firmer than it arrives.
The instructions state to fluff it in the dryer before each use and then again once a month. Other than that, it's just a matter of tinkering with the amount of filler until you get the right amount to suit your needs. In my case, removing about 40% was the sweet spot for me. Both of my kids ended up removing roughly the same amount as I did.
Although some of the other pillows here may have more interesting features, the ability to fine-tune the adjustment of the Coop made this a top choice among our group.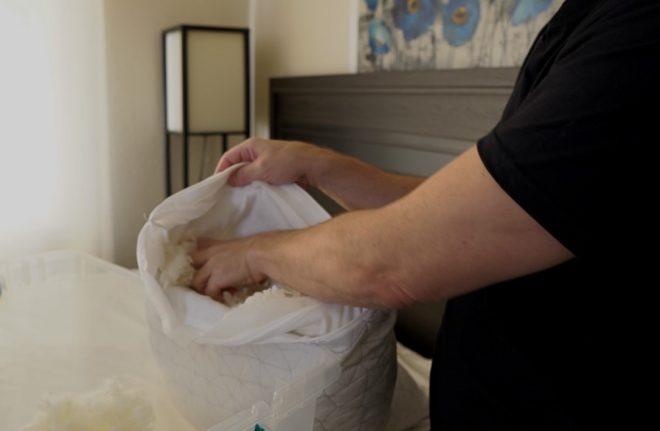 Brandon's Rank: 1st out of 5
Noah's Rank: 3rd out of 5
James' Rank: 1st out of 5
Get the Coop pillow at Amazon or Walmart.
Sleepgram ($68)
This is the second of two adjustable pillows on the list, and the more expensive of the two. Rather than adjusting the amount of filler as found with the Coop, the Sleepgram includes two inserts, labeled with red and blue tags. Blue is labeled as soft and red is medium. You can use either insert, or both, providing a total of three different configurations. The three of us all agreed that having both inserts was far too firm for our liking. To me, the softer insert was a tad too soft while the medium insert was a tad too firm, so I never found the Goldilocks adjustment that I was able to achieve with the Coop. Noah stated that using the soft insert "felt like I was sleeping on a pillow case."
It's certainly a fine pillow, but we all agreed that it wasn't as adjustable as the Coop, thus ranking below that model.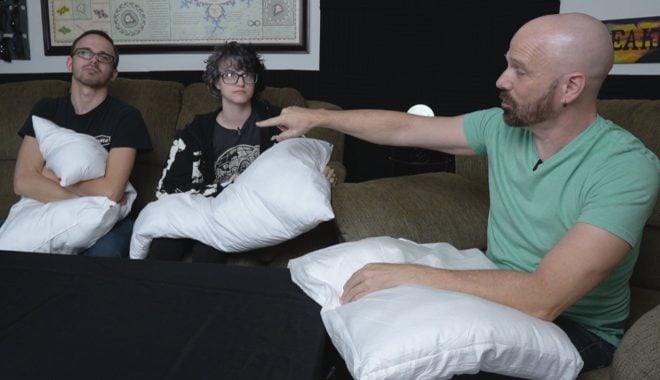 Brandon's Rank: 4th out of 5
Noah's Rank: 4th out of 5
James' Rank: 3rd out of 5
Get the Sleepgram on Amazon or Walmart.
Pillow Cube ($70)
This is by far the most bizarre of the bunch, and perhaps the pillow I've seen advertising most over the past six months. Pillow Cube is 12″ square and 5 or 6 inches deep (your choice). I picked up the 5-inch model for $69.99. There is now a Pro version which is wider and offers three choices of depth for $120.
Pillow Cube is advertised as a solution for side sleepers which perfectly fills the gap between the head and the bed. While this makes sense in theory, I didn't find that it provided a solution to anything. The 7 nights that I slept on the Pillow Cube were by far the most miserable of the six-week test.
Ironically, it feels amazing to the hands while squeezing it, but terribly unforgiving to the head during slumber. I felt this was by far the most uncomfortable of the group, however Noah quite liked it. She said that the firmness and the size were well-suited to her tastes. The only change she said she would like to see is a slightly thinner and slightly wider model, which perfectly describes the "pro" version.
Pillow Cube was certainly the pillow with the widest variety of results among our small group.
This was my initial reaction to the Pillow Cube. The full video will be out in November. pic.twitter.com/0tQdr8f8Xm

— Freakin' Reviews (@freakinreviews) October 26, 2020
Brandon's Rank: 5th out of 5
Noah's Rank: 2nd out of 5
James' Rank: 5th out of 5
I bought the Pillow Cube at pillowcube.com.
Purple Harmony Pillow ($159)
Admittedly, I have a soft spot for anything from the Purple line of products, because it was my original Purple Pillow review that helped push my YouTube channel to the next level. Not to mention my ongoing love of the Purple .3 mattress. Of course I've also reviewed other Purple products that have been of lesser interest like the Purple Plush pillow and the Purple Cushion. But now we have the Purple Harmony Pillow, which is touted as "The Greatest Pillow Ever Invented" and a hefty price tag of $159.
Purple Harmony Pillow is said to retain its shape, stay cool all night, and provide no-pressure support. The company states that these are achieved via the "Purple Grid Hex" design that was chosen among 50 prototypes.
Unlike some of the other pillows we tested, I found the Purple Harmony to immediately feel nice. From the first night, I found that it did in fact stay cooler than the other pillows in this test (although not quite as cool as my Beautyrest Aquacool, which I found at a local Walmart).
I have nothing bad to say about this pillow and it was a nice experience from the first night onward. My kids concurred, with Noah stating that she loved it and no other pillows that she tested compared.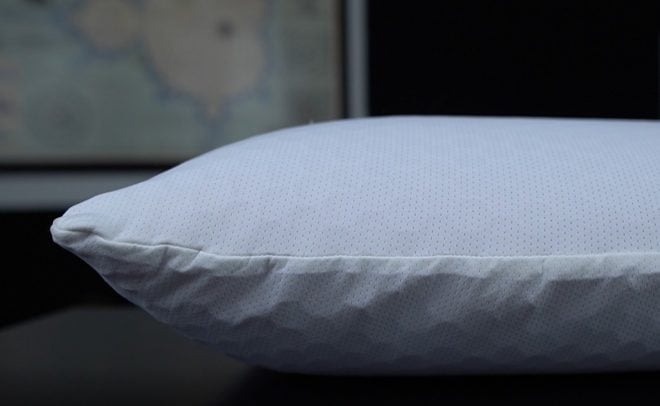 Brandon's Rank: 2nd out of 5
Noah's Rank: 1st out of 5
James' Rank: 2nd out of 5
Buy the Purple Harmony Pillow here.
Final Rankings
The only reason I ranked the Purple Harmony slightly below the Coop was partially the price difference, but also because the Coop is fully adjustable and the Purple is not. Both are tremendous pillows and I think anyone would be happy with either one. Below are the final rankings from the three of us who tested these pillows.
Brandon's final ranking
Coop
Purple Harmony
Angel Sleeper
Sleepgram
Pillow Cube
Noah's final ranking
Purple Harmony
Pillow Cube
Coop
Sleepgram
Angel Sleeper
James' final ranking
Coop
Purple Harmony
Sleepgram
Angel Sleeper
Pillow Cube
Tallying up all of our ranks resulted in a consensus with two ties:
1. Coop & Purple Harmony (tied)
3. Sleepgram
4. Pillow Cube & Angel Sleeper (tied)