Battle Visor is a windshield visor that clarifies vision by cutting glare from sunlight. Does it really work? Here is my Battle Visor review.
Sponsored Links
About Battle Visor
Battle Visor is a vehicle visor that blocks glare and ultraviolet rays to provide clear vision while driving. The official product website is buybattlevisor.com, which was registered in April 2018. The screenshot below shows how the product website looked in May 2018.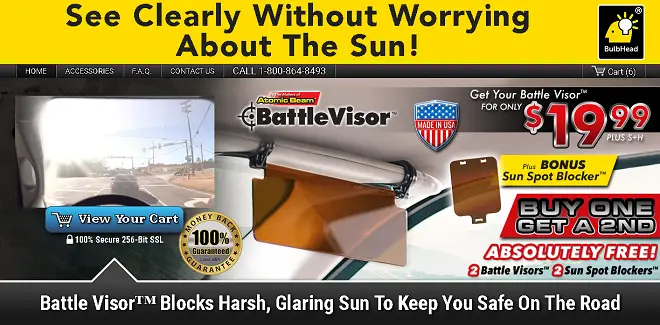 Claims & Features
Partially blocks glare from the sun
Transparent material stops glare, yet allows driver to view road
Preserves vision from UV and blue rays
Compatible with any vehicle
Simple installation takes moments
Made in the United States (durably constructed)
Cost
When ordering Battle Visor, there is a mandatory double offer which costs $19.99 + $9.99 shipping for a total of $29.98. This offer includes 2 Battle Visors and 2 Sun Spot Blockers. There is also an option for a deluxe double offer that costs $39.98 + $19.98 shipping for a total of $59.96. This deluxe offer includes 2 Battles Visors, 2 Sun Spot Blockers, and 2 Battle Visor Night Visions. At the time of this writing, this offer is not available in stores.
Battle Visor Review
Battle Visor is a car visor that clips onto your existing visor and functions basically the same as a pair of polarized sunglasses. There is also a "sun spot blocker" which is a sliding segment of darker tint that allows you to add extra sun blocking when sunlight is directly in your eyes. The commercial for Battle Visor features military-inspired scenes and the regular "Atomic Beam" spokesman Hunter Ellis. It highlights the virtues of this car visor which can block the glare and improve vision. It's not the first car visor featuring military scenes, as the competing product Tac Visor had also advertised in recent months.
At first glance, you might find the competing Tac Visor to be more impressive with its mirrored coating, curved design, and larger size. Even though on paper, Tac Visor should be the superior product, I experienced problems with it, namely warping in the extreme heat of Las Vegas. In fact, my Tac Visor warped so much that it ended up breaking when I tried to close it. I left Battle Visor out in the direct sun and it did not warp. While only speculation, I believe the plastic is thicker than Tac Visor, which is perhaps why it held up better.
Thus with Battle Visor, we have a straight (not curved) piece of tinted plastic that is not as large as the Tac Visor. This means that some drivers will need to not only flip down the Battle Visor, but also move the existing visor down in order to get the proper angle.
Sponsored Links
While it does filter out some glare and sunlight, I didn't feel that it outperformed a regular pair of sunglasses. If you wear prescription glasses and don't wear sunglasses, using Battle Visor could be a benefit because you can just wear your regular glasses and let the visor filter out sunlight.
Finally, when the sun was low in the sky, it still felt uncomfortable to my eyes, even with Battle Visor in action. The sun spot blocker does help, but it seems a bit sticky when moving it into place, and was not a complete solution to blocking out extreme direct sunlight.
I still have Battle Visor in my car, but I still tend to use sunglasses instead. I do think that this could be a good fit for those who wear regular prescription glasses while driving and don't have a pair of prescription sunglasses. If you prefer to use visors instead of sunglasses, this is a viable option to consider.
Be sure to watch my full Battle Visor review in the video below.
Alternatives
There are numerous car visors that perform similarly, such as this $17 day/night model by XPLUS (which brings back a design of classic As Seen on TV car visors), or you may want to take a look at this highly-rated yet more expensive model.
Your Battle Visor Reviews
Have you used Battle Visor or something like it? Tell me your thoughts in the comments below!