Today I'm taking a look at three cooling products in three different price ranges: A $15 cooling spray, a $60 neck fan, and a $105 ice vest.
Sponsored Links
Where to Purchase
All three of these items were purchased on Amazon: The SurgeCool Sports Cooling Spray which cost about $15 (it is no longer available as of this 2022 update), the $60 next-gen personal cooling neck fan, and the $100 FlexiFreeze Ice Vest. Additional inserts for the ice vest can be found for about $40.
Cooling Items Review
Being a longtime resident of the Las Vegas valley, I've seen my share of extreme heat over the years, which is probably one reason why I enjoy testing out cooling products more than almost anything else. Today I'm taking a look at three cooling items, with three different designs, in three different price ranges to see how they really work.
SurgeCool Sports Cooling Spray ($15)
This is the least expensive of all the three items discussed here, and this was suggested by someone on Instagram. It's marketed as a cooling spray, with the description of "Portable Air Conditioning" on the Amazon listing. The spray is said to last up to two hours with a sensation of 15 degrees Fahrenheit of cooling. The bottle claims there are three methods of cooling, which include evaporative cooling, L-Menthol, and menthol residue. The instructions also state that it should be re-applied before it evaporates in order to maintain the cooling effect. The spray also includes a light menthol scent.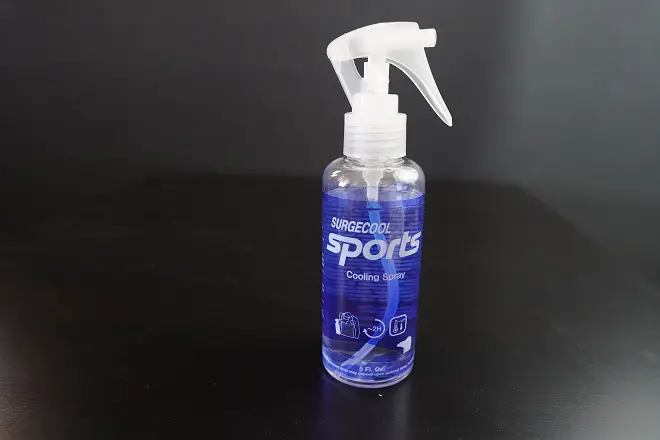 The box notes that it should not be sprayed directly onto the skin or face, but onto clothing. Improved results can occur by wearing an outer piece of clothing over the sprayed garment. In their example, a sports coat is shown.
I decided to test out the cooling spray by spraying it on one side of my shirt, while using a spray bottle containing only tap water on the other side. After spraying about the same amount on each side, I sat outside in the extreme hot/dry weather to compare the results.
It was hard to tell if there was any difference between the two sides or not, which doesn't bode well for the cooling spray if plain water can perform about as well. Further, they both dried up in about the same amount of time, which was only about 10 minutes in humidity under 10%.
I tried again, this time while wearing a sports coat over the shirt, and while I would say that it did take longer to evaporate, it still didn't seem like the cooling spray out-performed plain water by any discernible margin.
For a final test, my son and I went to play out in a park, and I sprayed the front and back of his shirt. After about 15 minutes, the shirt was dry and the cooling effect was gone.
In my opinion, any advantage of this item over water is negligible, and certainly doesn't warrant shelling out $15 to achieve. Also, while there is a pleasant menthol scent, after a while its pleasantness wore off and I wanted to rid myself of that odor.
I just don't think this is necessary. You may want to peruse some of the Amazon comments to see what others are saying about it.
Rating: 1.5 out of 5 stars
Neck Fan ($60)
Back in 2019 I compared three wearable fans, including a neck fan that was advertised by numerous vendors on social media. I did find that fan to be the best of the three I compared, and in fact I used it periodically throughout the summer.
In 2020 I started to see what could be described as a next-gen version of that fan, with the addition of an aluminum thermoelectric cooling plate that presses against the neck and stays cool.
To use the fan function, there is a button that is held to turn it on and off, or quickly pressed to toggle through three speeds. A second button is held to activate the cooling plate.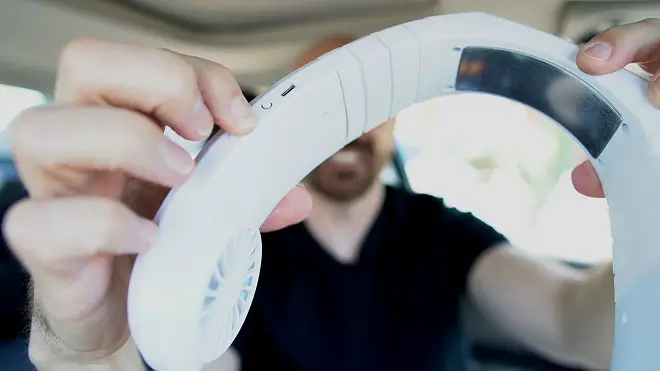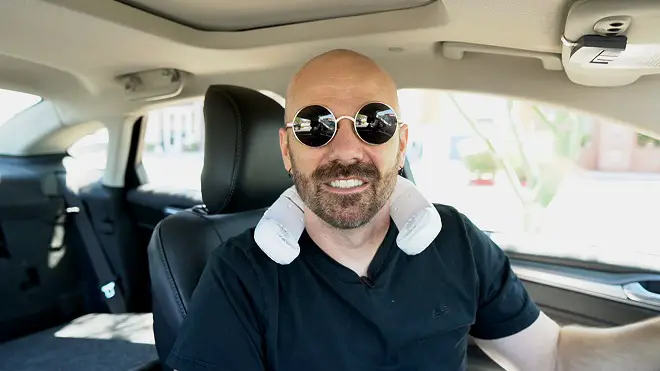 The "arms" can be adjusted to accommodate most neck sizes, and they can also be rotated in order to aim the fans in the desired direction. The unit is rechargeable and takes several hours to charge, but it also lasts around 4 hours, depending on the speed of the fan used.
My primary test of this neck fan was in my car on a stifling hot day in Las Vegas, when the temperature was 109F (42.2 C). I found that it doesn't quite blow as hard as my 2019 fan, perhaps due to that unit's larger fan blades. It does however, provide a constant cooling sensation via the cooling plate in the back.

Sponsored Links
My son also tried out that unit at the park, and while the breeze outside mostly offset any benefits of the fan, he also found the cooling plate to be noticeable at all times.
The only "con" about this fan is probably that the aluminum plate tends to get sweaty when constantly pressed up against the skin. Although it bothered me at first, I got used to it and it didn't bother me in subsequent uses. The instructions note that it is best to use this with hair pulled up, which some is discussed in the comments on Amazon.
Rating: 3.5 out of 5 stars
FlexiFreeze Ice Vest ($100-$105)
This interesting vest uses three inserts which hold a total of 96 ice cubes (plain water, not gel). The inserts are placed in the freezer and then attached to the vest via Velcro once frozen.
To use the ice vest, you first take the included inserts and place them in the freezer until they are all frozen solid. When you're ready to use the ice vest, the inserts are removed from the freezer and attached to the vest. Despite rather detailed instructions, I still found the vest itself a bit awkward to put on and to adjust the first time. I spent some time figuring out how to properly put the vest on and adjust it before adding the inserts.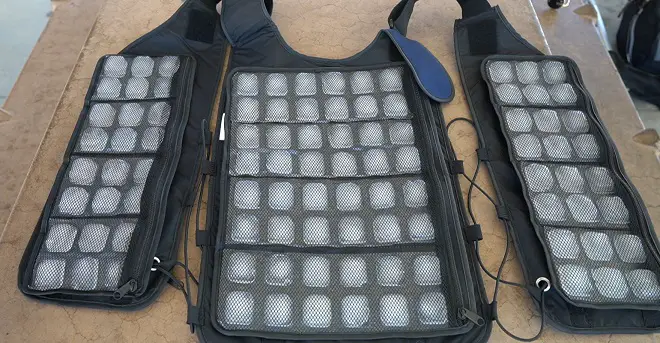 There are cords on the sides that the instructions state should be tightened after the vest it put on, but I found they needed to be loosened before the vest would even fit. Velcro on the shoulders also felt awkward and sometimes came detached while I tried to put the vest on. Once I was comfortable with all of the adjustments, I was ready to try it out.
Attaching the inserts is quick and simple, as there is really only one way they can attach to the vest. The instructions note that the vest should not be worn against bare skin, so I opted for a generic cotton t-shirt.
Once I put the vest on, there was an immediate cooling sensation all around my torso. It was by no means uncomfortable, but certainly a stark sense of decreased temperature. From the time I took it out of the freezer until the time that the ice melted was about 90 minutes. The water stayed cool a bit longer, so even in the extreme desert heat I would expect close to two hours of cooling from this vest.
The fact that it is a vest means your arms will still have a free range of motion. My son and I played with a Frisbee at the park while I wore this, and I did not feel encumbered in any way. In fact, even running around in 103-degree weather, I never felt overheated or sweaty.
I do think that for someone who works outside in the heat, this could be a game changer, although it would also be a significant monetary investment because it would likely require a total of three inserts, totaling $180 ($100 for the vest and insert, plus 2 extra sets of inserts at $40 each).
Overall, despite its price tag, I was quite impressed with the FlexiFreeze vest and I'm confident that most people who use it will enjoy it.
There are versions with zippers or Velcro. Based on the Amazon comments, I opted for the Velcro version.
Rating: 4 out of 5 stars
Below you can watch my full video review of these three items.
Conclusion
While I don't feel that the cooling spray provided any significant benefit over plain water, the neck fan and ice vests both performed well. I feel that most people who use the neck fan or ice vest will be happy with their purchase, despite their high price tags.
Have you used any of these cooling products? Tell me what you think in the comments below.
Updated August 2022