Feather Feeder is a remote control bird feeder that attracts birds of all kinds. Does it work? Read our Feather Feeder review.
Sponsored Links
About Feather Feeder
Feather Feeder is a bird feeder which can be operated via remote control. The official product website is getfeatherfeeder.com, with a registration date of October 2016. Below is a screen shot of the official website taken in November 2016.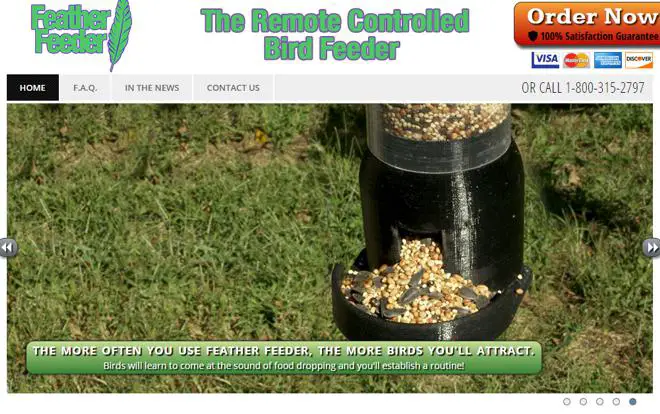 Claims & Features
Remote controlled bird feeder
Fill with birdseed and push the remote to release seed
Birds of all kinds are attracted to the sound of feed being released
Built to last
Holds a month of feed
Cost
Feather Feeder costs $19.99 + $7.99 shipping. You can add a second unit for another $9.99 fee. This brings your total to $27.98 for one unit, or $37.97 for two.
As of this writing, Feather Feeder isn't available in stores.
Sponsored Links
Feather Feeder Review
Feather Feeder is a remote controlled bird feeder. Food is released when you press a button on the remote control, and this is supposed to eventually train birds in the area to flock to the feeder when they hear the sound of food being released.
For such a device to work, one would expect that birds using the feeder will need to be within range to detect food being released. If you're in an area where birds reside nearby, the remote control feature of Feather Feeder could be a good fit. If, however, birds are not living in your immediate area, it's unclear if the remote feature will add much value to the product.
Additionally, if there are not many birds in your area, it may take too long for a portion of food to disappear before the remote control feature will be activated. The length of time between these feedings could render the "training" angle of Feather Feeder moot.
It remains to be seen whether releasing bird seed on command is superior to traditional bird feeder designs which always have food available.
Feather Feeder is a new product, as evidenced by its October 2016 website registration date, and we'll update this page when more information becomes available.
Alternatives
Although we haven't encountered a remote control bird feeder, there are countless bird feeders of various sizes, shapes, and prices to be found in stores and online.
The Brome Squirrel Buster Bird Feeder is a popular item online, with a 4.4 star rating among over 1,100 customer reviews.
Television Commercial
Your Feather Feeder Reviews
Have you used Feather Feeder? Give us your thoughts by leaving a comment below and a star rating above.