Here is the complete 2020 Freakin' Reviews gift guide, based on nearly 600 products I've reviewed over the past four years, along with a few extras thrown in.
Sponsored Links
Gift Ideas
Below you can find the full list of gift ideas from my YouTube video, in the same order. Note that availability on Amazon is always subject to change, especially around the holidays.
1. Shirt Folding Board
Originally reviewed in January 2020, the shirt folding board is an ideal gift for someone who folds a lot of laundry. The model I bought usually runs around $17 and has solid ratings.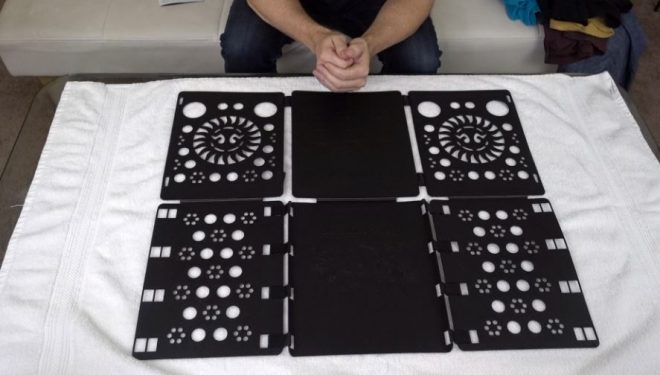 2. Staple-Free Stapler
A great gift for teachers or anyone who may want to avoid metal staples, this staple-free stapler is a nifty device that may not be as permanent as the real thing, but could save lots of headaches but eliminating staples completely.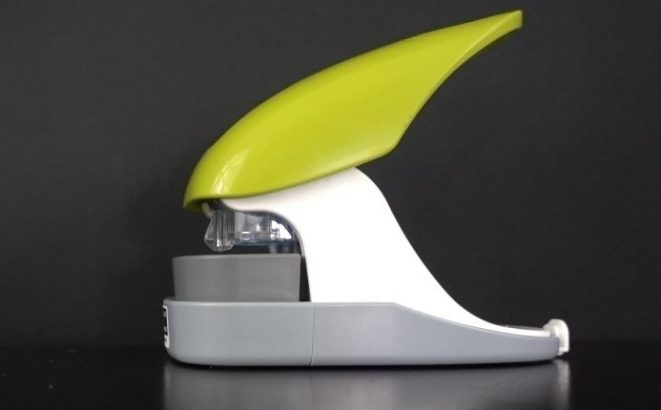 3. Magnetic Notebook
This is not an item I reviewed, but one I received as a birthday gift in 2020 and have found it quite useful. You can remove or rearrange pages at will, made possible by small magnetic strips on each sheet and a magnetic spine.
4. ZipIt Package Opener
This package opener I tested for an upcoming video and was the only automatic model I tried. For those who struggle with clamshell and blister packaging, this gift is a no-brainer.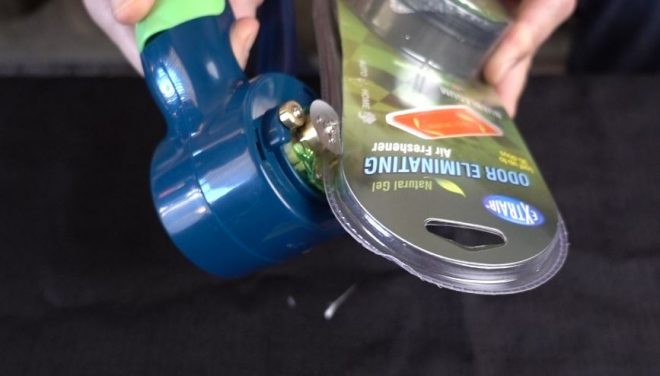 5. Socket Shelf
Socket Shelf is a nice gift in the $20 price range that will be appreciated by the person who struggles to stay organized. Bonus points if they have a lot of devices to charge.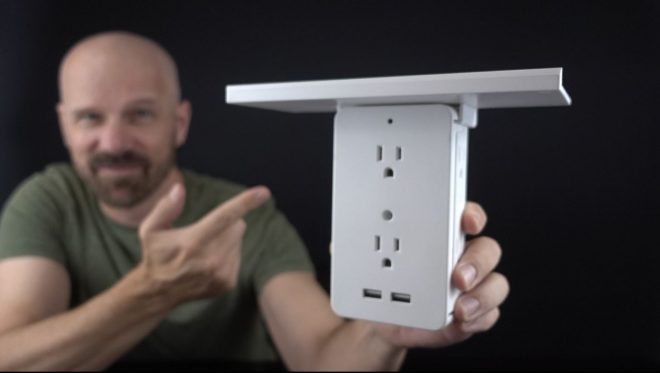 6. Power Bank
I use this 25,000 mAh version, which is large but can charge 3 devices at the same time. You may be interested in something like this iWalk, which plugs right into your phone and should give most phones a full charge.
7. Bluetooth Keyboard
This is probably the item on this list that I use the most, even though I've never done a proper review of it. The ability to type into my phone on a full-sized keyboard is glorious. If you know someone who would prefer a keyboard over their phone's offering, this is a must. And this can pair with three different devices with the press of a button.
8. Retractable Stool
This is one of those weird products that actually works. Expect to pay around $40, but whoever receives this as a gift will almost certainly find multiple uses for it, just as I have.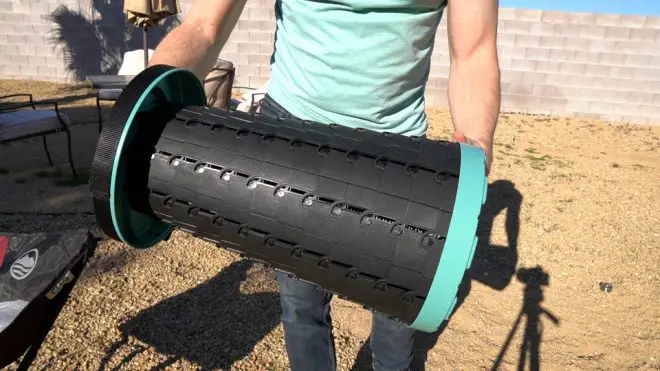 9. Coldest Water Bottle
A water bottle might seem like a strange gift, but many people don't want to invest in a high quality water bottle, which is why it actually makes a good gift! I put this to the test against the similar Hydroflask, and The Coldest Water bottle won hands down.
10. Pillow Pad
If you know someone who likes to be on their phone or tablet while lounging in bed or on the couch, Pillow Pad is a surprisingly useful gift idea for them! I wasn't sure of this product at first, but I still use it daily after more than a year.
11. Big Blanket
Tall people need gifts, too! After my review of Big Blanket, I gifted it to my 6 foot 7 trainer, who had complained that he can never find a blanket his size. I recently asked him if he still used it, and his response was, "I love it."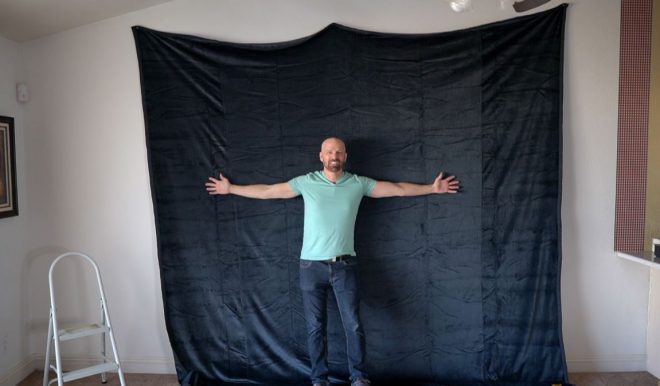 12. Weighted Blankets
Weighted blankets were all the rage a couple years ago, and even though the attention has waned a bit, there are still a legion of fans who love them. I have reviewed two such blankets and my daughter still uses the original Blanquil to this day. Providing comfort and warmth, it offers a unique sleep experience to many who are in need of such a solution.
13. ThinOptics
I chose this as my #1 product of the year in 2017, and still use it. If you know someone who regularly uses reading glasses – especially if they constantly misplace them, you may want to consider ThinOptics as a gift. It sticks to a phone so reading glasses are always nearby.
14. Wall-Climbing Cars
This is a toy I wish I had as a kid! Wall climbing cars use vacuum suction to keep them against the wall, but otherwise handle just like a ground-based RC car.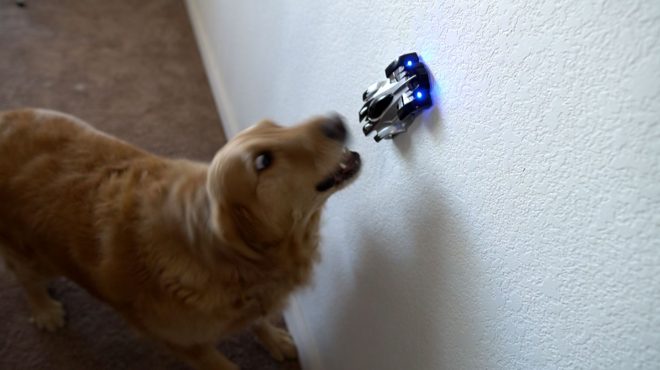 15. Water-Activated Towels
I reviewed the water-activated "Pack N Wipe" towels in Waikiki in late 2019, and over the next several months found out that they were quite useful. If you have someone who hikes, eats in the car, or otherwise may need a quick moist towel, this is a simple yet useful gift. It's a nice addition to any glove box.
16. Soap Sheets
When I reviewed the Coleman Soap Sheets in August 2020, the viewer response was overwhelmingly positive. Yes, it's a simple and practical gift, but it is almost certain to be used by the recipient.
17. Tactical Pen
When I tested out the Tac Pen, I had pretty low expectations due to its As Seen on TV connection, but I found it to be surprisingly useful and have put the Tac Pen in my glove box as a set of compact emergency tools. I  gave one to my son to put in his car, too. It's a great stocking stuffer.
You can get the As Seen on TV Tac Pen that I reviewed, or this Amazon Best Seller that is half the cost. Watch the original review here.
18. Vent Dip Clip
Anyone who regularly eats lunch in their vehicle will appreciate the Saucemoto Dip Clip. It attaches to the car vent and allows the user to dip ketchup or dipping sauce without fumbling or spilling. It feels like a novelty gift but ends up being surprisingly useful at the same time.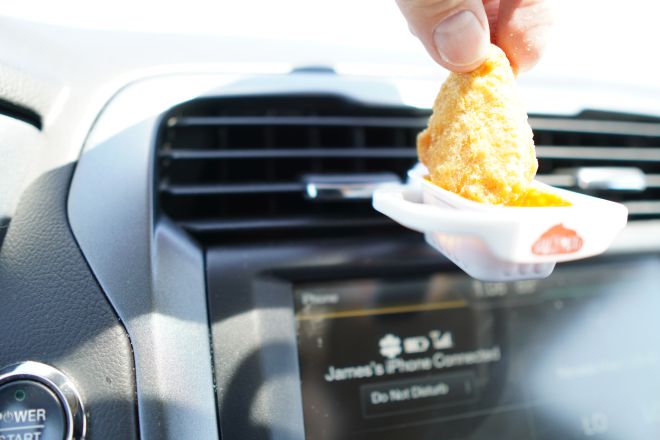 19. Burger Holder
Yet another idea for someone who consumes fast food regularly in their car is a hamburger holder. This clever adjustable gadget allows you to eat a burger without wearing half of the condiments.
My latest video is online now, featuring 6 gadgets under $15, including this Burger Holder!https://t.co/W7UP6vKuIx pic.twitter.com/AW299lnkz8

— Freakin' Reviews (@freakinreviews) August 23, 2020
20. French Fry Holder
The final element of the "gadgets for consuming fast food in the car" trilogy is a French fry holder designed to fit in your car's cup holder. I would call this a hybrid gag/useful gift because it seems silly and unnecessary, but there are people out there who actually find it quite useful.
21. Drive Bin
We all know that person whose car resembles a moving trash can. Why not gift them an actual trash bin for their car? The Drive Bin is the most prominent in this category and offers multiple ways to mount it in the car and can be refilled with ordinary store bags for the thrifty consumer who doesn't want to buy refills.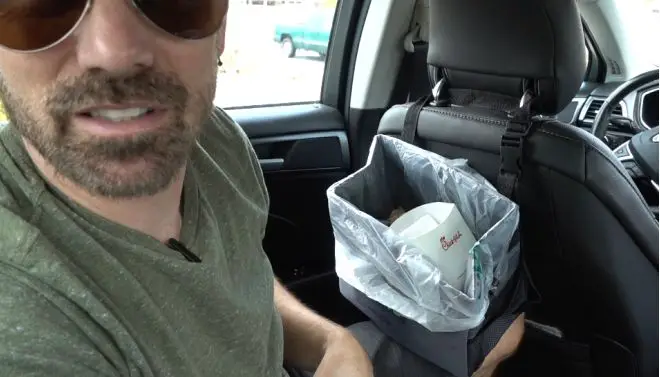 22. Dash Cam
Although I've mostly avoided expensive gifts here, a good dash cam is a product that can be expensive depending on the model you buy. It can also be a useful and practical gift for the person who spends a lot of time on the road. My dash cam of choice is the Vantrue, although Garmin makes a good model as well.
23. Steering Wheel Tray
When I did a collection of road trip travel gadgets about 2 years ago, this steering wheel tray was included in that video. It easily attaches to a steering wheel and offers a dual-sided design. One side is configured for food, complete with a drink holder, while the other side is designed for work. It can hold a heavy laptop, so has a variety of uses from lunch to work. Two people very close to me use this regularly.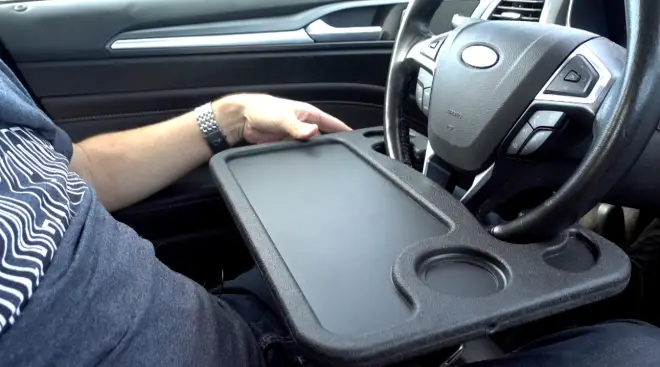 24. Car Tray/Organizer
Similar to #23 is a car tray/organizer for the back seat. This is probably better-served for kids, although I can see adults using it as well. There are ample spots for food, drinks, and even a phone. Mine still resides in my car and gets used surprisingly often.
25. Halfpops
My brother and I used to compete to find all of the half-popped kernels when we'd share a bowl of popcorn as kids. In 2020, I sent him a gift of this ingenious product called Halfpops which is literally a bag of flavored half-popped popcorn kernels. I don't know what sorcery is used to create it, but it's a wonderful treat and a great gift.
26. Dreamfarm Utensils
I've done hundreds of kitchen gadgets over the years, and Dreamfarm is probably my favorite manufacturer. That's because they not only product gadgets with weird names and shapes, but they are also quite useful across the board. Resembling utensils you might see in a Dr. Seuss cartoon, you'll be hard-pressed to find a Dreamfarm utensil you don't like.
27. Rangemate Pro
The first product I reviewed in 2018 was also the item I named as my best of the year. While it sports a higher price tag than I would like, its usefulness eventually warrants the cost. If you know anyone who has a minimal kitchen setup such as a dorm, RV, or even an office, the Rangemate Pro will bring a grilling experience to them. All they need is a microwave. I've heard from so many consumers over the years who rave about it, including my own mother!
 

View this post on Instagram

 
28. Waka Coffee
If you know someone who loves coffee but struggles to find the time or appliances to make it, I suggest giving them some Waka instant coffee to try. I never liked instant coffee until I tried this brand, and I have officially switched.
29. EZ Off Jar Opener
Anyone who struggles with strength problems or just constantly fights with jars would appreciate the EZ Off Jar Opener. Hidden underneath a cabinet, it can open almost any size, all the way down to a bottle of soda.
30. Lock Laces
A good stocking stuffer for the person in your life who loves their shoes, can't part with a pair that might be falling apart, or has difficulty tying their shoes, Lock Laces are high quality replacement shoelaces with a special adjustment system that makes tying them a breeze.
31. Tiny Flashlight
When I did a comparison of six tiny flashlights earlier this year, I realized the value of having a small flashlight on my keychain. Yes, you can use your phone for light, but it's not always as convenient or as bright. Especially if one of your hands is full. Dropping a tiny flashlight into a stocking is an easy gift.
32. Ratchet Belts
If you need a gift idea for someone who wears a belt, look no further than a ratchet-style belt. These belts are an improvement over the traditional style of belt. Once you get a ratchet belt, it's hard to go back. I've reviewed three and I would be comfortable recommending all of them.
 

View this post on Instagram

 
33. Allet Wallet
If the belts mentioned above weren't enough, consider an Allett wallet! While most wallets are advertised as thin, comfortable, and easily filled with cards, the Allett is the only one in my eyes that has ever truly lived up to the hype. I can fill it up and barely notice it in my pocket. It's a great wallet and a great gift.
34. Pet Laser Toy
Although this Pet Laser Toy is for pets, it can be a good gift for pet owners. It keeps pets occupied without human assistance, which is no easy task. An ideal gift for the pet owner in your life.
35. Slice Micro Blade
It's hard to describe what the Slice blade does, but this great stocking stuffer is something that I find myself reaching for in lieu of scissors or box cutters when the cutting job is small. That's because I keep it on my keychain and always have it with me.
36. Flame Bulbs
Of the hundreds of products I've linked to Amazon via my YouTube channel and website, you may be surprised to find that LED Flame Bulbs are the most purchased of them all. These light bulbs emanate a realistic flickering fire-like glow and are a good gift for the person who has everything. I reviewed four, and still recommend two of them.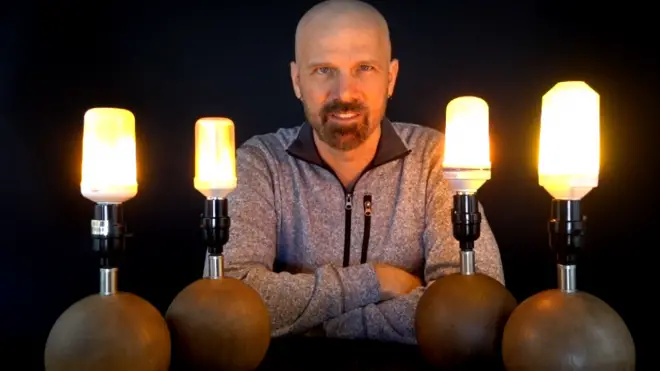 37. Light Bar
I reviewed the Bell+Howell Light Bar three years ago and its availability has been spotty in recent years. Fortunately, there are similar options out there if you can't find that one. There is something satisfying about firing up this big bar of light. I've found so many uses for this that I'm sure whoever receives one will enjoy it, too.
38. Hyperwhistle
One might wonder who would want the purported world's loudest whistle? After hearing from my viewers, the answer is… apparently a lot of people! Why not buy a regular whistle, you ask? Besides higher volume and an interesting appearance, this one also floats! Good for hikers, joggers, and coaches. I keep mine next to my bed if there's ever an emergency.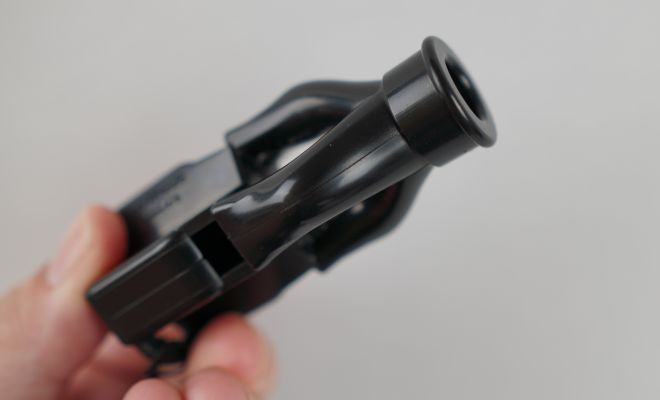 39. Philips OneBlade
This $35 trimmer is one of the most highly-rated items on this list. While it doesn't replace the closeness of a razor, it can be used in the shower, on the go, and will last years before you need to replace the head. Shaving items are perennial holiday gifts and I would be comfortable giving this to almost anyone.
40. Cord Labels
This is not a product that I've reviewed, but I find it so useful that I must include it on this list. Cord management does not come naturally to most people, but a product like these cord labels may be a good first start. Inexpensive and useful are secret formula to this handy gift.
41. Novelty Safes
I reviewed a variety of novelty safes earlier this year and reading the response was interesting. While some people simply saw these as joke products, a surprising percentage took them more seriously. What you hide in them is up to you. I can tell you that I had a guest in my house ask if they could open my fake jar of peanut butter to make a sandwich, so they are at least a little convincing. Below are links to the novelty safes that I like the most.
Watch the original review here.
42. Magic Pad
When I took Magic Pad to Puerto Rico with me in 2018, I found myself passing time on the plane at in my condo at night by doodling on this light-up drawing pad. Parents have told me how much their kids enjoy this product. An easy gift idea for school-age kids.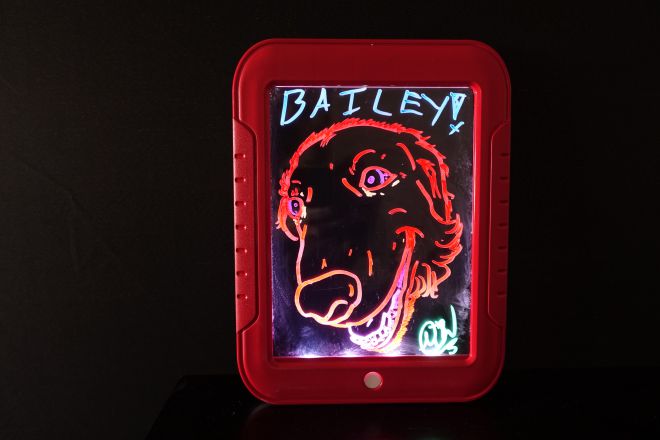 43. Back Scratchers
When I was a kid, I used to laugh at my parents for having a back scratcher laying around the house. Now I use one more than I care to admit. This can be a triple threat gift idea: gag gift, stocking stuffer, or cheap white elephant.
44. Aqua Dog / Pet Water Bottle
Pet owners will always appreciate an accessory to help them take care of their beloved furry friends. A pet water bottle is an inexpensive gift that pet owners will appreciate as it provides a dog-friendly water bottle for their walks and treks to nearby dog parks. Although the As Seen on TV "Aqua Dog" that I reviewed in 2017 is no longer sold, there are many options with the same design.
45. Packing Cubes
I first used packing cubes on an epic trip to Hawaii and Australia back in 2018 and I have used them on nearly every trip since then. A good gift idea for travelers who look to get back on the road or in the air in 2021.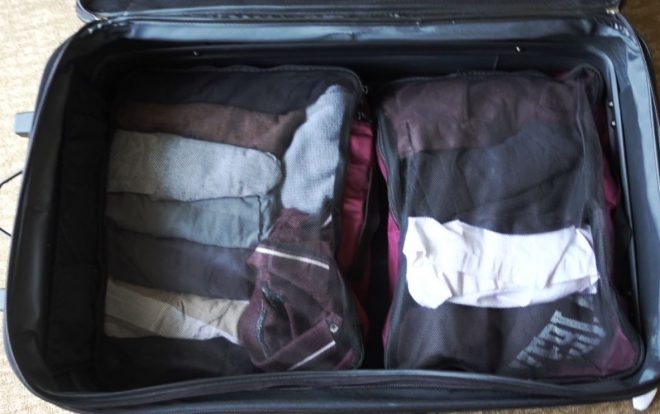 46. Head Lamp
When I reviewed the Atomic Beam Headlight back in 2017, it seemed a bit gimmicky from the advertising. Fast forward three years later and I still use it at least once a week. It's basically a hands-free flashlight that points wherever you look. If anyone on your gift list works on cars or works around the house, this may be a surprising hit.
47. Red Shield Phone Stand
The idea of a phone stand fitting into a wallet sounds like a stretch, but this is the real deal. It has made several appearances in my videos, and I've received considerable feedback from consumers who quite enjoy this. At around $5 and small in size, this is a perfect stocking stuffer.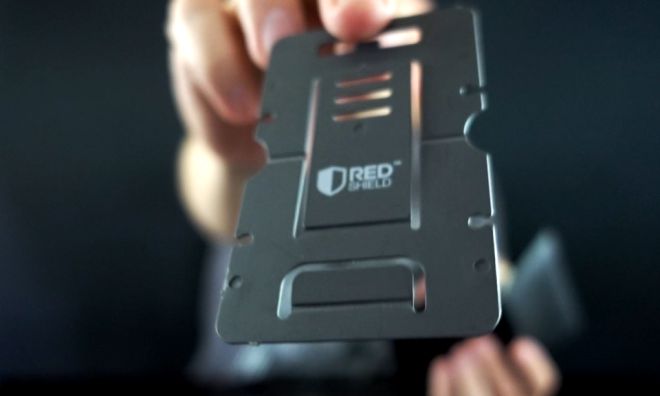 48. Dreem Phone Case/Wallet
There are wallets and there are phone cases, but this item by Dreem is both. I used it for months and found it quite handy.
49. Lighted Slap Lights
There are so many people who would appreciate this simple, fun, and useful gift. Joggers, kids, and pet owners are just a few possible recipients.
50. Flynova
This neat little toy is one part fidget spinner and one part boomerang. While it can be used by two people, that is not mandatory. I had a lot of fun with it. There's a "Pro" version out now, although I haven't tested it yet.
 

View this post on Instagram

 
51. Groove Rings
For the person who doesn't want to damage their expensive wedding ring, or perhaps for someone who works in a field that would not be conducive to wearing metal, Groove Rings offer a solution.
52. Jot
Yet another offering by Dreamfarm, Jot is a cute little gadget that can be used for a variety of things from holding a toothbrush to cord management. Stocking stuffer material.
This is one of six items I'm reviewing in my next video. What do you think it is? pic.twitter.com/2HQYDBpxdo

— Freakin' Reviews (@freakinreviews) August 22, 2020
53. Fingerless Compression Gloves
As a sufferer of Raynaud's, I can personally vouch for these fingerless gloves. While there is no 100% solution to cold hands, these are superior to other gloves I've tried because they allow for freedom of movement while relieving symptoms of Raynaud's, arthritis, and carpal tunnel. Anyone who suffers from these conditions would likely enjoy this pair of gloves.
In Conclusion
I'd like to wish everyone a happy holiday season and hopes for a much better 2021 than we had in 2020! And I would like to thank everyone who has liked, commented, and subscribed on YouTube, and especially those who have visited my website here. I appreciate your support more than you know!