Tac Light Elite is a sturdy tactical flashlight combined with a COB LED lantern that is revealed by sliding it open. Does it really work? Here is my Tac Light Elite review.
Sponsored Links
About Tac Light Elite
Tac Light Elite combines a tactical flashlight and LED lantern into a single unit. It features a waterproof casing, magnetic base, and 6 preset light modes. The official product website is taclightelite.com, which was registered in December 2016. The screenshot below shows how the product website looked in February 2018.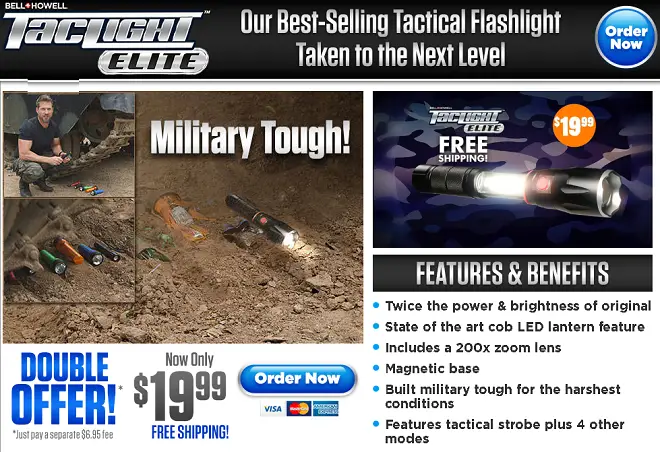 Claims & Features
Combines a tactical flashlight with a lantern
22 times brighter than a standard flashlight
Lantern utilizes COB LED
200x zoom lens included
Base is magnetic for hands-free usage
Durable construction
6 preset light modes (featuring tactical strobe)
Can be viewed from 2 nautical miles away
Cost
Tac Light Elite costs $19.99. There is an optional double offer for a separate fee of $6.95 which would raise the total to $26.94. Shipping is free on both offers. You can find Tac Light Elite in stores for about $20.
Tac Light Elite Review
You have no doubt seen commercials on television featuring Nick Bolton pitching the latest "Tac"-branded product, such as TacLight, TacLight Lantern, Tac Glasses, and others. Of course, there is also Hunter Ellis pitching the competing "Atomic Beam" brand with items including Atomic Beam, Atomic Beam Lantern, Atomic Lighter, etc. Now Mr. Bolton is back extolling the virtues of Tac Light Elite, the next-gen version of their popular Tac Light.
I purchased the original Tac Light when I first launched my YouTube channel in late 2016 and found that it held up through most of my durability tests at first. Eventually, the switch on the back broke, rendering the unit useless. Prior to that, I was quite satisfied with the Tac Light.
The commercial for this new version uses more realistic demonstrations than the original, which depicted durability tests that I felt were unrealistic – such as freezing it in a block of ice. The new commercial shows it being dropped in water or snow, which seem to be more accurate depictions of real-world tests.
The housing of TacLight Elite is quite similar to the original, with one addition: It can be raised to reveal an LED that converts the unit into a lantern. This is similar to the way the TacLight Lantern and even the HydraLight work. It's a nice addition, as is the magnetic base which allows you to stick the Tac Light Elite on any metallic surface to allow you to work hands-free. The makers have also carried over the original modes such as high, low, and strobe.
Sponsored Links
Even though Tac Light Elite appeared on store shelves in early 2018, it appears that the product is now being marketed on television as Tac Light Pro, although they appear to be the same product.
I compared the original Tac Light (I had to purchase a new one because my original never worked again) with the Tac Light Elite, and was surprised to find that the original Tac Light was brighter than the Tac Light Elite, which is advertised as twice as bright as the original! When I dropped both in a "simulated" puddle, they both held up, but when I dropped them both on concrete, only the Tac Light Elite continued to function.
Alternatives
There is no shortage of this type of product online and in stores. An Amazon Best Seller is the $12 Outlite A100 which offers 900 lumens. If cost is less of a concern, you may want to move up to the big leagues and check out something like the Streamlight TLR-1, which runs about $120-$130 and is among the finest – and highest rated – in its class. The third video above features a 650-lumen flashlight I bought at Lowe's and was far brighter. That model is the Luxpro LP1200.
Your Tac Light Elite Reviews
Have you used Tac Light Elite or something like it? Let me know what you think in the comments below.
Updated March 2018