Atomic Beam Headlight is a tactical headlamp which allows you to work without the need to hold a flashlight in your hands. Does it actually work? Read our Atomic Beam Headlight review.
Sponsored Links:
About Atomic Beam Headlight
Atomic Beam Headlight is a tactical flashlight that is worn on the head. The official product website is atomicheadlight.com, which was registered in September 2016. The screen shot below was taken of the product website in December 2016.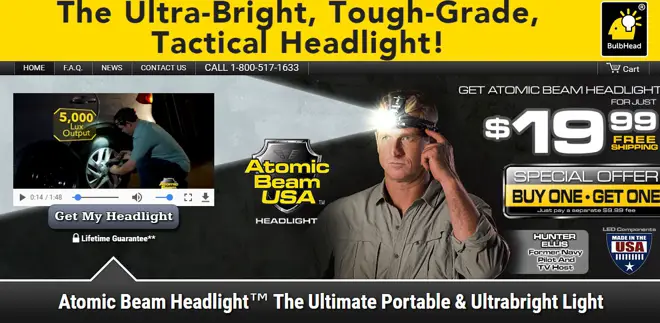 Claims & Features
Portable and easy to use
Shines up to 5,000 LUX
Hands free operation
Can be used underwater
Durable
Cost
The "Main Offer" includes one Atomic Beam Headlight for $19.99 with free shipping. You can add a second unit for another $9.99.
The "Deluxe Offer" includes an Atomic Beam Headlight with a rechargeable battery and charger for $32.98 with free shipping. You can double it for a total of $55.96 with free shipping.
As of this writing, we haven't seen Atomic Beam Headlight in stores.
Sponsored Links:
Atomic Beam Headlight Review
There have been a slew of tactical lights advertising on television in 2016, with Tac Light and Atomic Beam being the most highly advertised. Both brands are promoted as brighter and more durable than standard flashlights. Because of the popularity of these products, it's no wonder that the makers of Atomic Beam went back to the well to release additional versions within the same category. Atomic Beam Lantern followed the original, and now we have Atomic Beam Headlight, a tactical headlamp which allows you to enjoy the benefits of a tactical light with both hands free.
It may not come as a surprise that Tac Light also released its own headlight, although that item quickly disappeared and its website went offline.
With this incarnation of Atomic Beam, you'll find a bright light affixed to an adjustable headband which fits snugly over the head. The light itself is extremely bright in comparison to regular flashlights, and will shine in whatever direction you look. It can also be adjusted up to 90 degrees. There is a button on the side of the light which allows you to toggle through the settings: on/off, high, low, and strobe.
As with the original Atomic Beam, this hands-free version is more durable than a regular flashlight and can withstand extreme temperatures and physical punishment. It seems to be made of acceptable construction and materials.
Overall, Atomic Beam Headlight should perform about as expected. You may want to peruse some of the comments on our review of the original Atomic Beam, as those reader opinions may be relevant to this item. Using a headlamp such as this can be ideal for such jobs as working on a car, under a sink, or in a dark area.
Can this product stand out among the large number of competitors? Normally, we might be skeptical, but based on the successful advertising campaign of the original Atomic Beam, we're pretty sure this headlamp will also sell well.
Alternatives
The number of tactical headlamps for sale online may be surprising to the uninitiated. They range in price from $17-$100+ and tend to be well-received in general. A popular choice in this category is the InnoGear 5000 Lumen headlamp, which runs about $30 and boasts a 4.3 star rating among 800+ reviews.
Your Atomic Beam Headlight Reviews
Have you used Atomic Beam Headlight? Let us know what you think by leaving a comment below and a star rating above.